An exclusive interview with the famous knife fight instructor, special forces officer A.M. Kistenen. Usually Alexander Mikhailovich does not appear in the media, and only employees of such structures as the Federal Security Service, Alpha, Vityaz, Special Forces of the Federal Drug Control Service and the like can get to his trainings, but he made an exception for the Military Review.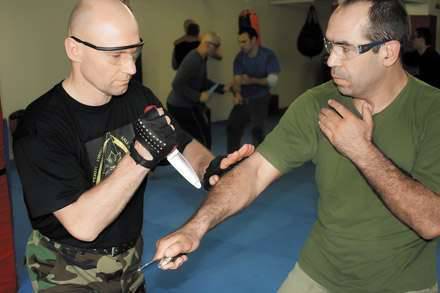 - First I would like to know your biography. Where did you study, served?
- Finished Ryazan Airborne School. He studied at the faculty of foreign languages ​​- this is special forces. In the Soviet Union there were 2 schools where special forces were trained - Ryazan and Kiev. Received a diploma as a translator. Served in Afghanistan (1985-1987). In 1987, I got into a special forces brigade in Maryina Gorka (Belarus). Then he served in the Belarusian Alpha on a full-time position as a mine-bomber, and freelance was also a hand-to-hand combat instructor. Combined, as the state there was less than in Moscow Alpha. Now there is already such a full-time position, but then I checked all new arrivals - I fought with them.
- Afghanistan was a special training ground?
- Yes, all the special forces were driven through Afgan.
- What did you do from martial arts?
- I started with the classical struggle (now it is Greco-Roman). The school began to engage in Soviet karate. Fought in full contact. When they banned karate, they began to practice hand-to-hand combat. They made their own protective gear. Then our coach changed - he started giving more taekwondo.
- Hand-to-hand fight was what? Which direction?
- There were no directions, they just fought in defense - they took the plates, tied them up with slings. It turned out quite flexible protection, such as body armor. At the same time it was solid.
- Let us turn to the topic of our conversation. Why teach exactly knife fight?
- In 1995, I retired from Alpha and was the vice-president of the Russian Martial Arts Federation. I went to the USA to the seminar of the International Ju-Jitsu Federation - Carnegie Hall, 12 tatami, 1500 people ... There I saw an Englishman's instructor. He was from the marines. Very well owned a knife. Now I understand that there was nothing unusual in his technique, but then I was impressed.
"Was there really no knife fighting in the GRU?"
- Did not have. There were complexes of RB-1, 2. And nfp. And there were enthusiasts in each division - someone owned boxing, someone struggled. Accordingly, in this division there was an emphasis on boxing or wrestling. And nobody knew that.
- We had the richest experience after the war, there were front-line intelligence officers. They knew how to use a knife.
- There was no system.
- That is, someone served somewhere, someone showed something to someone?
- Absolutely. There was nothing systemic. This is strange, but nevertheless it is. And nothing has changed since then. There is no systematic preparation for close combat.
By the way, close combat is not only a fight with a knife, it is the whole range of impact on the enemy at a distance of up to 5 meters.
I train guys from different departments, they can confirm. One gives so, the other so. And there is no state program, at least for some subdivision. There is no instruction or guidance. And modern military operations show that during a battle in the city or at infrastructure facilities, it is these skills that are needed.
So when I saw this, I realized that I had to do it. In the Federation of Russian Martial Art there was an applied section of work with
weapons
- at the then level. But I have not seen such work with a knife until that moment. At Rethunski I liked some of the knife selection techniques, but working with a knife against an armed enemy is not well developed. I am a patriot, but the main thing is efficiency, and not that ours is indigenous or not.
- What are you interested in the Philippine system?
"Through the Rethunean, I learned about Bram Frank, who is an internationally recognized master." So, his teacher is Filipino. When I started to deal with this issue, I found out that the main instructors in the world on NB are Filipinos, or their students. Now even the South Koreans show - and at a good level - the Philippine technology. And this is natural, since for the Filipinos it is a tradition. There is still blood feud in the Philippines. Of course, their program must be adapted for us. The Philippines Marine Corps often conducts military operations in the jungle and they have a short sword besides a rifle, a pistol and a knife in a fighter's outfit. They work a lot with sticks. We work with sticks only as with a simulator. Usually the knife on the knife.
- Should work with a stick, a knife and bare hands be based on the same biomechanical model?
- Yes.
- Why do you need to be able to work with two knives?
- Good question. A knife may never be useful in life, not even once. But it's better than a knife to develop speed, reaction, ability to respond quickly to the situations offered to you there is nothing. You can pump up big muscles, but you will not cover them with a knife. You have two knives, I have two knives. I have to control both your knives and my own. If I miss something, then for a lethal injection, enough effort in 4 kilograms. A child can do. The press from the knife is also not pumped.
Therefore, I have to control all the blows. This is tremendous speed, this is deconcentration - because I cannot track every knife. I have to control both knives at the same time. This is a completely different perception. When you work with two knives, you even start thinking differently. In the fight, tunnel vision can be activated, and you will not see a blow from the side of the knife. Such activities help to avoid this. At first, this state appears in 10 minutes after the start of the workout, after a month of training - through 8, then 3, and then you start to beat - and it immediately appears.
From the side it does not understand until the instructor shows.
I remember in Afghanistan we specialized in raids. The ambushes were staged only in the zone of action of another battalion. Often worked in the mountains, you come very close. And in the village the enemy may seem literally "because of the angle." By the way, we never had hand-to-hand fights. And imagine what should be the speed of identification (friend or foe) and response to changing situations. It happened that the enemy was at a distance of two meters. I am alive because my reaction was better. And the knife further improves the reaction.
- Is mass needed for practicing knife fighting?
- We need - and the mass, and strength, and speed, and the development of "hinge". There are different exercises. "Fizuha", speed and strength endurance needed. To produce at a certain period of time greater speed and power. There may be several opponents, and if you hold out for 5 seconds longer, then you won.
I also give exercises on both hands in order to become oboer and successfully work with both hands. We start at a slow speed, then work out.
- There are disputes about the effectiveness of a shot or cut. What do you think is better?
- Equally good. It is better to combine them. The prick is easier to redirect to the cut. Cutting a shot is harder.
- It is believed that modern soldiers wear body armor, so the shot is more effective than a cut.
- Yes, but there is a small nuance - you cut the biceps (which does not close the armor) and the arm becomes like this. Or cut the triceps, and the arm becomes that way. And the leg can be cut the same way - it tucks and the person falls on his knee. The main thing is to know the physiology. Cut your fingers and everything falls out of them - a gun, an automatic ...
- Do you agree with the statement that reception is the sum of technical elements?
- A little differently, I will give an example: there are bricks in "Lego", from which you can make everything — a house, a ship. These are unshakable bricks, "base". They can mix, fold. We learn to work according to principles, and not according to methods. All the situation. If a person works with techniques, a situation may arise in which this technique will not work. And what then, the crisis of the genre?
- Probably, this principle - according to the situation - should be reflected in the methodology?
- We do that. First the bricks. Then we train the combinations on the basis of certain complexes. I introduced the following exercise for my bodyguards. Two people are standing opposite each other. One has a gun, another has a knife (real). I stand behind the one with the pistol and show my partner with a knife, in which sector to beat - at the signal of the timer. Beat can be in any sector, with any hand. The one with the gun does not know where. He must perform a specific technical action — for example, shoot in 3 seconds. I, as an instructor, look at the correctness of performance. We have 2 targets - at a distance of 2 meters and 5 meters. The first target is like a person who attacks you, and the second is an additional one (if we are modeling a situation with several opponents). 3 seconds, 4 shot.
- That is, you are positive about the stress method?
- Of course. The knife itself is stressful. If we teach a person using this technique, a knife on the street will not be a stressful factor for him, as he is used to it in training.
If you work with stamps, clichés, then it is difficult for a person to later adapt to a real, rapidly changing situation. A stress technique helps him in this.
- Judging by the video, you only move on the 6 sides, "snowflake." And there is no back and forth. What is the reason?
- Our principle is attack and counterattack. We have no protection. We have a backward movement, but psychologically we form a person's desire to move forward. A block with a hand gives rise to a block in the head. The person gets used to it and then retreats in case of danger. This is often the case with athletes who burst their distance, bouncing backwards. That's what comes when a unit is trained in sports skills. I respect boxing and wrestling, but I understand what it does. The first movement should be attacking, oncoming, not bouncing back. Accordingly, we train and movement.
- How do you feel about the sport of knife fights?
- Ok, positive. It's like the Federation of Practical Shooting - it forms the culture of handling firearms. This is not what is used in combat, but it produces speed and accuracy of impact. The only thing that there is no tactics for a real fight. The same with a sports knife fight. You just need to understand that this is not for reality.
- Do you agree that in order to use a knife, you need to be able to step over the "psychological threshold"?
- This is important, but not the most important thing. You can cross the threshold, but if you are not technically prepared, you will not live long. In my opinion, not only the cowardly perishes quickly - the evil optimist also does not live long. The spirit can suffice, and the skill is not enough.
On the other hand, it happens that there is a skill, but there is no readiness to apply. I was told such a case - there were two guards with weapons, six people ran for them from a distance of fifteen meters. They slaughtered these two, because the guards were not ready psychologically to use weapons.
- How to overcome this threshold?
- Again - our training knives are made of metal, and then we train with real knives.
- Do you agree that you need to be able to work against three objects: sticks, chains and a knife?
- Somewhat categorically. Not necessarily against three, but I understand that they have different trajectories and impacts. In this regard, I agree on the qualities that such work forms. When you train, you estimate everything a little differently. For example, the chain: threaten it for a long time, it has its own inertia.
Need to be like water. Do not go head-on - there can always be an opponent who is stronger and healthier than you. Once in the Philippines, they asked for a lesson, although I came there as a student. I told them that you fight face to face, and we go to the side or back - this is a tactic. Of course, it is easy to say - in fact, no one will let me just behind the back, we must train. We are always trying to win tactically. You go to the enemy side - the situation has changed. And no matter what a person owns. Here are other categories.
- Thanks for answers!