Ukrainian defenders announced the creation of an experimental model of the BTS-5B armored vehicle at the Lviv armored plant, which "will significantly enhance the capabilities of the military," reports
Rossiyskaya Gazeta
.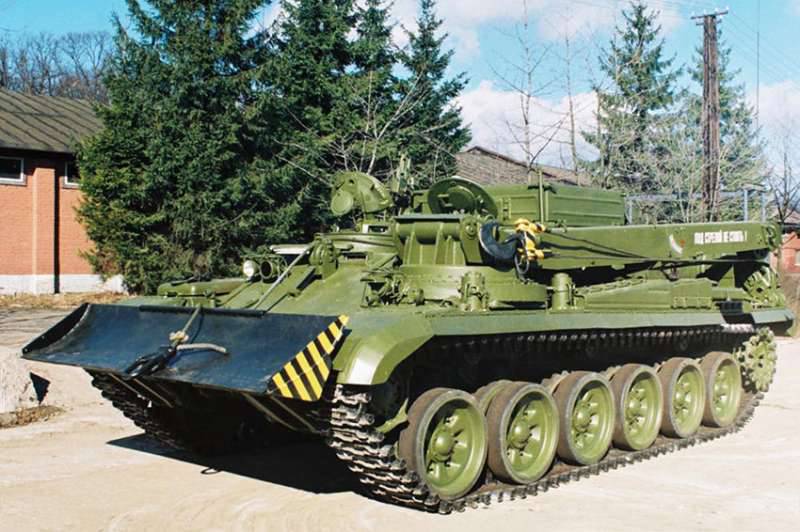 However, as it turned out, for the creation of Lviv specialists, Ukroboronprom issued a "repair-evacuation tractor, created at the end of the 90-s of the last century and used in the armies of a dozen countries," the newspaper writes.
"In addition, it is a modification of the XRUMX model XRUMX BREM-1 machine of the year and its characteristics are almost the same," the author notes.
According to the deputy general director of the concern, Yuri Pashchenko, quoted by the press office, "such equipment is necessary for the Ukrainian military directly in the area of ​​the anti-terrorist operation, and this tractor combines the important functions of several machines at once."
The release of "Ukroboronprom" says that "the universal multi-purpose tractor BTS-5B is intended for mechanical reconnaissance on the battlefield, evacuation of emergency
tanks
from the enemy's area of ​​operations, and also capable of lifting loads, digging the ground and conducting maintenance of tank units in the field. "
According to the report, the car is equipped with a "four-stroke engine that allows it to reach speeds of more than 60 kilometers per hour." Fuel reserve should be enough for 700 km. The armament will be 12,7-mm machine gun.
"In reality, the car was developed at the end of the last century on the basis of the chassis of the T-72 tank by the Design and Technological Center of armored vehicles in Kiev. For the mass production, the site of the Lviv armored plant was chosen, and for the production they used the chassis of the T-72A tanks that had entered the overhaul, "writes RG.
According to the newspaper, referring to the state export control service of Ukraine, "more than ten units of BTS-5B were delivered to Azerbaijan, starting from the 2007 year, besides, the towers are in service with Iraq, Nigeria, Kenya and Georgia". A batch of these machines was transferred to Russia for use in northern latitudes.