Those who call themselves the European far right have decided to give their "asymmetrical" response to yesterday's terrorist attacks in Brussels. In a number of European cities, rallies were held at local mosques. In some cases, mosque buildings were thrown with eggs, firecrackers and smoke bombs. One of the most massive actions took place in the capital of Spain - Madrid. Under exclamations "Today, Brussels, and tomorrow, Madrid?" Representatives of the far right wing began to throw signal flares, so-called flares, in the direction of one of the local mosques.
The building of the mosque seized fire. Arrived at the scene, fire brigades ignited the fire.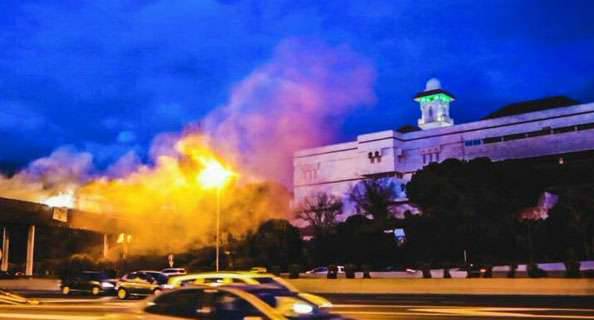 One of the participants of the rally said that they intend to fight with the radical Islamization of Europe and with terrorism. If these people are really going to fight the radical Islamization of Spain and other EU countries, then what is the point that they threw the local mosque with signal rockets? Parishioners of the mosque are certainly not to blame for the fact that the European authorities adhere to the idea of ​​"open doors", believing that the wave of immigrants from Africa and the Middle East will help Europe to develop the economy. Therefore, it would probably be more effective if the protest actions were held not near the mosques, but near the administration buildings, where the people whose activities led Europe to the spread of the terrorist plague were sitting.
It is worth noting that the municipality of Madrid declared that it does not support the action of the far right, declaring "the need for a joint fight against terrorism".