OAO Nizhny Novgorod Shipyard OJSC, located in Bor, 21 March entered into a contract with the Ministry of Defense for the construction of large hydrographic boats (project 23040Г), the blog
bmpd
with reference to the press service of the enterprise.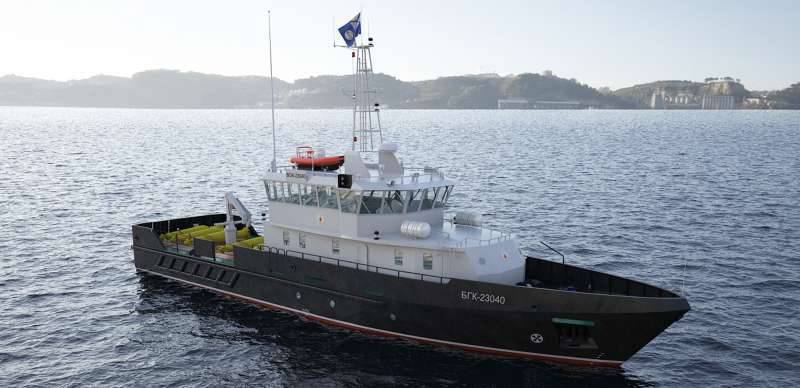 Project image of a large hydrographic boat project 23040G
The lead boat must be handed over to the customer one and a half years after signing the agreement.
It is noted that the ship of the project 23040G "was developed in the design bureau of the plant and is a further development of the offshore boats of the integrated emergency rescue support of the 23040 project being built at the enterprise for the Russian Navy."
According to the developer, "the large hydrographic boat of the 23040G project has a full displacement of 192,7 m, the greatest length of 33,04 m, width of 6,8 m and average draft of 1,6 m, will be equipped with two diesel engines of 248 kW and a full speed of 12,7 knots".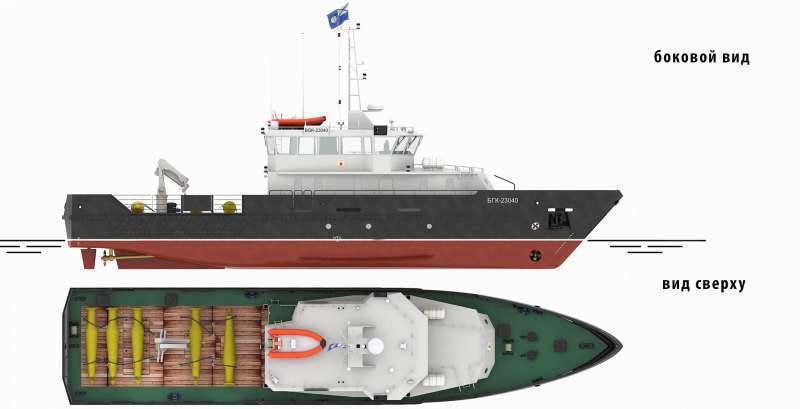 According to the information, "the purpose of the boat is:
- high-precision areal survey of the bottom relief and survey of navigational hazards at depths up to 400 meters and survey of the bottom relief with a single-beam echo sounder at depths up to 2000 meters;

- maintenance of all types of floating precautionary signs (hereinafter referred to as ATP);

- Production / shooting of all types of BCPs up to 1,7 tons and lengths up to 6,5 meters;

- delivery of personnel, food, spare parts and repair crews to the coastal navigation equipment;

- navigation and hydrographic support of rescue and search operations;

- pilotage and lead of submarines and large-tonnage ships in the basing points and on the approaches to them ".