Situation in Afghanistan strengthens military cooperation between Kazakhstan and Russia
After the collapse of the USSR, Kazakhstan received a grouping of the Armed Forces, consisting of small and mostly cadre units of the former Soviet army. The possibilities of the republican military industrial complex were also very limited.
But in Kazakhstan there was a huge amount of equipment withdrawn from Eastern Europe: about five thousand
tanks
, about four thousand armored combat vehicles, more than two thousand artillery systems and 500 combat aircraft.
Inventory arsenals

For the post-Soviet period, the country has built sufficiently capable air forces, and the capabilities of the military-industrial complex have increased significantly. Kazakhstan has maintained special relations in the military sphere with Russia, as well as with Belarus, while developing relations with the Western world quite successfully. Advanced models of military equipment are being exploited and acquired (MiG-31 interceptor, Su-30CM fighter-bomber, Ramka BMPT, Solntsepek TOC-1А MLRS). The level of combat training of personnel is very high. At the moment, the armed forces of Kazakhstan are among the top five in the post-Soviet space.
Ground forces are divided into four regional commands (RK): "Astana", "West", "East", "South". The first two are reserve-training and rear services, the other two are focused on countering threats from China, the countries of Central Asia and Afghanistan.
RK "Astana" (headquarters in Karaganda) includes 7-th mechanized (place of deployment - Karaganda), 401-th artillery, 402-th MLRS, 403-11 PTO (all three - Priozersk) brigades.
RK "West" (Atyrau): 100-I artillery (Aktobe) and 390-I Marine Brigade (Aktau, in fact - the coastal defense brigade due to the lack of landing ships of the Navy).
RK "Vostok" (Semipalatinsk): 3-I (Usharal) and 4-I (Ust-Kamenogorsk) mechanized, 11-I tank (Ayaguz), 101-I missile-artillery (Semey), 34-I (Usharal) and 103-I (Semey) artillery, 102-I MLRS (Semey) brigade.
RK "South" (Taraz): 6-I (Shymkent), 9-I (Zharkent) and 12-I (Guards) mechanized, 43-I tank (Sary-Ozek), 5-I Mountain-rifle (Taraz), 44- I (Sary-Ozek) and 54-I (Guards) artillery, 23-I (Guards) and 232-I (Kapchagai) engineering engineers, 221-I communications (Taraz) brigade.
In addition to the Republic of Kazakhstan, there are airborne troops as part of the Army. They include the 35 (Kapchagai), 36 (Astana) and 37 (Taldy-Kurgan) air assault, 38 motorized rifle (Alma-Ata) brigade, the peacekeeping "Kazbrig", intended to participate in UN operations .
Armed with 45 PU TR "Point". The tank fleet includes up to 1300 T-72, some of which have been modernized in Kazakhstan itself, a minimum of 280 T-62 and 50 T-64, around 100 T-80. The warehouses are located before 3000 tanks of the same types, most of them, however, are not capable and can only serve as a source of spare parts.
There are 10 Russian BMPT "Frame" (better known as "Terminator"), which are not in service in any country in the world, even in our country. There are 260 BRDM-2, to 140 BRM-1, to 730 BMP-1, to 800 BMP-2. In addition to the latter, all cars are seriously outdated. The most numerous class of armored vehicles are traditionally the BTR: Turkish Cobra 40, the very old Soviet BTR-150 XR and the same BTR-50PB, no less than the 60 BTR-45, 70 BTR-141, 80 BTR-XNHNXX, 93 BTR-80, 74 BTR-XNUMNXX, 82 BTR-30, 686 BTR-XNUMNXX, 2 BTR-3, 80 BTR-82400, 26 BTR-2, 9 BTR-120X, NNXX, 2 BTR-1, 6 BTR-30X, NNXX, 120 BTR-2, 3 BTR-183, 30 BTR-350, 46. (Of these, 180 in the Marine Corps), up to 2 MTLB, 36 Ukrainian BTR-90U (Kazakhstan refused to further purchase these machines). The BTR-2A and BTR-65A fleet is replenished with supplies from Russia. There are more than 74 ACS: 20 18C2, up to 11 145C2, 11 "Semser" locally produced using Israeli technology (K-19AZ howitzer), up to 19 2C4. Towed implements: 300 D-150, up to 21 M-50, 180 3A1, 15 18А68, 125 D-12. Mortars: 10 self-propelled "Aybat" (20BXNUMX on MTLB chassis, again Israeli technology), XNUMX Soviet XNUMXBXNUMX, XNUMX self-propelled XNUMXCXNUMX. Reactive artillery possesses significant potential — over XNUMX MLRS: up to XNUMX Soviet BM-XNUMX (still XNUMX in storage) and XNUMX "Hurricane", XNUMX of the newest TOC-XNUMXA, XNUMX "Smerch", XNUMX own multi-caliber RSZ "Nyaza", Nayza XRUMX, XNUMX "Smerch", XNUMX own multi-caliber RSO "Nyaza", XaNumX, XNUMX "Smerch", XNUMX own multi-caliber RSZ "Nizaz" Israeli technology. There are ATGM "Fagot", "Competition" and "Sturm-S", from XNUMX to XNUMX PTO MT-XNUMX, SAM "Strela-XNUMX", not less than XNUMX MANPADS "Igla".
The Air Force and Air Defense (the official name is Air Defense Forces) have nine main airbases: 600th (Zhetigen-Nikolaevka), 602nd (Shymkent), 603rd (Alma-Ata), 604th (Taldy- Kurgan), 607th (Ucharal), 609th (Balkhash), 610th (Karaganda), 612th (Aktau), 620th (Astana). The "branches" of the Air Force are de facto
aviation
border troops and the Ministry of Emergencies.

The Air Force, in addition to MiGs, Su and transport sides, has an An-30 optical reconnaissance aircraft (at the Ministry of Emergency Situations) and up to 18 Czechoslovak training L-39. All Soviet cars are seriously outdated. Of the helicopters, only EC145 and Mi-17 are modern.
Ground defense includes 9 divisions (at least 100 PU) ZRS C-300P and minimum 18 divisions (from 72 PU) ZRK C-125, to 10 divisions (60 PU) ZRS C-200, 5 divisions (XNXX) ".
The naval forces and the border guard fleet are located in common bases and are equipped with the same technology, therefore, they are considered as a whole. They include only patrol boats: 5 – 6 of the Oral type (0200М Burkit-M Ave., based on the Soviet 1400М Ave.), 3 Kazakhstan (0250 Bars-MO Ave.), 4 Sardar "(Pr. 22180" Bars "), 2" Shapshan "(South Korean" Sea Dolphin "). In addition to the latter, all built in Kazakhstan.

Brother ground

The capabilities of the defense industry were initially quite limited, and, paradoxically, the republic, which had access only to the Caspian Sea, specialized in naval technology. But over the period of independence, the country has created a fairly balanced industry, which now produces Russian cars and combat boats, Turkish BTR, Belarusian ASU, European helicopters, South Korean boats, etc., under license. Overhaul and modernization of armored vehicles and ships, as well as production, have been established
weapons
and ammunition. Joint ventures for the production of communication facilities were opened, in the near future, UAVs, optoelectronic and radar systems, new models of airplanes and helicopters will be created. It is planned to start production of artillery systems for various purposes, an armored repair and recovery vehicle based on the T-72, an autonomous anti-aircraft module Igla-S on the BRDM chassis, universal self-defense launch modules based on Igla-S and Sturm-Ataka missiles, electronic intelligence, etc.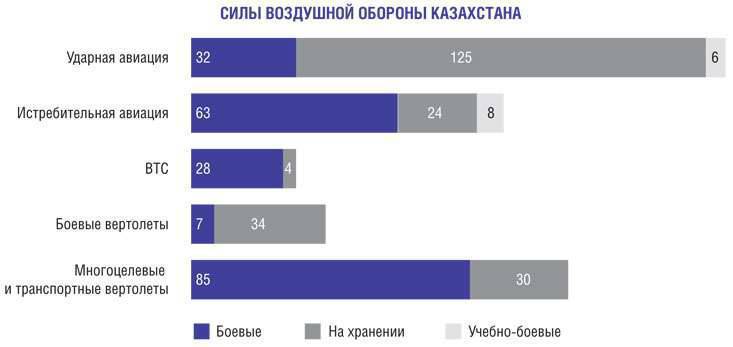 At the Sary-Shagan test site, a Russian Dnepr-type radar was deployed. There are no other foreign troops and military facilities in the country. But the RF Armed Forces regularly use local test sites left over from the USSR.
Kazakhstan is a member of all pro-Russian organizations in the post-Soviet space, including the CSTO and the most important unifying project of Moscow - the EAEU. But this union, as it is constantly emphasized in Astana, is purely economic, it does not imply any political integration. Relations with Moscow are close, but not idyllic. Most of all, they are just in the military field. In particular, the CSTO CSTO for a long time were de facto Russian-Kazakh, now Belarusian forces have been added to them, thus repeating the configuration of the EAEU.
By many socio-economic indicators, Kazakhstan has become the most successful of all post-Soviet states with full political stability. From the countries of Central Asia, only here Russians and other non-indigenous nationalities were not subjected to direct persecution during the collapse of the USSR and did not flee en masse to Russia, throwing property. Therefore, the proportion of Russians in the population is quite high. However, right now Kazakhstan is leading in the number of people leaving for Russia. The effect of a "glass ceiling" takes place: all the highest posts in state structures and the economy are occupied by representatives of the indigenous nation. For many economically active non-title natives, this situation is unacceptable.

Nobody is closer to us
The problem for Astana was our conflict with Ankara. Kazakhstan's relations with Turkey were almost as close as with Russia. This extended to military construction. It was with Turkish help that Kazakhstan created its own version of the Shagys T-72 tank. At the KADEX 2012 exhibition, it struck that of the four huge hangar-pavilions provided to foreign participants, two were mixed, and of the two mono-national ones, one was Russian, the second was Turkish. At the entrance to the last one, the commercial of air defense weapons from the company Aselsan was spinning endlessly. On it, the Turkish air defense systems famously shot down Russian Su-30 and Ka-52. It was the spring of 2012, when bilateral relations seemed just fine.
However, unlike the countries of the Transcaucasus, Kazakhstan is not threatened with being drawn into a theoretically possible Russian-Turkish war. Astana can just wait for the situation to somehow resolve. The inevitable aggravation of the situation in Afghanistan, which will almost certainly be projected onto Central Asia, will naturally strengthen the military cooperation between Moscow and Astana. Thus, despite the problems and friction, Kazakhstan will remain Russia's closest ally, at least in the foreseeable future.