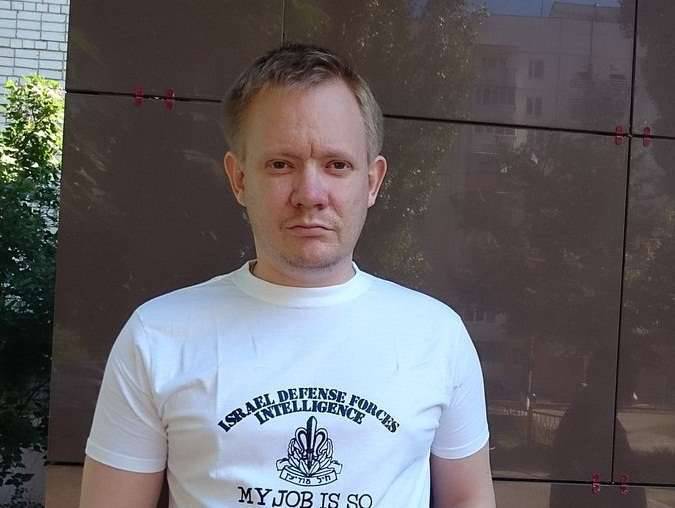 Believe it or not, I will tell you, dear readers, fascinating
history
. In principle, there is nothing unusual in it, the story tells about the most common Internet warrior, that is, a blogger. Which is clearly destined, as in the aforementioned political figure. But first things first.
There is a phenomenon in the Donbas and on the Internet, like Dima Dzygovbrodsky. Or, in short, Dadzy. He writes a lot and very pathetic. For that, in fact, some politicians like the Gubarev couple value him. And obviously well fed. Just because Daza doesn't feed without top dressing. Well, the person is not able.
Although it should be noted that he tried. Whole two weeks. Dima joined the Ghost Brigade and spent the past two weeks there. Honestly carried guard duty and stood at checkpoints. Claims to him was not. Dadsa had claims to the "Ghost." When it came to Dima that it was necessary not to pay for service, but because it was necessary, for food and respect, Dima from "The Ghost" very quickly faded. Because he earned a lot more respect on the Internet by publishing photos from positions and videos, where some masked guys told me how good Dima is.
In general, there was no military fate. So, at least, I was told by my friends from Ghost, with whom I still communicate. And so they know better. Well, that generally remembered.
On the Internet, too, not everything was smooth and smooth. And Dima left, wiping out all that was possible from his pages, and broadcast with anguish that his legs would not be in social networks anymore. But back. Moreover, he recently became a party to the scandal, when he was caught by the hand on the "left" account in LiveJournal, from where he wrote, let's say, not quite biased things. Kindle, for short.
But Carlson returned and continued his difficult path blogger. But since it is difficult to change a person's style, the essence of Dadzy's masterpieces has not changed from the word at all. And the main style of Dima is a lie. Pathetic, beautifully presented, but a lie.
As an example, I will give Dima an oath. Thanks to her, he raised his ratings well and made a noise at all. Many liked it. Today, the author carefully removed from wherever it was possible. But ... there are people who have carefully and carefully preserved it. I beg.
Liked? Me too. Very pathetic and beautiful. Able, devil. That's just if you carefully look at what he fulfilled from his oath, then it becomes clear that nothing. Unless, of course, count
weapons
in his hands the mouse and keyboard.
Therefore, apparently, the author deleted the movie. And such rollers Dima made a wagon with a small truck. It makes no sense to bring them all without much need, everywhere the same rubbish and lies.
Overall, not a bad guy. That's just lying a lot and loves money. "Well, and who does not love them," as the hero of the novel, so beloved Dima Bulgakov, said.
But today it will be about the affairs of the present day. Today, Dima got up to fight the Ukrainian fascists and maydauns ... represented by Hodakovsky. That is, who is the main enemy of the DNI. The main fascist and maydaun. Yes, LiveJournal allows the use of virtually any vocabulary, so Dima does not hesitate.
Briefly. Personal
.
Yes, Nikolai Leonov is a pity, just like hundreds of other guys who gave their lives for the freedom and independence of Donbass. But why, apart from indiscriminate accusations, nothing more? As a reading person, I personally did not understand, Khodakovsky himself was lying behind the machine gun or sent his people to shoot KamAZ? Where is the specifics? And why so much hatred? Two years saving up what?
By the way, two years ago, when the tragedy was mentioned, Dima was not so eloquent. Excuse me
Nikolay Leonov: War picks up the best
Notice the difference?
2014: Kiev punitive killed a bright and brave man in Donetsk. Nikolay Leonov.
2016: Nikolay Leonov. 26 was killed on Monday 2014 on Monday while leaving the Iskra group on the Putilov Bridge in KamAZ, and the group opened heavy fire. 30 May. And Khodakovsky is to blame.
What was required, two years of intense investigation or was it an order? With prepayment? I think the second. Especially as in 2014, Dima couldn't even find the words, oddly enough, for a departed comrade. Reping what was said to others. Busy, he was somewhat different things, rode in the Crimea at meetings with flags. It was both safer and more interesting.
What is the essence of everything? In the fact that I want to bring Dima to clean water? Not. He is still a blogger with all the consequences. Fame in social networks is good, but the blogger, as it were, is not responsible for everything he writes. Especially in the DNI. Especially if he writes something, let's say, to people at the top of the food chain. So let others judge the purity of thoughts and the essence of what Dima wrote.
The fact is that in some circles of Donetsk there was information that Dima could be additionally ... walked across the bridge. Moreover, in people who "shared" such rumors, I am very confident. For they are just from that opera, which comes up with rumors first, then spreads, and then realizes. Like the Ukrainian DRG, elusive and merciless. For the elite.
The fact that Dzygovbrodsky is absolutely uninteresting to the Ukrainian DRG as a target is understandable. But they can walk along the bridge of this talker, if only because, firstly, no one really needs it, and secondly, it has recently been devoted to the fight against Hodakovsky. To wheeze.
Accordingly, in the case of what (and the case of what is known, how can they arrange with the example of Brain and Dremov), who will be blamed? That's right, Khodakovsky. Moreover, the sources almost openly say that Khodakovsky was put in charge of the "possible" murder of Dadza. It is clear that even staying somewhere on Lake Baikal at the time "in case of something" will not provide an alibi.
In general, I am a little sorry for both the defendants of this material. Dima's fault is that he has proven himself to be a complete lie, this exchange for a Skiff-type figure is a sacred cause. But by God, whatever the empty man Dzygovbrodsky was, this is not a reason to mold Nemtsov from him. Although he himself is trying well in this field. Soon it will be possible to evaluate the harvest.
Khodakovsky ... more difficult with him. All his fault is that a good man (even if there is no such position anywhere) and an officer could not become a good politician, did not have enough cynicism and arrogance. And if such a decision is made at the highest levels, I am sure that they will remove Skif from the political arena of Donbass at any cost.
Perhaps, by "numbing" a blogger-loser.
But not the same price. Not Somalia or Sudan after all ...