"Omsk Transport Engineering Plant" (part of the corporation "Uralvagonzavod") sent the military the first two production samples of a special fire engine (SPM), the press service reports
UVZ
.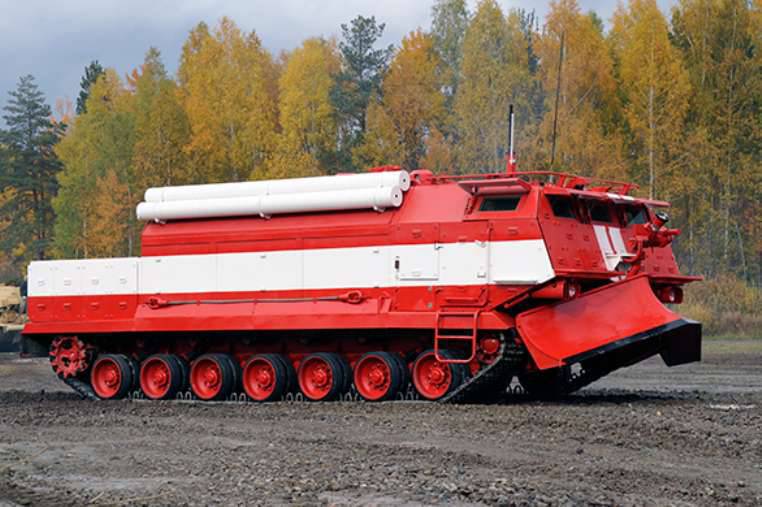 "The machines have successfully passed the test cycle and received a positive conclusion on all parameters. According to the terms of the contract, the equipment should arrive at its destination at the end of March, "the release says.
It is noted that SPM was developed by the Omsk plant in 2012. "In September, 2013 was first publicly presented at the Russia Arms EXPO International Exhibition in Nizhny Tagil, where a unique function of SPM caused special interest among specialists - working in remote control mode , without crew ", - told the press service.
In 2015, the PMT was accepted for supply by the RF Ministry of Defense.
According to the manufacturer, "the machine is designed to extinguish fires and conduct rescue operations at arsenals, warehouses and storage bases for explosive substances, clearing aisles to fires, laying firebreaks during forest fires".
The uniqueness of the SPM is that it "was created using units and assemblies
tanks
T-72 and T-80, and the presence of an armored cockpit allows you to increase the protection of the crew from the effects of adverse external factors, "the report said.
According to the information, the SPM weight is about 60, the supply of extinguishing agents is 25 cubic meters, the water supply range (extinguishing agent) is up to 100 m, the crew is 3 people.