Largest in
stories
The US Navy is a destroyer of a new type, Zamvolt, on Monday went to sea for the final tests, reports
Expert Online
with reference to the Associated Press.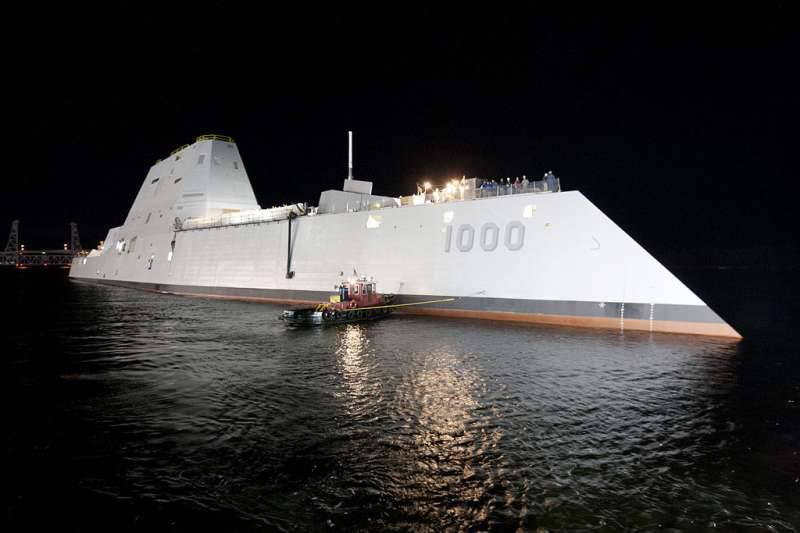 "Engineers and technicians of Bath Iron Works intend to focus on the work of power plants, mobility and safety of the vessel before the acceptance of the US Navy," - said in a statement.
"The commander of the destroyer was extremely impressed with the stability of the ship, especially during tight corners, his navigability during the first test in December," the agency quoted rear admiral Peter Fanta.
The destroyer is "as automated as possible", which made it possible to reduce the number of its crew to 150. It is assumed that Zamvolt will take over combat duty in 2017.
The cost of the ship was not less than $ 4,4 billion. This figure forced the Navy to abandon the original plans to build for themselves 32 such destroyers. Given the significant cost overruns, the Zamvolt program was significantly curtailed.
Help edition:
"Zamvolt" - the largest destroyer of the American fleet: its length is 183 m, width - 24,6 m, draft - 8,4 m, and displacement - 14,5 thousand tons. It is armed with 20 Mk-57 rocket launchers, two long-range 155-mm guns and 30-mm anti-aircraft guns . To protect against radar, the hull and superstructure of the destroyer are "dressed" in a 3-cm "shirt" made of radio-absorbing materials. "