Group press service
Rostekh
publishes a message, which says about the start of production of new generation radars. The report says that at the facilities of the Ryazan Instrument Plant, which is structurally part of KRET, the first samples of radar with AFAR - active phased antenna array were made. Such an element will become one of the segments of use on multi-purpose fighters of the new generation T-50.
From the message of the chief designer of the Institute of Instrument Engineering named after V.V. Tikhomirov (it was there that the project of the new radar was created) by Anatoly Sinani:
A traditional locator is an antenna, a receiver, a transmitter. In AFAR, the receiver, transmitter and antenna are a single unit integrated in micromodules. That is, each small cell, and there are thousands of them, contains a transmitter and a receiver. The entire high-frequency part of the locator "merges" into the antenna. And if earlier, for example, the transmitter failed, then the plane became blind. And at AFAR one or two cells can be affected, a dozen, a hundred, the rest continue to work. The T-50 antenna field is about two thousand such cells.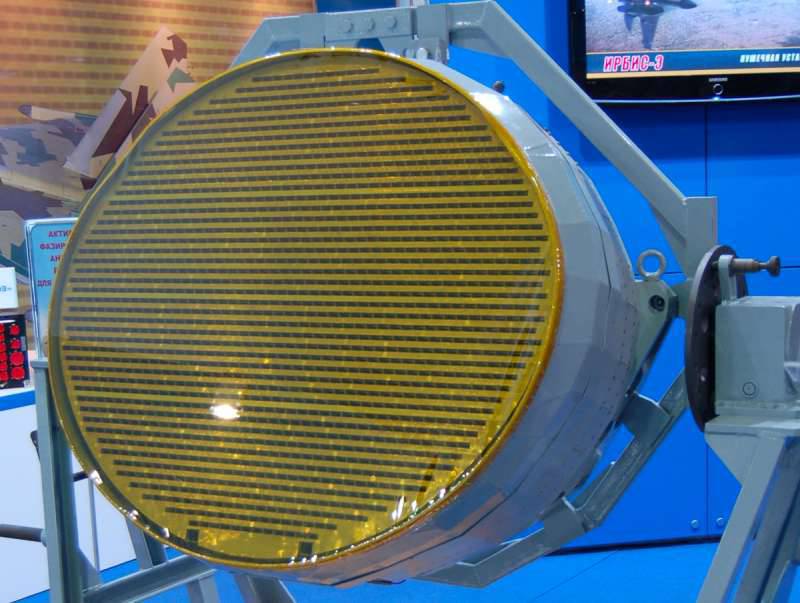 The modern fighter has two side and frontal antenna operating in the X-band. In addition, two additional locators with AFAR operating in the L-band are installed on it (in the leading edges of the wings). This allows you to increase the sector of the T-50 radar (PAK FA) to a level above 200 degrees.
The new locator with AFAR allows you to move the scanning beam in a fraction of a second, which helps to increase the speed of target selection and aiming aircraft weapons systems at them. In addition, the locator can be used as a means of electronic countermeasures.
It should be noted that, under the leadership of the Nobel laureate Jores Alferov, work was carried out to create monolithic microwave modules based on such compounds as gallium arsenide.
Anatoly Sinani:
The most difficult problem of transition from silicon electronics to heterostructures and monolithic microwave circuits based on gallium arsenide, which allow combining several previously independent devices, has been solved. The appearance of AFAR makes it possible to realize the idea of ​​network-centric warfare, when a fighter becomes the command center for ground forces, air defense systems, and also a group of fighters.
At the same time, Anatoly Sinani urges to refrain from attempts to compare Russian and American (used, for example, on F-35) developments due to the minimum amount of data on the radar from AFAR produced in the USA.
It is worth adding that the Ryazan instrument factory from the budget for the creation of radars with AFAR received about 6 billion rubles.