In order to integrate more quickly into the European society, Ukrainians must abandon the Cyrillic alphabet and switch to Latin, and if the authorities decide to take this step, Ukraine will have a bright future, says RNP leader Gennady Balashov.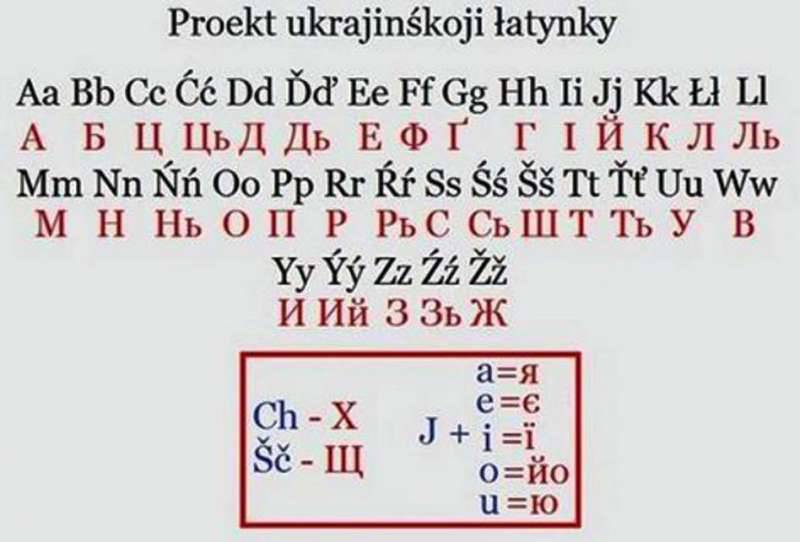 In his Facebook, Balashov wrote: "Our children will be able to get closer to technology, dual keyboards will be a thing of the past, and English will be better absorbed ... Ukraine will plunge into the global process of production and consumption. We are waiting for huge changes and mass enrichment of the Citizens of Ukraine with the "5.10" System. "
(In short: "5.10 system" provides for the introduction of a simple tax system: 5% is a sales tax, which the buyer pays on each sale (not to be confused with turnover tax!) And 10% is a social tax, which the payee pays ").
For some reason, the author expounded his idea in Russian, without becoming a bother with the translation of at least Ukrainian. And you could use the new alphabet, the image of which he placed under his text, to popularize his idea.
But what the user of the social network Arkasha Zeltz wrote: "By the way, Vietnam switched to Latin in 1910 year. Something somehow not enriched until now. When compared with the Japanese, Taiwanese, who write in hieroglyphs. Balashov is trying to replace the content form. "
"Yes, what is there to bathe?) Let us immediately English - the state, and we will call the hryvnia the Ukrainian dollar! And to everyone to open their pockets and wait ... ", - proposed Dmitro Mokrousov.
"Latin and English are different keyboards, similar, but different," Ivan Ivanenkiv pointed to the error.
Agency help
Ридус
:
"The first in the 19th century to establish Latin writing in Ukraine was Joseph Lozinsky, a scholar and priest from Lvov. The basis of his system was based on the Polish alphabet with the addition of Czech letters. Another option without the Polish digraphs was suggested by the Czech Slavicist Josef Irechek. The dispute between supporters of these two options, as well as between opponents and supporters of the use of the Latin alphabet, is generally known as the alphabet war. In the 19th — 20th centuries, the bureaucracy of Galicia under the Austrian government used the Latin script. "