So we went through another significant stage in our
stories
. And, as it should be a significant stage, he caused mixed opinions. Including, on our pages. Opinion is a purely individual matter, of course. They say how many people, so many opinions. Of course, the majority of opinions were divided.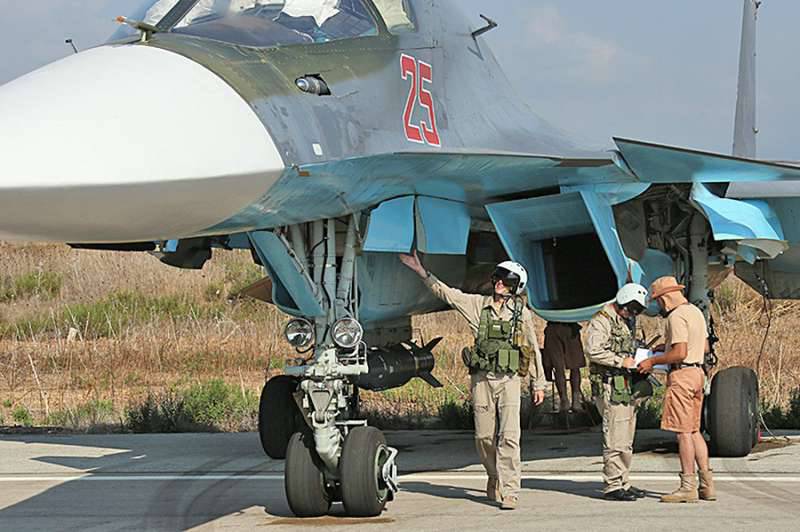 In this article, I suggest you refresh your memory a bit and take it away six months ago, by the time the Syrian (for us) events began. Well, and after - a few similar comments, but already related to the end of the operation. It is a pity that not all of the cited were unsubscribed in both time intervals, but there's nothing to be done.
It is clear that the selection of comments is also somewhat subjective, but I tried to choose the most informative comments. Without "we will win all" and "chief, the truncate is gone." And italics let me add something from myself. (Comments of readers are given without editing. No need to send error messages to the site. - Ed. "IN".)
So,
the beginning of the Syrian operation
.
McArrow EN 17 September 2015 10: 34
That's right, the whole world has recognized that ISIS is a terrorist. Asad allows at the same time to break in the technique. If only the second Afgan our generals did not sweep.
sibiralt RU 17 September 2015 10: 34
Should Russia fight with the IG? Of course not. This is not our war. It seems that it costs us to climb there, as the whole coalition will support the opposition, and we will be the second Afghan, and Russia will be exposed as the world aggressor. This is what the West needs.
Oznob RU 18 September 2015 08: 30
They 4 of the year there are fighting off scumbags of all stripes. I am sure they can still fight back with the same success. But Syria is beaten all over the world, they will not be driven under the brutal store without help from outside. Many say that if we get into a fight, this will be our second Afghanistan. Beg not agree with such an assessment. Still, the Syrians and Hezbollah are fighting there. If our guys work there, it will be something like Debaltseve and Ilovaisk. Specialists will help organize boilers, help with turning the contents of the boilers into submissive sheep, help restore logistics and exploration. I do not think that we will fight instead of the Syrian army.
Yes, many (including myself, I confess) were afraid of a second Afghanistan. Yes, the lightning-fast Crimean operation instilled some confidence, and Ilovaisk too. But - feared.

igor1981 UZ 18 September 2015 08: 00
Perhaps you need to expand military assistance to Syria:
- the supply of more modern technology with the training of Syrian crews;
- striking at militants
aviation
RF - it will even be a good test and running in combat conditions for pilots and combat aircraft (Su-34, Tu-22M3M, etc.);
—Astelling missiles from warships of the Russian Navy.
This may well be sufficient, but in no case it is necessary to help ground troops, for obvious reasons.
Someone will say that all this is expensive, now there are no means, but you need to remember that if Assad falls, and he falls without support (thanks to the American "partners"), then all this evil will be aimed at the South Caucasus and Central Asia . And they will have to fight back on the borders of Russia. And refugees from there will trample to Russia. As they say the enemy is better to destroy in another territory than in its own.
Great comment. Guessed, or thought out, it does not matter. The man, using his head not for food, actually described the whole plan of action of our military. Until then, I will note how this plan became well known in detail.
akudr48 RO 18 September 2015 09: 26
The authorities of the country can ask the Russian Federation for military support in the fight against terrorism if necessary.
Hopefully, Afgan will not happen again.
Weapon
and instructors in military training need help, but to use Russian soldier as cannon fodder is for nothing!
For any geopolitical bagels.
lis10411 RU 18 September 2015 09: 52
The interests of the United States and Russia in the east are in the ground. For it is not worth dying. It's one thing for the homeland, and another for oil and raw materials. To help with technology, yes, but not as a living force. Afgan again with a bold number 2. Someone will warm their hands in another war, and someone will mourn their sons. Politics is a dirty game in which few winners have losers.
Altona EN 18 September 2015 10: 27
I had an idea that they would drive the ship group to the Syrian coast and hit rockets from the missile cruiser at ISIS positions ... In general, how can we help Syria in terms of some troops? Aviation,
Tanks
ships?
Old26 RU 18 September 2015 23: 01
I hesitate to ask, what kind of missiles are you going to "vdarit" from the missile cruiser on the positions of ISIS ???
I hope the reader under the name Old26 no longer has illusions and uncertainty on this topic. Practice has shown that we have both a cruiser and a rocket boat capable of doing this. And rockets, surprisingly, there is. And not in single copies.
padded jacket RU 25 November 2015 17: 04
Syria must be "kept" and saved from terrorists whatever it may be and this is not only a duty towards an ally, but also the image of our country. We have to show that we have again become a power with which we will have to reckon with all arrogant and, as they say, "lured the shores" countries like the USA, Israel, the SA, Qatar and others that have already thought very strongly about themselves after the Soviet Union was destroyed.
And it is necessary to "knock together" a bloc of countries in the region from Syria, Iran, Iraq and allied countries, it would not hurt us to bring Hezbollah to power in Lebanon.
The plan, of course, is still that, but in March of 2016, it must be admitted that our weight on the world stage has increased. At least in military terms. In terms of politics, everything seems to be in order. And our Ministry of Foreign Affairs is able to resolve issues no less effectively than before.

Now see
what are they writing about today
.
sibiralt RU 15 March 2016 00: 18
The main task performed. Fuel trucks and refueling at ISIL are over, supply lines are closed. The Syrians have their own aircraft. Let them bombed themselves. And the 9 of thousands of sorties is an excellent school for our pilots and technical staff.
Well, personally, I am very pleased that the dear Sibiralt has lost some of its pessimism. It's nice to see how the opinion of a single person changes. Especially in light of such events.
padded jacket RU 15 March 2016 13: 31
Quote: Al1977
They did not reach Tbilisi — treason, they did not reach Kiev — treason, they did not answer the Turks — treason, and treachery left Syria.
And here Tbilisi and Kiev? In general, I agreed with the Minsk agreements. It was necessary to stop the slaughter where the majority of the Slavs were pushed together and the majority of the civilian population was Russian. But with the departure of our VKS NOW from Syria when the gangs of terrorists are not yet defeated, I disagree.
makst83 RU 15 March 2016 08: 35
The most interesting thing now will be to watch as the people who yesterday wrote about the "second Afghanistan" now all as one will stand up for the war to the last igilovtsa, the transfer of three tank divisions, since otherwise it turns out that "Putin has merged." And I don't care that from the very beginning it was said that the campaign was short-term, and that the goal was a struggle, not a victory over terrorism, and that the bases in Tartus and Latakia would remain with Russia.
Temples RU 15 March 2016 09: 21
How quickly everyone got used to the war in Syria.
A year ago at this time very few people were interested in events in this country.
Yesterday there were so many cries - everything was gone! merged all and everywhere.
Just a turn in the war in a foreign country.
And after a two week truce in the war that lasted five years ...
The truce is the result of Putin's actions in Syria.
Can we allow Putin to act further?
Without whining and reproaches.
Whining-the lot of our liberastov and miserable opposition.
Altona RU 15 March 2016 11: 55
Quote: Tjeck
In part, I agree with you, you won't correct the case with hysterics. Nevertheless, questions remain. In particular, can the Syrian people's army cope without the support of the Russian Federation.
1) The West openly stood up to support the terrorists, and to wave with the whole world and inflate further tension is not with our hands.
2) It seems to me that we partly compensated for the loss of CAA equipment — assault rifles and machine guns, grenade launchers and anti-tank systems, infantry fighting vehicles and tanks. They transferred part of the weapons and vehicles into the hands of the CAA, the Iranian Guard and Hezbollah, leaving them to work on the ground.
3) This is about the withdrawal of new weapons and special forces.
Warrior Hamilton KZ 15 March 2016 19: 09
Russia is beautifully leaving Syria, America is beautifully left!
Obama worked very well. America got everything she wanted. Its first achievement - Russia appointed a sponsor and culprit of terrorism, this son of a sheep - Erdogan. Americans, Jews and Saudis worked there for decades what they wanted, and this pony turned out to be guilty. Sultan is compromised before the whole world and now: "The price is worth nothing for him on the market day." After the Crimean events, America would not mind to control the straits itself. Kurdistan, a state not controlled by anyone other than America, having territorial claims to Syria, Iran, Iraq, Turkey is real. Such a bogey, such a muzzle for neighbors, for the sake of it they will cope with ISIS and without Russia. Kurds for the sake of their national idea, the devil will give .. And damn it, right there, right beside, the black one ... Russia did the main work - it deprived this zoo of illusions - that everything is allowed for them. Now, praise be to Allah, the bloodthirsty Orys-Rus gather manatki and the initiative is taken by the "civilized countries." Yes, they will not fight with them, just buy, as always they were bought. Then they will hold "democratic elections" in Syria, New Kurdistan, Iraq, after having plucked how they smoke and more - where the "international community" will ask and everything will settle down. Russia by its actions shows that it does not intend to dominate this region, which means: "Allah Akbar!" Soon the real owner of this place will declare itself.
Controversial, very controversial. But let's take, and see how events develop. As practice has shown, today a lot is not going at all like we are wagging.
_Vladislav_ RU 15 March 2016 09: 22
Time will tell.
But two things are clear:
1. The withdrawal of the main forces was (will be) hurried.
2. Public opinion was not prepared. Those. Yesterday, blood flowed like a river, but today it is already a victory, this is what it is about.
However, a number of experts are really right:
1. Russia has shown its capabilities.
2. Russia can not all. Its capabilities are limited. It is not necessary to project the capabilities of the USSR on Russia (the USSR was a superpower). And p. if there is a danger of ending economic resources and opportunities to continue the campaign, without conditional, then there is nothing to think about.
And, as it were, the possibilities of Russia and the USA are very clearly visible.
States can afford to fight for quite a long time in different parts of the world, to serve a huge number of military bases. This is what the powers of the superpower are. In addition, the states have the opportunity to print as many forever green as they want, and more than half of the planet is ready to buy and undermine the US debt.
PS
A superpower is a state with a huge political, economic and military potential, with superiority over most other states, which allows it to exercise hegemony not only in its region, but also in the most distant points of the planet.
Russia is a Power, and it cannot afford so much. And therefore you should not get involved in long-term costly military companies. What has already been done is not enough, for the Newest History of Russia - this happened for the first time.
atalef IL 15 March 2016 10: 06
Quote: Damm
Absolutely not obvious. In order to understand something, you should at least see the whole map. Now you can only guess.
Possible options:
1 begins Khamsin, aircraft is useless.
2 rumors of pzrk, not exactly rumors
3 there is a high risk of losing aircraft and people as a result of Turkey's adventure
4 is no longer directly threatened by Assad, then its renewed army itself can
5 doesn't have to completely destroy the daishaks and remove the immigrant press from Europe
6 may have overdue the decision of the Lao PDR issue
7 machines stupidly need capital, the resource flew under.
8 beautiful political move
Putin made an absolutely clever step, he finally realized that to achieve anything in Syria is not possible, it will cost Russia money, lives and loss of reputation in the Sunni world.
It is clear that the goals did not reach and they were not real from the beginning, the bet on Assad was stupid as was the reliance on the Shiites.
The civil war in Syria and while Assad is in power she has no prospect of ending and Russia is not able to restore order here, and why?
The operation was initially a failure, Assad will be removed in the near future (maybe this will leave a minimal chance that Syria will not collapse, although I don't think)
Baz won't remain there, what's the point of keeping her in a country in which the tasks of this base will protect itself, Putin finally realized that this is a dead end - he did it right, let the women continue to eat each other, as 3,5 had before of the year
padded jacket (8) RU 15 March 2016 11: 01
You can not throw the people of Syria at a time when the terrorists have not yet been defeated and at least half of the country (in territory) remains under them. Now these gangs of fanatic killers will feel that we are not regrouped and will launch an offensive, and then what? Return again our pilots and start all over again?
But this is of course a personal opinion of mine, so I'd better keep silent on this topic.
atalef (8) IL 15 March 2016 11: 03
From the fact that Russia is withdrawing its troops, this is an absolutely reasonable step.
Although for me they would continue to hammer them, the smaller they are, the better for us.
I now speak from the position of a normal sensible person who understands the situation in Syria and on BV a little bit better than 90% warriors on HE.
I wrote the same thing all the time.
There will be no sense, Russia will get bogged down and lose resources, lives and credits, taking the side of Assad (Alawites and Shiites) will lose weight in the Sunni world, soaking a couple of thousand women (thanks to you, of course), but this will not change the picture for BV.
The war will go to the partisan and for years.
In general, Putin achieved his goal (about which I wrote the same thing at the beginning) - both the States and Europe started talking to him, and this is the only thing he needed.
And Assad, Syria - why the heck would anyone need this swamp?
Well, write the same thing ... As they say, permanence is a sign of mastery? Or some stubborn. I note that it is too early to bury us. Yes, the loss of 5 (five) people is regrettable. But forgive me, in Israel, the wonderful and invincible Arabs whose army can change the picture in the Middle East in a week, more people die at the hands of these Sunnis and Shiites in a month.

So, we lost people. But - incomparable. Resources? Sorry, if there are any who have lost resources, then not Russia. Turkey lost, yes. Israel may be lost ...)))

The threat of losing weight in the Sunni world ... You know, we are losing that weight, then we gain ... But I will say this without sectarian separation: we have gained respect from the Muslims of the Middle East. On both sides of the front. And if this does not suit someone (especially not friendly with the Arabs), sadly, of course, but you can survive.
sa-ag ES 15 March 2016 11: 30
Quote: atalef
Putin made an absolutely clever step, he finally realized that to achieve anything in Syria is not possible, it will cost Russia money, lives and loss of reputation in the Sunni world.
For some reason, the analogy with the withdrawal of the Soviet troops from Afghanistan came to mind, too, as if for the above reasons :-)
Yes Yes. Someone has a glass half empty, someone half full. Otherwise, of course, expect and not worth it. But for some reason I didn't have any analogy with Afghanistan. If only because I saw how they met those who returned from Syria. So meet the winners. Of course, some, such as the author of the comment, would like to see the "Syrians" quietly creeping into their homes and get everything that fell to the "Afghans".

Alas. As you can see, incomparable business. Times are not the same.
IS-80 SU 15 March 2016 15: 29
In general, the dream of the liberals came true, Putin left. The truth is only from Syria, but if not Zrada, then Peremoga is accurate. The Pentagon with NATO can also celebrate the victory, they defeated Putin in Syria. Israeli analytes are happy that they have hardly adjusted with their pessimistic forecasts so far. Chow there like nothing more forgotten? And, and only Putin knows that the next sly plan worked again.
Sprinkle with ash and wash our tears? Cry, Yaroslavna ...
Baikonur (7) SU 15 March 2016 08: 45
Quote: cniza
while we are a few steps ahead, and they are at a loss.
Yes, they are really there in SHOCK!
Today already by
news
- Hozdep - in a stupor, Kerry could not mutter anything intelligible! BARA`0`BANA hums!
I want to add to yesterday's comments:
Thus, we show that we are for peace to the world!
What we are - not jackals who come destroy, rob chaos and DO NOT LEAVE!
And we came and led to a truce, streamlined the army of Syria! And (Quietly, not everyone (!)) LEAVE.
Created the ground for elections, REALLY DEMOCRATIC!
and that there would be no jackals squeals that we put pressure on the electorate (elections at gunpoint of Russian automata, how "THEY" can wrap it!)
+ the batch begins at the urkaine, we (the members of the forum) do not know what the jackals will get behind the scenarios, apparently everything is serious, there really is an election that must be secured, and the mongrels will make maximum efforts to prevent this from happening, and even to seize the LDNR!
And Lavrov said yesterday that we will react HARDLY to the attacks of Washington!
That's where the wild dog digs too!
avt (3) RU 15 March 2016 09: 21
Quote: Ami du peuple
. "Putin merged Syria" - such was the opinion of the overwhelming majority of members of the forum.
Well, it is normal - to fight, to the bitter end "on the sofa behind a computer.
Quote: Ami du peuple
Now I looked, still minus my appeals for poise and calmness.
And this is understandable - it was the same when they whined and mined in the "fight" for "the white warrior" Girkin / Strelkov, who first threw the cry "Putin - send troops" and "Slil Donbass", also minus me and others who said that that now, well, when he reconstructed the discharge of Denikin, he will go into politics. Yes, and dribbled on clave, bursting into tears - "How dare you! He is an honest soldier!" Not a single gram in a mouth, not a centimeter in ...! "And ..... a certain" January 25 Committee "has already appeared.
In this case, the creators of the "Committee 25 January" claim that the modern Russian government "is sick and engaged in self-destruction, ... turning into a walking dead." It is also noted that "belolentochniki" are not their allies. Strelkov-Girkin, Limonov, Prosvirnin and other members of the newly-formed committee declare themselves to be a "third force" that aims at no less than "saving the country" and "getting rid of dead-end branches of evolution." from which with a shout - "Rape!" fled Leggings. Before which the prospect of Ryzhkov appeared, well, from whom Kasyanov, the party registered by the Ministry of Justice, was selected. Here's an analogy that the all-propagals don't want to do? And just to realize the fact that ALL of them and we, too - the spectators watching the Big Party game in Syria, in which another move was made for the time being, well, removed the Figure from the blow - remove the guys from the field, well OURS stay, not Iranian advisers at the general level and material assistance does not disappear. wait - the clock on the other side is ticking to the flag.
Long comment. But he decided to finish it. Well said about the Big Game. We continue to look. We continue to think. We continue to think.

And I promise that in some time I will make a similar selection again. And compare who and what they say then.