Over the past 24 hours, there have been no violations of the armistice regime with the use of heavy weapons, according to the bulletin of the Russian Center for the Reconciliation of the Parties in Syria, published on the website
Ministry of Defense of the Russian Federation
.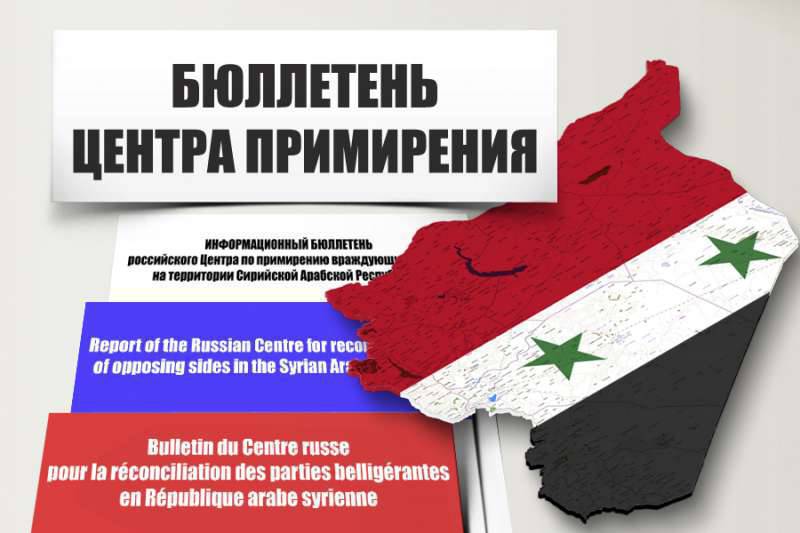 Information provided as of March 19:
«
General information on the progress of reconciliation of the conflicting parties
Preliminary agreements have been reached on reconciliation with the elders of a single settlement in the DAMASK province.
Negotiations were held with representatives of administrations and the public of 3 settlements in the provinces of IDLIB and HOMS. The issues of joining the cessation of hostilities regime and the transition of members of armed groups to a peaceful life were discussed.
The number of settlements, with the heads of which agreements on reconciliation were reached, remained unchanged - 51.
The number of armed groups that have declared their commitment to fulfill and accept the cessation of hostilities is 43.
Monitoring Compliance with the cessation of hostilities
In general, the cessation of hostilities was respected. There were no violations with the use of heavy weapons.
In the HOMS province, militants who identify themselves as opposition members of the armed forces of Liva al-Hakk and Ahrar al-Sham fired at roadblocks of government troops, resulting in the death of one UAR soldier. Return fire on the attackers did not open.
The Russian armed forces and the Syrian air force against opposition armed groups that declared the cessation of hostilities and reported their position to the Russian or American reconciliation centers did not strike.
The course of humanitarian assistance to the population of the SAR
Over the past day, the Russian Center for Reconciliation delivered more than 2 tons of humanitarian aid, based on food, to the settlement of Kharasta (Damascus Province). Formed another humanitarian convoy to the province of HOMS.
Consultations with representatives of the Ministry of National Reconciliation of the Syrian Arab Republic were held at the Russian Center for Reconciliation of the Warring Parties. They discussed issues of coordination of actions in the provision of humanitarian assistance to residents of localities who joined the reconciliation process.
Additional Information
The US-Russia Coordination Center (Amman, Jordan) held Russian-American consultations.
The parties addressed issues related to the observance of the cessation of hostilities in the SAR and the provision of humanitarian assistance to the most affected areas of Damascus province. "