Head of the Main Operations Directorate of the General Staff of the Armed Forces of the Russian Federation, Sergei Rudskoy, said that Palmyra had all the conditions for taking ISIL groups operating there in the encirclement and their subsequent rout. According to General Rudsky, the Syrian government army took control of all the key heights at Palmyra (Tadmor), which makes it possible to consolidate the advantage and drive the gangs into the "boiler".
The Syrian military completely cut off the ISIS militants in Palmyra from the supply, cutting off all roads leading to the city. Only in the last 24 hours did the militants make several attempts to repel the 939.5's dominant height from the Syrian troops and break through the encirclement, but all terrorist attempts were successfully stopped.
A successful operation of the Syrian troops and militias in the area of ​​the castle of Kalaat Tadmor. The forces of the Syrian special forces "Tigers" and the forces of national self-defense took another height - Tell Matar, from where the militants fired on the armored vehicles of the SAR troops.
According to General Rudsky, the Russian
aviation
provides support to the Syrian army in the area of ​​the city of Palmyra. Every day, airplanes of the Russian Aerospace Forces from the Khmeimim air base make 20-25 flights. This was reported by the news agency.
TASS
.
News agency
SANA
Meanwhile, it publishes information that the SAR army is conducting an offensive against militant positions in the province of Hama.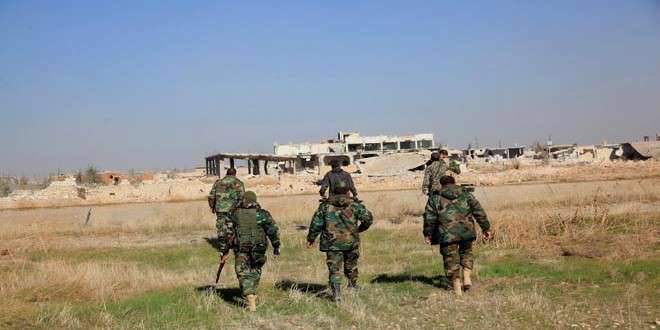 Thus, in the area of ​​the settlement, Wadi al-Azeb was defeated by a fortified militant of ISIS. Destroyed three units of military equipment. It is reported that ISIL militants attempted to carry out an attack on the positions of troops east of the city of Salamia, but the army unit, having received information from intelligence, arranged an ambush for the militants. The terrorists were eliminated. Several machine guns and a car with another became the trophy of the SAR troops.
weapons
.