The ceasefire regime was broken 9 once a day, the city of Aleppo and settlements in the province of Idlib were subjected to mortar shelling, the bulletin of the Russian Center for the Reconciliation of the Parties in Syria, published on the website
Ministry of Defence
.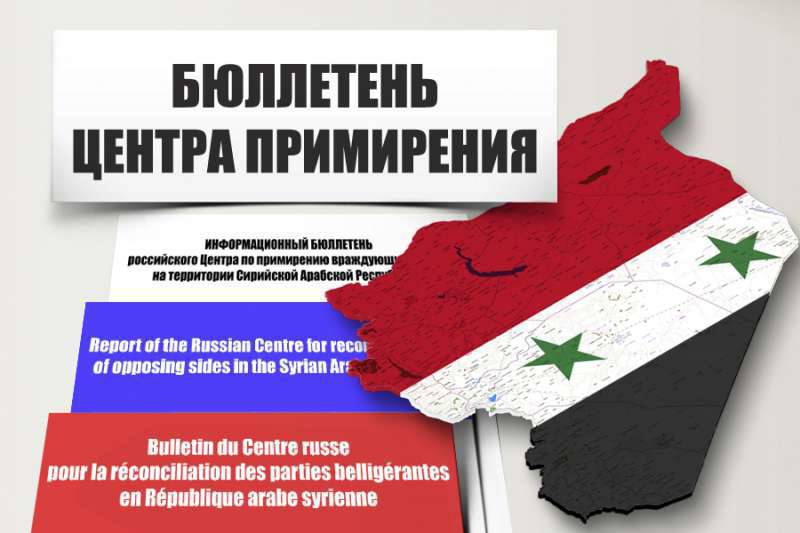 Information provided as of 17 March 2016 g:
«
General information on the progress of reconciliation of the conflicting parties
Within a day, an application sheet was received from the commander of one detachment operating in the province of Homs. Thus, the number of armed groups that have declared their commitment to meeting the conditions for the cessation of hostilities has reached 43.
Negotiations were continued on reconciliation with the elders of 2 settlements in the province of Damascus. The total number of settlements, with the heads of which agreements on reconciliation were reached, remained unchanged - 51.
Monitoring Compliance with the cessation of hostilities
During the day, the cessation of hostilities was broken 9 times. Reported by 3 violations in the provinces of Aleppo, Damascus and Idlib.
Militants of the Liva Sultan Murad armed group that classified themselves as opposition from Ashrafiyah, Sakan-Shababi, Helok and Haydariya regions twice opened mortar fire on Kurdish people's self-defense units in the quarter of Sheikh Maksud (Aleppo).
Unidentified armed formations from mortars and small
weapons
Zibdin, Jawbar and Beit Naem (Damascus province) were shelled.
The shelling of the besieged village of Foix (Idlib province) continued.
The course of humanitarian assistance to the population of the SAR
A telephone conversation took place between the head of the Russian Center for Reconciliation and the Director of the Office of the Special Envoys of the UN Secretary-General in Syria, Mrs. Khwala Mattar. They discussed the issue of coordinating joint actions for the delivery of humanitarian aid to the settlements of the province of Damascus and ensuring the security of the humanitarian action.
Operational teams of the Reconciliation Center monitored the humanitarian situation in the province of Aleppo.
Additional Information
A working meeting was held at the Russian Center for Reconciliation of the Warring Parties with representatives of the Ministry of Municipal Administration and the operational group of the Supreme National Committee of the SAR. An agreement has been reached on organizing cooperation in matters of control over the cessation of hostilities and ensuring the security of the delivery of humanitarian goods.
Information about abductions continues. So, according to local residents in the prison of Harim (Idlib Province), "Xibgat al-Nusra" militants forcibly retain more than 30 people for ransom. "