Greetings to you, my dear friends and foes! Well, spring has come. Spring, waited. Spring, which brought not only the awakening of nature, but also confusion in the Ukrainian heads. How are the doctors? Spring Fever.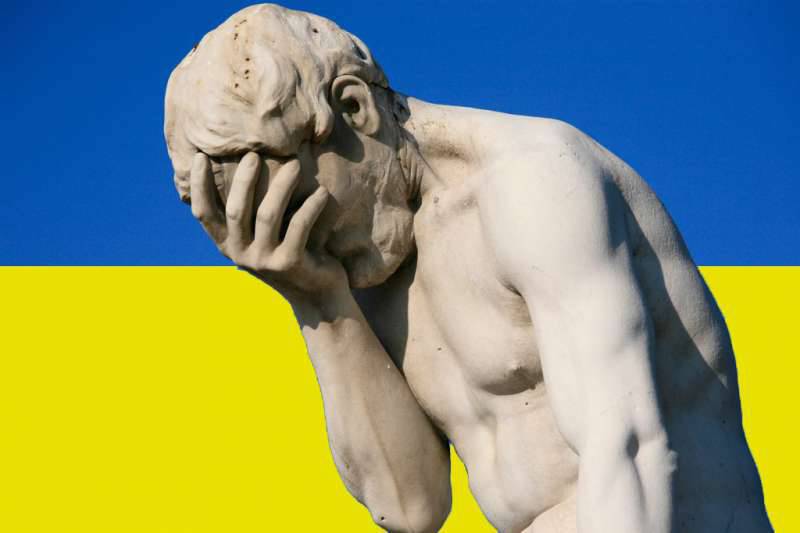 Today, and every day, our government and president actively "give out to the mountain" statements that simply drive all kinds of logic into a dead end. Even the famous Vyshivanok fell silent. A couple of times made with another peremoga. And then it turned out that it was zrada. Their own and stuffed physiognomy. Now suffers, silently, alone.
I read here somehow about the reason for such a metamorphosis in Ukraine. And read in our press. Like the reason for the wrong people. We do not correspond to the status of a Ukrainian. In both. We live here for generations, and the Ukrainians have not become. And greedy, and envious, and sly. Well, not people, but some freaks in human form. And in cockroach too.
Nonsense, of course. In any nation there are all types. And we, too. And the majority are just people. People who want to live, raise children, relax by the sea, celebrate weddings, communicate with neighbors. And all this politics is deep on the drum. Do not touch us.
But touched. And pretty well touched. I remember the beginning of the ATO. Queues in military registration and enlistment offices and holidays, sending future killers to the east. And the speeches of the wives of these murderers. You kill everyone there quickly and come back! Killed And they returned. Only some in coffins. And soon the same women were already throwing themselves under the wheels of military buses. Return the breadwinners.
Today, the vast majority of Ukrainians began to see clearly. Donetsk men and women gave us a good science. According to official polls, by the way, more than 60% is already against the war. But 20% for the war to the bitter end. Until the last Donetsk citizen.
Something on the philosophy pulled. But you wonder what's new in our area. Why is the title of the article. Honestly, the name stole. Not all. Part.
In Crimea, celebrating the second anniversary of the escape from Square. Celebrate in a big way. Celebrate heartily. Even our media can not hide the Crimean joy. And we hurt.
Water shut off? Overlapped. So what? Began to drink less! Is electricity cut off? Chopped off! So what? Became less light bulbs include! Did the products stop supplying? Stop it! So what? There is less to eat! Our product. On the Russian switched. Passage blocked? Shut off! So what? Began to fly airplanes and use the ferry.
Our svidomye sat and smirked. Well, Crimeans will survive. But tourists? Who will go where there is no light, water and food? This Ukrainians can come "with their grub." Russian "zazhireli." Accustomed to the "all inclusive". Crimean "wild tour operators" will suffer and crawl to us for tourists. And we once, hands in his hips. "And what are you now to us, traitors?"
It would have looked beautiful ... But in fact, literally today is information. And again our, Ukrainian. The increase in the number of booking air tickets to Simferopol has increased by almost 50% compared with last year. And places in small hotels of Crimea are already sold out for the whole season! 15 March! And despite the fact that prices in the Crimea have grown to the level of Sochi.
Well, the Russian logic is incomprehensible for the Ukrainian head. What is the point to go to the Crimea, if you can relax in the nearest swamp with frogs? And on your page to write that today I was wandering along the beach somewhere in Miami ... Or is there nowhere to go? So you already kind of like to breathe. You have no money. According to our information.
Speaking of money. Same pattern break. Our media, European media, American media write that the Russian economy is not just lay down. She already "spreads on the floor." And trample her all and sundry. We watch interviews of your politicians. Those who are allowed to enter our country. They also talk about this. Wait. Soon Russia will disappear. Georgians even drew a map where, instead of the territory of Russia, there is an ocean. Beauty!
What really? But in fact, Russia for some reason, most of all buys gold. In tons. And not paper, but real. That which can be held by hands. Paper something a lot. But this very little. Dig, dig, but it is not so much in our depths. Our, in the sense of the world. But the "winners of Russia" from Canada fully sold their gold reserves. Until the last gold coin.
And the Americans are "tearing the brain." The most powerful economy in the world! Who is arguing? But for some reason, the dying Russian economy credits this economy. They collected the last Russian pennies and bought US government debt bonds for more than 5 billion US rubles. How to understand this? Maybe something is wrong to us about the Russian economy broadcast?
But our "glavnyuki" successfully "beat at the Ukrainian brain." Even better than Westerners. Most Ukrainians have little interest in "abroad". We are closer to his. And its not at all clear.
Our Parliament has many times spoken about Russia as an aggressor state. Our president has been at war with Russia for two years already. And about economic sanctions and can not speak. That just did not enter. And the ban on flying. And the supply of products. And transit. Like peremoga should be. And what happened?
And it turned out that all our peremogi so painfully slammed in on us, as zrady is not necessary.
The first is gas. Yatsenyuk repeated so often that Ukraine in the winter did not buy Russian gas, which finally convinced the Russians too. And this is really peremoga. Our economic "miracles" have long reached the pragmatic brain of Russian business. Businessmen do not understand that politics is above business. They think the economy is in charge. And we do not. We have the main thing - to spoil a neighbor.
Our gas commanders have repeatedly spoken about the imminent meeting in the trilateral Ukraine-EU-Russia gas format. And the Russians unexpectedly answered - but why the hell? We have no questions on gas. Ukraine does not buy, and we do not sell. We can have questions only with Europeans. So what? And for what?
On the other hand, however, what questions if we do not trade? Contracts are valid. What else? Only now somehow became restless. What if the "reverse" will stop? After all, even now, Nord Stream is only half involved.
The second is trade. We shouted about stopping trade with the aggressor. Oh, how shouted. Even diplomatic relations offered to break. All last year they published bravura reports on the reduction of our supplies and Russian to us. The whole year, "choked" the Russian economy. Indeed, economic relations have changed significantly. Russia experienced our "assaults" quite calmly.
And so it began. By order of our government, Ukraine is preparing a lawsuit in the WTO against Russia. And you know what for? For the reduction of trade! Again, "but we are for something." ... Logic doesn't fit even in our cockroach. We are suing to feed the aggressor state. And the claim is not clear.
We kind of ran to the EU. There we now have a "feeder". And if they ran there, then, accordingly, they lost their privileges on the other side. This is normal logic. Understandable. A friend helps, and a friend leads a purely business relationship. Russia did not seem to prohibit anything. Just deprived us of their benefits. So what is the lawsuit about?
In short, the brain of a simple Ukrainian will soon burst. Or the protection system will work. Like - yes you all went ... That is also not very good.
Today we are waiting for the decision of the fate of the country. Solutions are not in Kiev. Solutions in Washington. I'm about the premiere. We are waiting with the understanding that this decision will be fateful in any case.
If Yareskko becomes the prime minister, it will become clear - the West has decided to completely "buy out" Ukraine. Today, more than fifty industrial enterprises and ports on sale. And prices are on sale. The percent on 50-60 is below market. Yaresko will be the last prime minister ... Then no one will need Ukraine, as a state. Including the Ukrainians themselves.
If Tymoshenko wins, then the looting of Ukraine in favor of local oligarchs will continue. It means that we are no longer needed as a business project.
Well, about the world. For two years, the president of Ukraine has said that he is the president of peace. For two years, the government has been convincing the Ukrainians that the separatists and the Donetsk residents are different people. For two years we pay military tax, for two years we finance volunteers and battalions of the National Guard through SMS. Ukraine has been at war with Russia for two years.
And then, finally, everything fell into place. Yesterday, Poroshenko openly said that there is no peaceful solution to the problem of Donbass. Everything! War to the last Ukrainian. And this war has been going on for almost half a month. It is not clear why Moscow is silent. Why the West is silent, I see. The war has begun!
Those who oppose the Armed Forces of Ukraine today, in fact, defend Ukraine! Let not the way it was, but Ukraine. And it became to understand an increasing number of Ukrainians.
On this end today. The brain really boils. Understanding of the situation is becoming less and less. It seems that our leadership simply does not know what it wants. From here and absolutely opposite gestures.
Yes, I congratulate the Russians on the withdrawal of your videoconferencing system from Syria. Handsomely! Business before pleasure. So must a great power act.