In Zaporozhye, after several months of approvals "through the regional state administration" and several days of preparation, the largest monument in Ukraine to Lenin was demolished. This monument was erected in the city in November 1964 of the year and was one of the most expensive monuments from a material point of view.
The total height of the monument is about 20 meters, and the sculpture of the leader of the world proletariat itself was made of bronze, and the pedestal was made of pieces of pink granite. Zaporozhye Lenin is a whole composition telling how one of the symbols of the Soviet power engineering, DniproHES, was built in these places. It was in the direction of the Dnieper Hydroelectric Dam that the hand of the sculpture of Ilyich was directed. At the bottom of the pedestal are bronze statues of steelworker, builder, scientist and collective farmers. These statues still did not touch. Although they already
it's time to clean
because the concepts "Ukraine" and "science", "Ukraine" and "labor" are no longer compatible.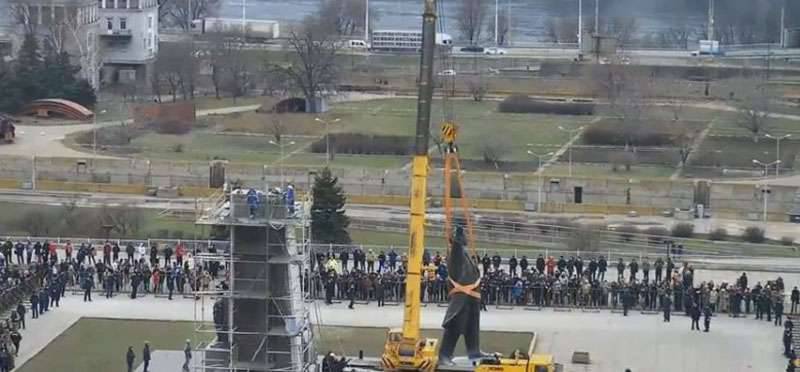 One of Lenin's slogans remains on the pedestal: "Communism is Soviet power plus electrification of the whole country." The phrase is carved on the Ukrainian Move.
Dismantling lasted more than a day. Lenin's sculpture was first sawed, but as a result of the work, it turned out that Ilyich was still holding onto two metal beams connected by a layer of concrete. I had to fight not only with Lenin, but also with beams ...
In Zaporizhia, the protracted dismantling of the sculpture itself became an object for irony (often bitter). AT
Twitter
there was even a special account "Zaporozhskiy Lenin", in which the following entries appeared:
A salute was given naturally. So festively approved Bandera power.
Или:
I read about myself: "The monument was tied up with orange lines." The colors, of course, were chosen ...
A poem from a flyer from the same account: