Syrian Kurds have announced the creation of a federal region in the north of the country. The leaders of the Democratic Union Party said that under current conditions it is federalization that is the best way to overcome the massive crisis of mistrust. The information on the creation of a federal region in Syria was confirmed by the head of the Syrian Kurdistan representative office in Moscow, Rodi Osman. His statement leads the news agency
Interfax
:
Yesterday, 200 delegates representing all national groups living in northern Syria began a meeting to discuss new governance in Syrian Kurdistan and in northern Syria as a whole. We made this decision based on the conviction that a solution to the Syrian crisis is possible through the federalization of Syria. It is difficult to talk about the preservation of the device with centralized control, as it, among other things, became the cause of the Syrian crisis.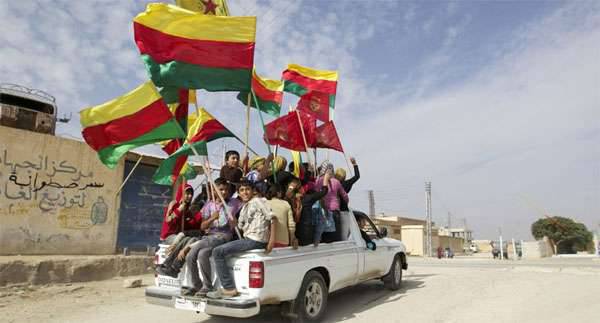 It became known that the creation of a federal region in Syria was supported by the Kurds of neighboring Iraq and Syria.
Aso Talabani, head of the Iraqi Kurdistan representative office in Moscow:
These are our brothers, and they believe that the time has come for this to create a separate federal entity. We support their decision.
The decision of the Syrian Kurds commented on in the Kremlin. According to the press secretary of the president of the Russian Federation, "Syrian citizens need to solve problems inclusively." Dmitry Peskov noted that it is important for Russia that Syria remain a single state on the basis of agreements between all Syrian communities.
The decision of the Kurds sharply criticized the official Damascus. Information Agency
SANA
publishes a statement from the CAP MFA:
The Syrian government warns against any attempt to undermine the unity of Syria and territorial integrity, under what names they would have acted.
It is somewhat strange that individuals continue to consider federalization as an "undermining of territorial integrity." Poroshenko is brushing off the federalization of Ukraine, and Assad is now brushing off the federalization of Syria. However, the countries of a federal structure — Russia, Germany, the USA, and others — in their experience do not give reason to say that a federation is an unequivocal disintegration.