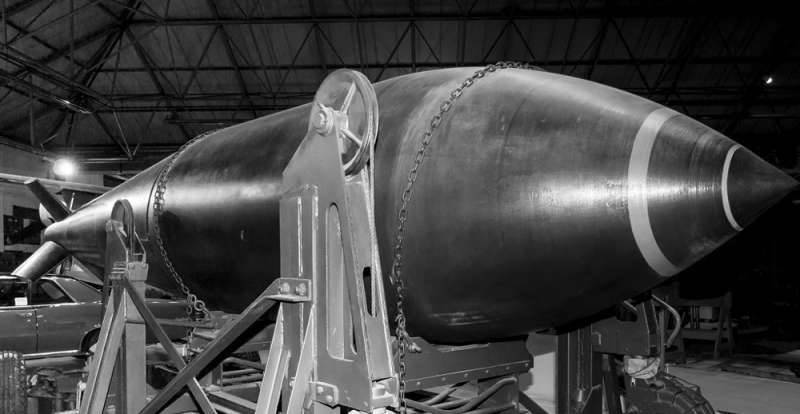 March 14, 1945 the British for the first time dropped on Germany a ten-ton bomb "Grand Slam" - the heaviest
aviation
ammunition ever used in hostilities.
The Grand Slam had a thick-walled steel combat unit in the nose, capable of breaking more than 40 meters of soil or up to seven meters of reinforced concrete when falling from a height of several kilometers. Such penetrating ability allowed to open even the most powerful and well-protected underground bunkers. On the very first flight with the Grand Slam, the crew of the English Lancaster bomber from the 617 aircraft fleet achieved great success, destroying the strategically important railway viaduct in Bielefeld, which the British had previously repeatedly bombed with unsuccessful conventional bombs.
In total, 99 ten-tones were released, of which they managed to lose 42 before the end of the war. The objects of the bombing were bridges, viaducts and reinforced concrete shelters for submarines. In the post-war period, bombs of similar caliber were used by Soviet aircraft in Afghanistan (nine-ton FAB-9000 M-54), showing high effectiveness against cave shelters. For three months 1988, Tu-16 bombers dropped 289 such bombs "behind the river".
After the war, the Americans produced the Grand Slames for a time under a license under the designation М110, and in 1948 they developed an even heavier X-NUMX-tonne bunker bomb T-20, the Cloudmaker, which was a much larger English prototype. However, it was never used in practice, and in the 12 year it was removed from service because it was losing effectiveness in nuclear weapons. The splash screen is the Grand Slam at the British Aviation Museum.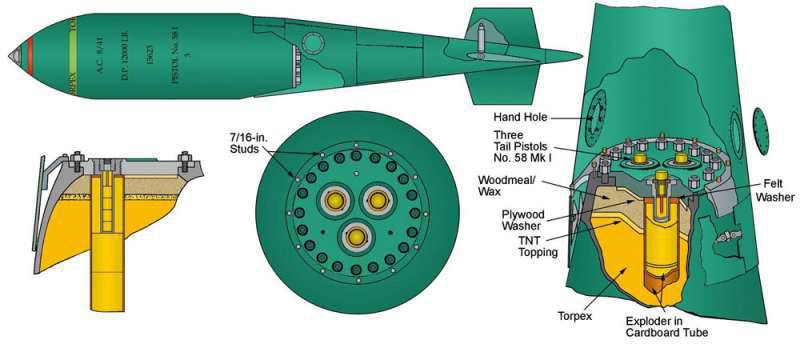 The construction of the "Grand Slam". The bomb was equipped with three inertial fuses, screwed into the bottom of the combat unit.
Delivery of the "Grand Slama" to the goal was carried out by four-engined Avro "Lancaster" bomber, which for this was subjected to a serious alteration (a modification of the "Lancaster Special"). They removed all protective armaments, except for the tail turret, and, since the ammunition did not fit into the standard bomb bay, it was hung openly, removing the doors of the bomb hood and removing part of the skin at the bottom of the fuselage.
The figure shows an aircraft with onboard codes of the 617 Division of the Royal Air Force Bomber Command, the only aircraft unit to which such vehicles entered.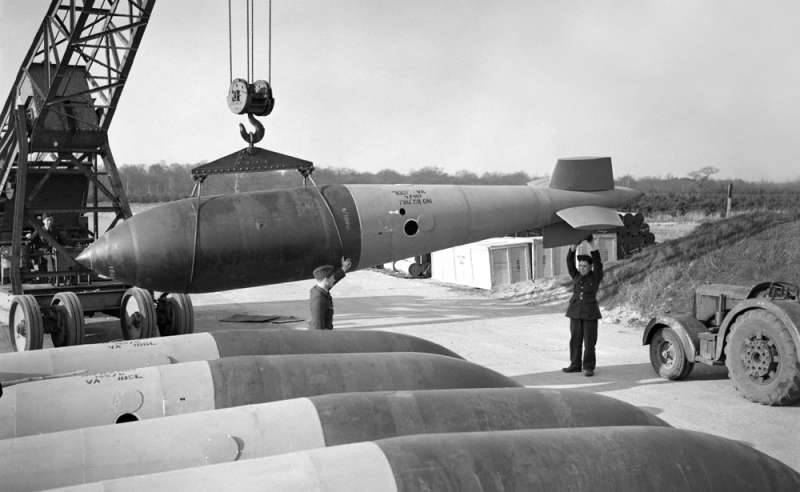 Unloading of ten-ton bombs arriving from the plant at the English air base in spring 1945.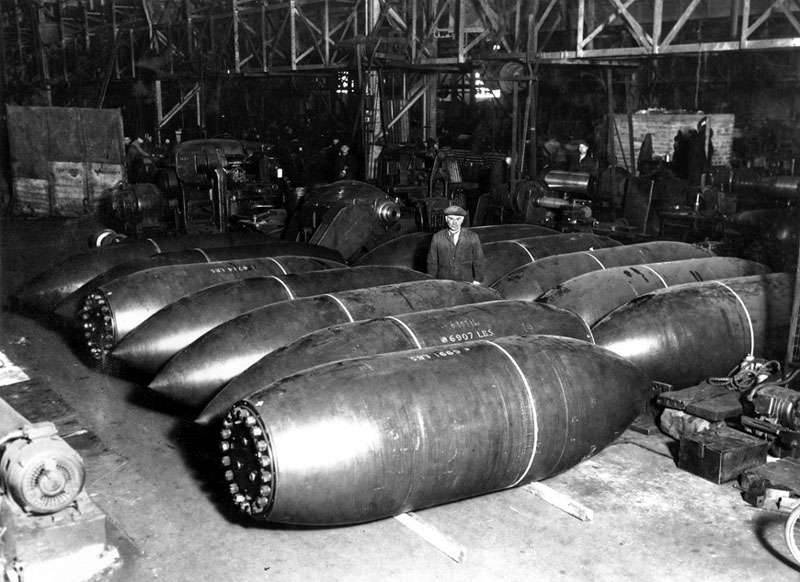 Penetrating warheads.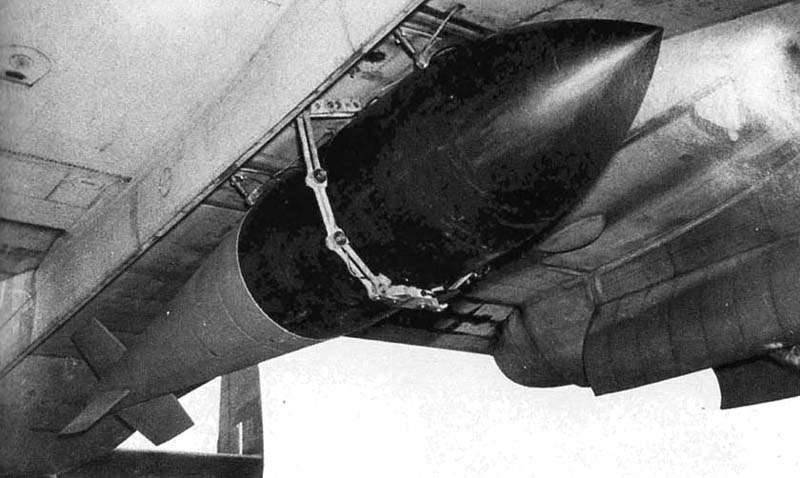 The Grand Slam under the fuselage of the Lancaster.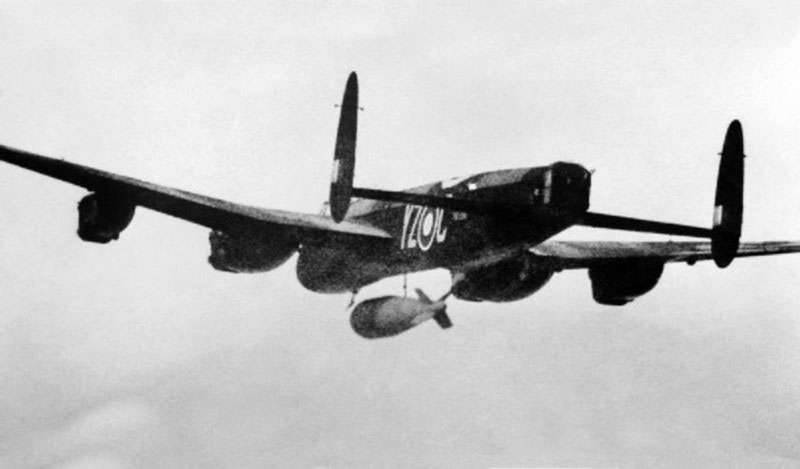 The moment of reset.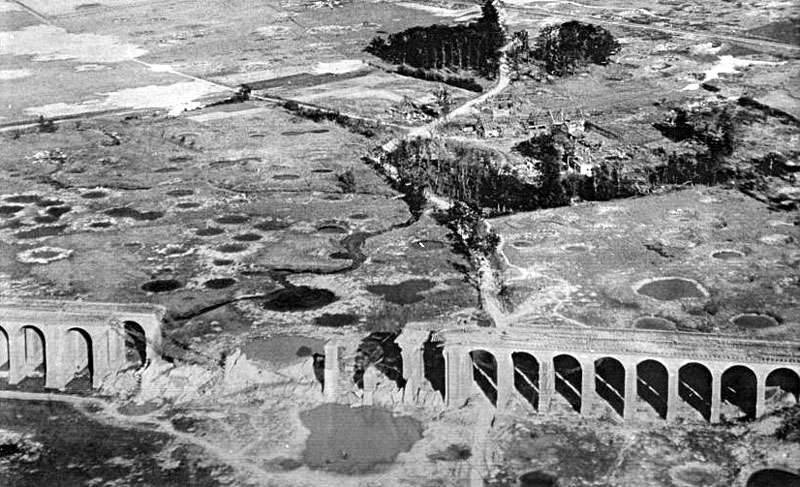 The result of hitting the Grand Slam in the Bielefeld Viaduct.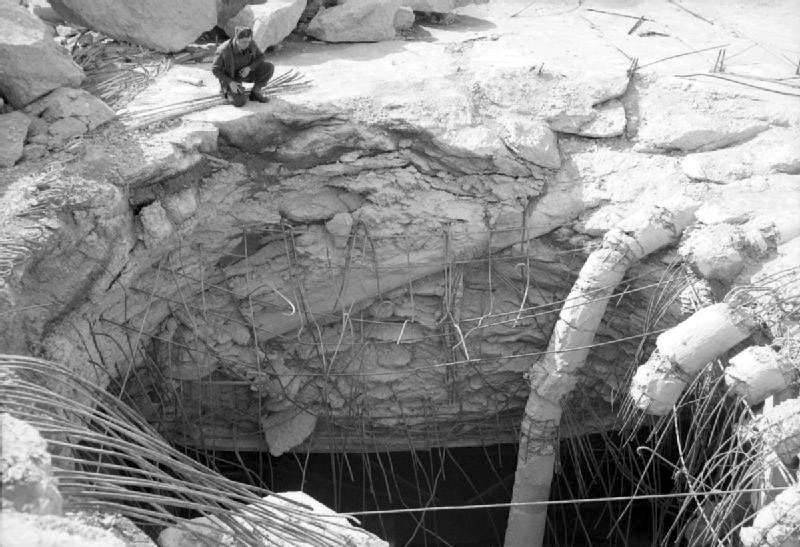 The result of the 27 March 1945 raid is a hole made by the Grand Slam in a reinforced concrete floor of a "pencil box" for submarines.