Informational portal
"Reedus"
publishes material that newsletters have appeared at public transport stops in Moscow, which contain a complete list of Nadezhda Savchenko's awards assigned to her after committing war crimes in Donbas. It is about awards that Savchenko received in absentia from the authorities of Ukraine, the EU and the United States.
Thus, the European Union noted the member of the gang "Aydar" with the nomination of A. Sakharov Prize "For Freedom of Thought" (2015).
Apparently, Savchenko's freedom of thought was that she could afford, without hesitation, kill her fellow countrymen and participate in the murder of Russian journalists.
On behalf of the United States, Savchenko received two awards. The first is the Freedom Awards 2015, the second is the Freedom Award from the United States Atlantic Council.
For freedom from the rule of law? ..
For committing war crimes, the Ukrainian government awarded N. Savchenko the title of Hero of Ukraine.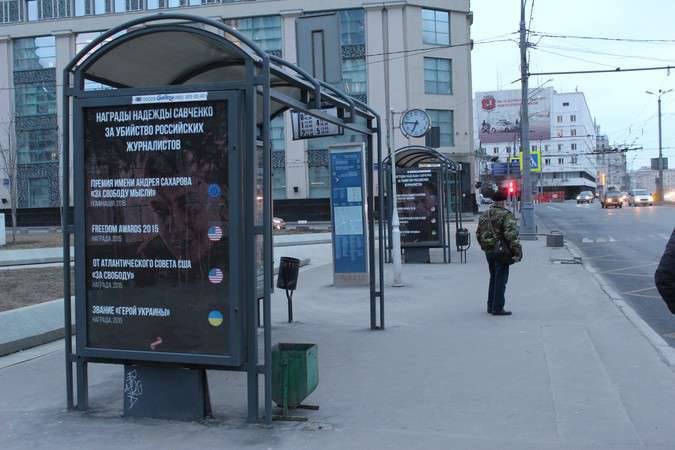 In principle, nothing unnatural for the West and Ukraine has happened. The awards for which the year marked by representatives of terrorist groups. It is these "prizes" that provide the opportunity for the atrocities of ISIS and "Dzhebhat al-Nusra" in Iraq and Syria, and also made it possible for Yarosh's legal axis to manifest itself on the Independence Day in Ukraine.
The organizers of the action in Moscow decided that residents and guests of the city should be aware of how foreign "partners" celebrate the activities of those who commit war crimes.