Previous article in the series:
Special Operations Forces: Anytime, Anywhere! Part of 1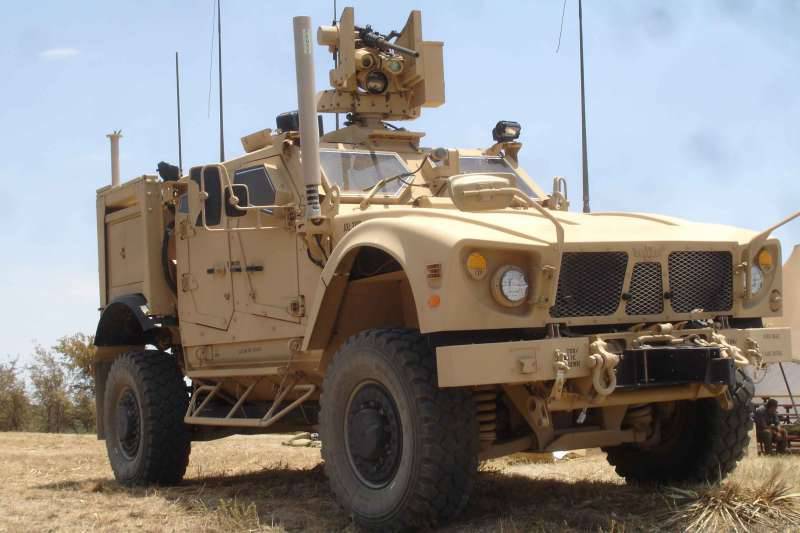 M-ATV armored car category MRAP produced by the American company Oshkosh Defense
MRAP category
None of the ITV category machines mentioned in the first part of the article has built-in ballistic protection, although modular kits such as the Jankel Modular Armor Protection Installation Kit (MAPIK) can be installed for special tasks. These armor plates provide protection against bullets of caliber up to 7,62 mm, as well as against fragments of hand grenades.
However, the era of MRAP vehicles has not yet come to an end, since many special operations forces (MTRs) continue to use similar vehicles, including Thales's Bushmaster armored vehicles. This platform provides protection for assault units during penetration into the target area, as well as fire support at the expense of a remotely controlled combat module. This machine was very popular in the coalition forces operating in the Middle East for the last ten years, but it will be quite effective in carrying out counterinsurgency tasks inside any country, if a difficult situation forces to deploy military platforms there.
A striking example of maintaining the position of the MRAP category cars is the purchase of patrol armored vehicles by Polish special forces 45. Agat's ranger divisions will receive Oshkosh Defense's M1240A1 M-ATV MRAP machines, which were purchased in agreement with the US Department of Defense Military Cooperation under a contract worth $ 8 million.
For ten years of service in Afghanistan, this armored car brought great benefit to the American MTR, since the rebels actively used improvised explosive devices (IEDs) against them. The M1240A1 M-ATV machine has a total weight of 14700 kg, including the payload capacity of 2200 kg. However, due to its mass and width of an almost 2,5 meter, this car cannot fall into the category of ITV.
The M-ATV armored car for Poland will be configured to transport at least five Polish special forces and their equipment, and the vehicle itself can be equipped with various weapons, including 7,62-mm and 12,7-mm machine guns, 40-mm automatic rocket launchers and anti-tank guided missiles . According to Oshkosh Defense, the maximum speed of the vehicle is 105 km / h and the maximum cruising range 510 km.
Like the American Army Rangers and the British Special Forces Support Group, the Polish Special Forces Agat is used as an assault unit capable of guarding other special operations groups that want to perform counterinsurgency tasks in a relatively safe environment. Representatives of the special forces claim that the MRAP category machines can prove themselves well in such tasks. In the meantime, the Polish MTR command intends to organize a tender, according to which, under the program of the Polish Ministry of Defense Pegaz, it is expected to supply up to 500 multi-purpose platforms for special forces. Companies such as General Dynamics, Krauss-Maffei Wegmann and Thales became interested in this major tender. In the case of the implementation of this program, the first deliveries of machines (whichever one is chosen) are scheduled for 2017 year. However, the exact concept of the purchased machine still needs to be approved.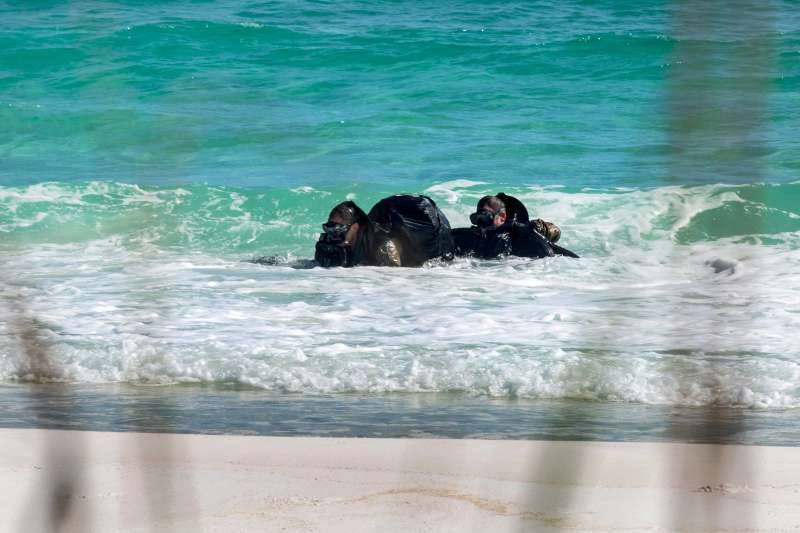 Marine Special Forces are trained to penetrate the coast underwater or surface method. NATO MTRs are currently considering using automatic and motorized surfboards and jet skis for such tasks.
On the sea
Other areas of operational activity that receive a great deal of attention from the international MTR community and in which large amounts of money are invested are marine, coastal and river areas of action. Special units operating in each of these areas should solve their own, unique to these environments, the most complex tasks.
The tendency to use jet skis and other single water craft, which play the same roles as motorcycles and ATVs used by SSO on land, that is well suited for reconnaissance and defense tasks, is becoming increasingly popular in this "water world". In typical mobility operations, drivers of motorcycles and ATVs act as scouts, defining routes through sometimes difficult terrain for large convoys of wheeled combat vehicles and self-propelled weapon systems. They are also used as reconnaissance assets, allowing a covert reconnaissance group operating in enemy territory to successfully avoid the enemy and possible ambushes.
In September 2015, the US Navy Special Forces Command issued a request for information on the Swimmer Rescue Craft jet ski for use by special purpose boats, operating under the command of the 3 and 4 of the Navy special operations forces. Each of these groups includes a subdivision of special means of delivery, the task of which is to provide transportation means and boats for reconnaissance and sabotage detachments to be dropped into the area of ​​operations.
However, the representative of the US command of special operations forces (USSOCOM) suggested that in addition to the obvious use as rescue equipment during combat training, hydrocycles should be used in coastal and coastal operations with particular emphasis on their ability to operate in high surf conditions. The US Navy, whose needs comprise "several" dozens of jet skis, have chosen for themselves the Yamaha FX-HO and FX-SVHO series vehicles. The first FX-HO and FX-SVHO jet skis were supplied by USSOCOM in September 2015. These devices will go into service with naval special forces groups operating in various areas, including Central and South America, as well as the Asia-Pacific region, where maritime intelligence could become the likely combat use of these jet skis.

Hydrocycles FX-SVHO purchased the American Command Special Operations Forces
Another platform currently used by NATO's special forces (especially in Europe) is the GuardRunner jet ski of the Swedish company Proteum, which describes it as "a system that allows entry into coastal and river zones where other boats and boats cannot pass." Similar to the concept of American
fleet
The original GuardRunner jet skis were intended for search and rescue operations during combat operations. Nevertheless, European special forces expanded the range of tasks for this platform. In accordance with their concepts, this jet ski can be used to penetrate and leave target areas, as well as provide fire support.
According to a representative of Proteum, Mr. Freeman, the GuardRunner jet ski can be used in areas of "fast rivers and inland waters", as well as "on the shoals, between rocks, reefs and in skerries", where any high-speed boats or boats are endangered and may well roll over or get damaged. In addition, he said that the GuardRunner could be used in boarding small and large vessels during counterinsurgency operations and operations to combat drug trafficking, as well as for transporting personnel from shore to ship and back.
The platform can accommodate one or two operators, armed with assault rifles, sniper rifles, pistols and surveillance devices. This extremely fast and mobile surface means is indispensable for marine special forces, especially when operating on several hydrocycles simultaneously, when there is strong mutual support.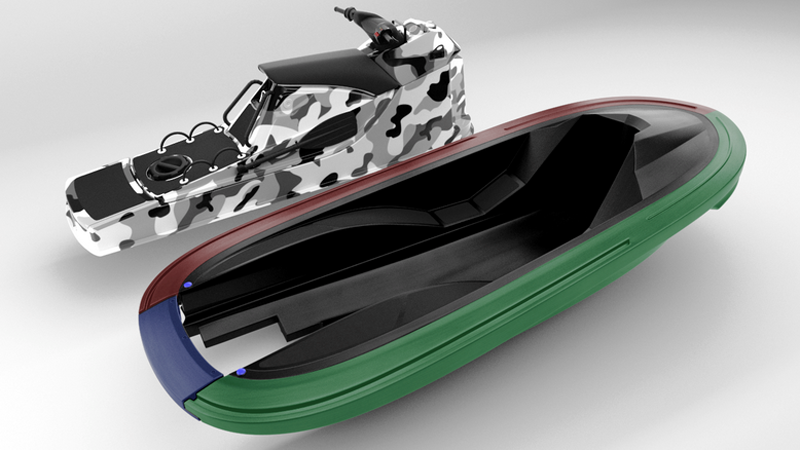 Proteum GuardRunner's "militarized" jet ski has already been baptized in unnamed European special forces
The GuardRunner jet ski has a 3,6 meter length, a dry weight of 350 kg and a payload capacity of 400 kg. The maximum vehicle speed is up to 40 knots (74 km / h), and the maximum cruising range 70 nautical miles (129,6 km). A spokesman for Proteum added that "GuardRunner allows you to quickly reach the coast and return back," noting that a four-stroke gasoline engine could soon receive an alternative in the form of a diesel option. "We are working on a diesel version, it will be longer and wider, and it is quite possible that it will be possible to install weapons on it, including 5,56-mm and 7,62-mm machine guns."
Currently, the undisclosed number of hydrocycles is in service with the Swedish Special Operations Group and the Norwegian Maritime Special Forces, as well as another NATO special unit that uses them in counter-narcotics operations in coastal and river areas of South and Central America.
One of the special forces told about how such a platform can be used during covert reconnaissance operations. As an example, an anonymous commando partially disclosed the method of performing the operation. The group quietly enters the area of ​​operation on jet skis. This is usually an inaccessible landing site; on arrival at the site, before continuing the task on foot, the group masks and hides its vehicles. This could be the flooding of jet skis close to the shore, burying them in the sand or turning them upside down and sheltering them with thermal protection material. Upon completion of the reconnaissance mission, the "riders" return to their "horses" and, having made sure that their caches are not found, they quickly return the hydrocycles to working condition, exit them from the operation zone and return to the base.
As an alternative, the commando said that the British Air Force is also considering the use of highly accurate guided air support systems, such as parachutes from the JPAD family of Airborne Systems, to deliver jet skis to the area of ​​operations with the assistance of airborne forces. Other options include hanging a jet ski to a helicopter, as well as loading it into an ITV category car transported inside a transport helicopter. NATO MTR units are constantly developing these tactics, methods and methods of warfare, as well as the principles of combat use.
Another platform that has recently become available to the marine special forces units is Proteum's automatic USB surface board (Unmanned Surface Board), which describes it "as a tactically significant, silent, lightweight and maneuverable solution with autonomous options." The USB device, controlled by mass distribution, is a platform in the form of a surfboard that allows one operator or large groups to penetrate almost silently and unobtrusively into the target area. The total weight of the USB is 35 kg; This board was demonstrated for the first time at DSEI 2015 in London.
Surface board USB (Unmanned Surface Board) with water jet
According to a representative of Proteum, Sweden and the United Kingdom are considering the possibility of using this platform in a variety of special tasks. The USB device can operate at speeds from three to 25 nodes (5,5 km / h - 46,3 km / h), has a maximum operational cruising range up to 150 nautical miles (277,8 km) at a speed of three knots. The USB board is powered by a lithium battery, which provides movement at different speeds for 60 minutes and drives a water jet with an impeller with a diameter of 100 mm.
A USB board made of Kevlar and carbon fiber is driven by a propeller-driven electric motor; It is resistant to salt water and has a low magnetic signature. The USB board has several gripping devices for control, allowing for various operator placement options, as well as its attachment points.
weapons
. The USB device has a maximum load capacity of 180 kg with a total weight of just 35 kg. Mr. Freeman added that USB delivery can be carried out in various ways, including unloading from the carrier vessel. "Delivery of the device with such a small mass can provide a variety of platforms, while expanding the range of action commandos, as well as increased flexibility, speed and secrecy. The device was used in a real special operation on one of the remote islands. "
"The device can also be used for other tasks, such as search and rescue during combat and reconnaissance missions in harbors where it is virtually impossible to detect a USB," said Freeman. - With very low acoustic, radar and infrared signatures, the USB device is very difficult to detect even on a bright sunny day. This device was used in one of the operations, during which the special forces inspected the area where there were reportedly floating land mines. "
The board, its Bluetooth remote control and propulsion unit are made according to special requirements and are aimed at maximum efficiency while simplifying maintenance and repair. The board also has a connector for the underwater tablet Alleco Alltab, with a touch screen which you can work in diving gloves. At the moment, the underwater tablet is not able to control the board, but is used to turn it on. In the future, the tablet will be able to communicate over the network with other electronic devices of a combat swimmer.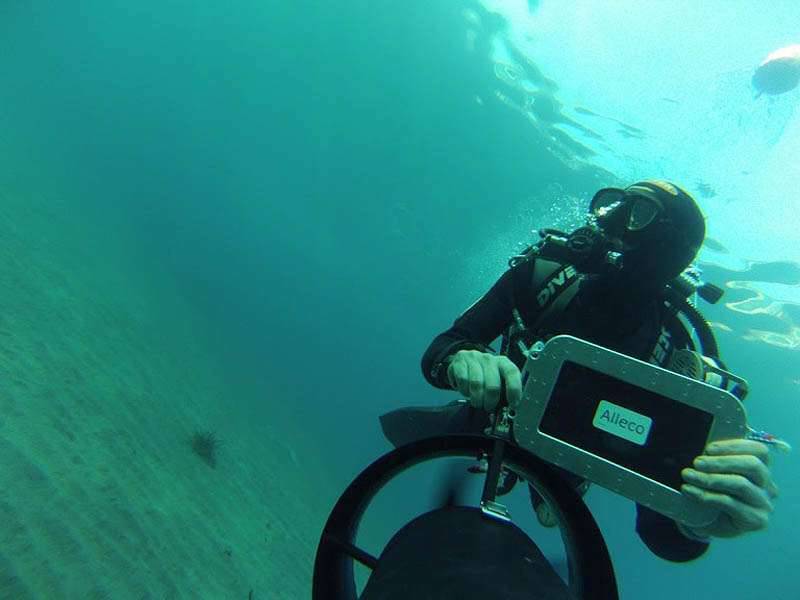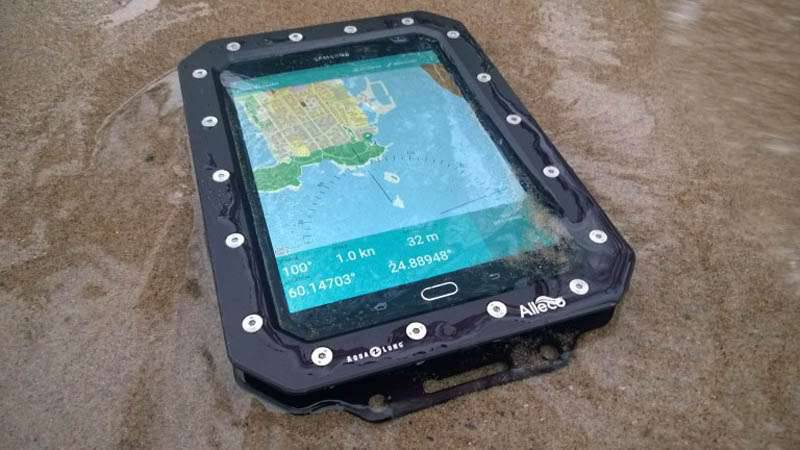 A representative of the tablet manufacturing company said that it can be used at depths of 15 meters, and the modified version of the Pro can withstand diving to depths of 150 meters. "The Alltab Tablet allows combat swimmers to gather data, take photographs, and access maps and other materials while diving."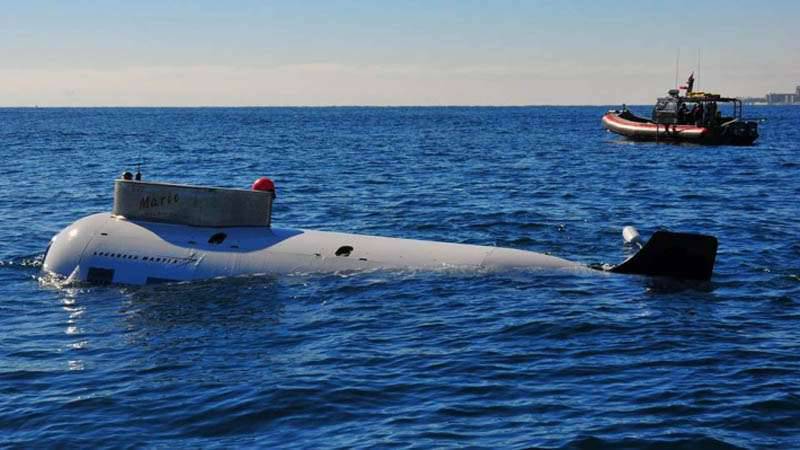 Lockheed Martin's dry-type submersible for the Dr Combat Submersible program
After several similar, but closed programs, in September 2015, the procurement management of USSOCOM issued a request for information for its program for the dry type underwater vehicle Dr Combat Submersible (DCS), which aims to develop a dry-type mobile underwater vehicle with a gateway for swimmers. It is expected that the program will be based on the finished commercial underwater vehicle, which will be finalized to work in the SSO. This project represents a further development of the Unmanned Underwater Vehicle (UUV) automatic underwater vehicle technology, which traditionally assigns the role of demining and search and rescue operations to these small-sized vehicles. The US Navy has a need for such a system of support for special operations, which consists in conducting underwater reconnaissance and in the fight against mines. It is assumed that the submersible DCS will be launched from torpedo tubes of nuclear submarines of the Virginia class, as well as from coastal fighting ships of the Freedom and Independence classes.
Wet job
USSOCOM is also preparing to release a requirement to further improve the equipment used by special forces during counter operations, rapid response and the detection and detention of vessels engaged in illegal activities at sea.
The purpose of the costume program for the Maritime Assault Suit System and the Lightweight MASS is the development of equipment and clothing that is suitable for sea and land applications, as well as landing from air and sea vessels. One of the directions is the development of a uniform suit with a neck and wrist seal that allows the marine special forces to comfortably move between the above-mentioned environments. Traditionally, the personnel of the naval special forces should have different sets of clothes and equipment for special tasks. For example, dry suits for more traditional land and ship operations and operations aboard a marine vessel, and "wet" suits to penetrate the area of ​​operation under water. The concept of the MASS program provides for the wearing of a light uniform uniform by the military in the most difficult combat conditions, unlike the previous concept of using different types of equipment.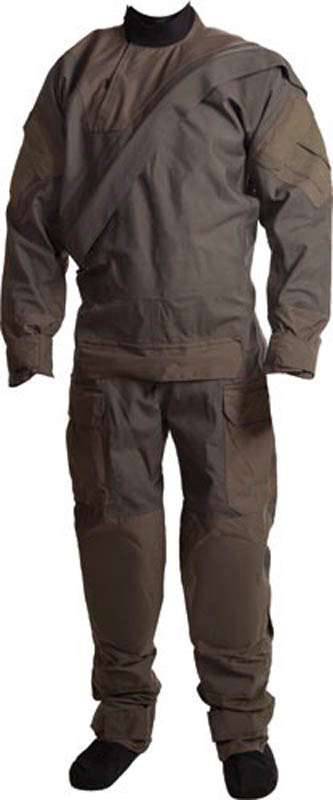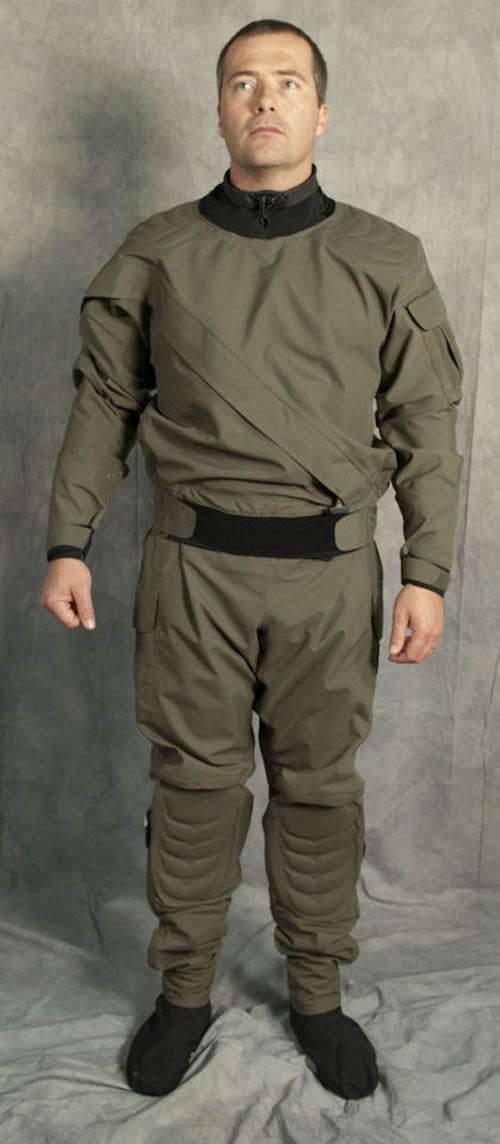 Variants of equipment for the MASS marine special forces offered by different developers
A spokesman for the USSOCOM command said that the main areas of work for MASS and L-MASS equipment are to "provide the user with a comfortable system that provides the highest level of water evaporation control and is able to maintain its strength properties when performing everyday tasks." He further continued: "The MASS and L-MASS suits will keep the wearer dry under extreme conditions, on water and land, in any weather. They will not interfere with typical movements or physical activity, including swimming, jogging, physical contact, etc., as well as the handling of weapons. Both options should be light, fit the body comfortably and should keep the wearer as dry as possible, while there should be no significant weight gain when immersed in water. The MASS / L-MASS suits, all components and design features will be compatible with the individual equipment (unloading systems, body armor, headgear, gloves and shoes / flippers) used in combat operations and during combat training. In addition, the need for zippers for donning and loosening outerwear, socks, shoulder, hip and bow pockets has been identified, with particular attention being paid to reducing the noise generated by the material when performing hidden tasks. While in command, USSOCOM is not told when they will choose the developer of the MASS and LMASS suits for subsequent purchase.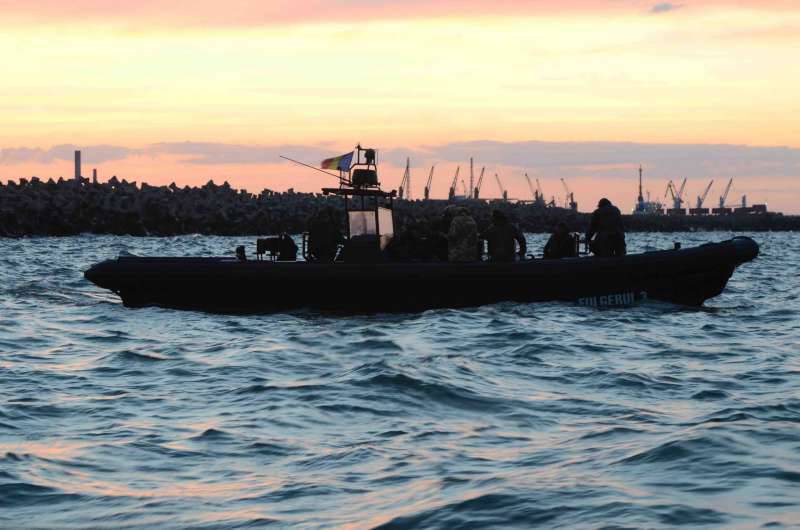 Marine Special Forces units are increasingly focusing on coastal and river operations, while the US Navy Special Operations Command is considering alternative equipment kits to simplify the transition between maritime and terrestrial environments.To be continued