Rostec reports that Russian specialists are developing a new flight helmet that will allow pilots to obtain all the necessary information without the need for constant tracking of data on the instrument panel. The basis of the new helmet for pilots of the Russian Air Force (VKS) is the helmet-mounted indication and target designation system from the Concern Radio-Electronic Technologies (KRET).
Press office Rostec
It cites the statement of the first deputy general director of the Ryazan State Instrument Plant, the Rostec plant, Gennady Kolodko:
The development is universal and can be used both on combat helicopters and on front-line aircraft
aviation
. All equipment is delivered to the helicopter. I think the flight test phase should end within a year. Thanks to the new system, the time for a pilot to make a decision is greatly reduced. The pilot can, turning his head, inspect a larger space, make a decision and apply
weapon
.
The new helmet-mounted target designation and indication system (NTSI) is, in fact, a sight, combined with a helmet. The system projects the image from the instrument panel onto a transparent screen, which is located in front of the pilot's eyes and fixed on the helmet. The transparency of the screen allows the pilot to simultaneously monitor the external environment - visually.
If earlier systems of this kind performed exclusively the function of target designation, now the functionality has been significantly expanded.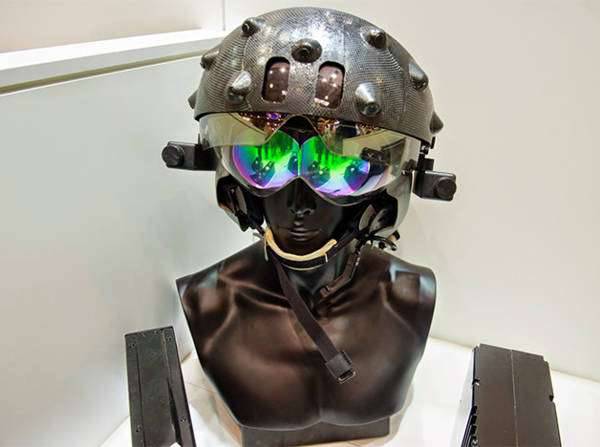 From the press service of Rostec:
With the help of the helmet-mounted system, the pilot piloting parameters are displayed to the pilot: speed, altitude, aircraft angular position in space, and others. An image from devices that provide the pilot with artificial vision, such as an infrared viewing system, as well as a synthesized image of the relief can be displayed on the visor of such a helmet. Thus, the pilot retains effective visual control of the flight at night and in conditions of poor visibility.
It should be noted that a similar helmet system was developed by the Americans for the F-35 pilots. At the same time, potential customers of such a system are scared away by its price, which is about 750 thousand dollars. It is unlikely that the price of Russian development will be comparable to the American astronomical dollar sums ...