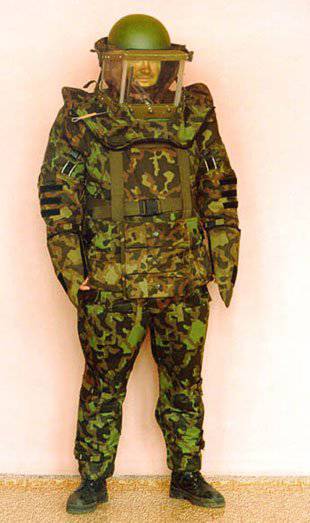 Engineering forces of the Ministry of Defense adopted a new protective kit.
It is called the "Doubleon" and is intended primarily to equip engineer units of the army and
fleet
.
The developers of the kits claim that the special suit protects against bullets, shell fragments, rockets and bombs. A protective kit covers the chest and head of a person, as well as his legs and arms. In addition, the use of more than fifty light titanium elements in the design allows the serviceman to move quickly.
In battle, the enemy for the sappers leads a real hunt, so the Dublon's protective and "motor" advantages were immediately appreciated by the troops.
The Interior Ministry did it even earlier. There, the police "Barrier" - an analogue of the military kit - has been successfully operated for more than one year.
In addition, the development of promising combat equipment for Russian officers and soldiers. According to Yuri Borisov, the first deputy chairman of the Military Industrial Commission, dozens of enterprises of the Russian defense industry were involved in these works. They promise, after about three years, to give out to the military a product that, according to its characteristics, will not yield to the best world standards.
It is planned that the new equipment "Warrior" will be integrated. That is, it will combine reliable protection and high functionality. Ten subsystems will enable the fighter to communicate with the command, even with strong interference, to transmit and receive intelligence, to shoot without a miss without fear that the task will be interrupted by a stray bullet.
Also, combat equipment will be modular. For example, if military operations are to be conducted in a desert area, officers and soldiers will use only its elements. In the settlements - the second, in the mountains - the third. The military will approach the order of the new equipment in the following way: do not purchase reconnaissance tools, individual navigation, batteries for radios, etc. separately. Everything should mate with each other and at the same time not to turn the soldier into a heavy truck.