Type 6614 armored personnel carrier of FIAT and Oto Melara companies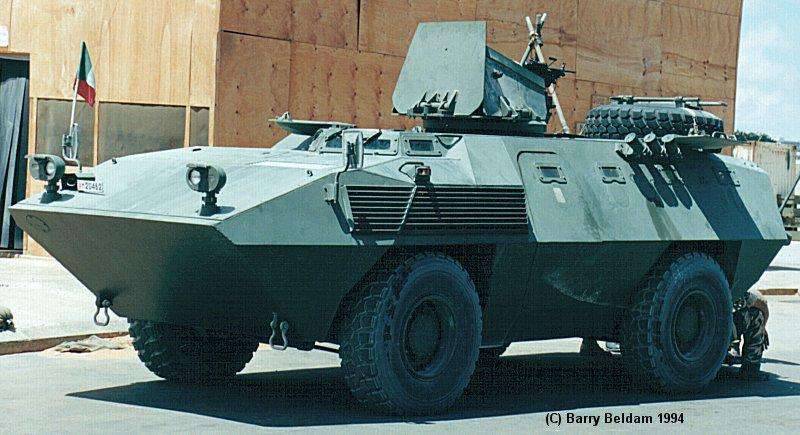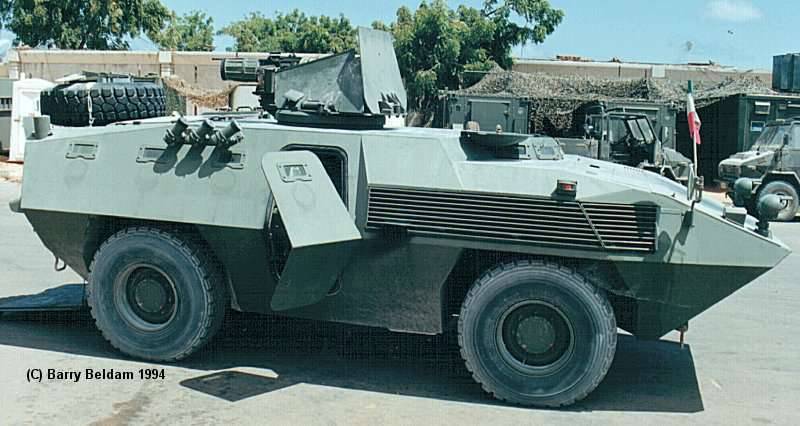 Armored personnel carrier Type 6614 4x4 is a joint development of the companies FIAT (today Iveco Defense Vehicles) and Oto Melara, the first was responsible for the hull and the undercarriage with the power unit, and the second for the installation of weapons.
The machine has a high level of uniformity with the FIAT-Oto Melara Type 6616 4x4 armored vehicle. Production of light armored vehicles Type 6614 4х4 and Type 6616 4x4 was completed several years ago, and they are no longer offered on the market.
The Type 6614 armored personnel carrier was manufactured under license in South Korea by Asia Motors Company Incorporated. Production was completed in South Korea; most likely, for the Korean army, it was manufactured from 200 to 275 machines. No cars were exported from South Korea. In South Korea, the Type 6614 was designated KM900 / KM901.
The total number of Type 6614 machines produced for local and overseas markets was 1160 units. BTR Type 6614 is no longer offered on the market.
It is expected that the Italian police will replace their Type 6614 APCs with machines for the internal security forces RG12 4x4 manufactured by BAE Systems Land Systems South Africa (formerly BAE Systems Land Systems OMC).
After extensive testing in the middle of 2004, it was announced that RG12 was chosen to meet the needs of the Italian carabinieri and the police. The first batch of six cars was delivered at the end of the 2004 of the year.
It was also announced that 150 machines will be ordered by carabinieri and 50 machines by the police. In September 2005, the first batch of 30 RG12 armored personnel carriers was manufactured; All of them are currently in service with the Italian Carabinieri.
The defense division of FIAT (now known as Iveco Defense Vehicles), headquartered in Bolzano, is currently producing LMV armored vehicles for local and foreign markets.
The body of the BTR Type 6614 is all-welded, made of armored steel, which protects the crew from small-arms fire
weapons
and shell splinters.
The driver sits in front of the hull on the left and has a convex hatch cover opening to the right. In front of the driver, there are five surveillance devices that cover the angle 200 °, the central three periscopes have wiper blades.
The power unit is located ahead to the right of the driver and is separated from the habitable compartment by a refractory partition. The Iveco Model 8062.24 turbo diesel engine is connected to a five-speed manual transmission, with which power is transmitted to a two-stage transfer box, and then to the front and rear axle with drive shafts. Both differentials are mechanically locked. Planetary final gears consist of epicyclic gears in wheel hubs.
BTR Type 6614 models with 12,7-mm machine gun M2 HB
FIAT-Oto Melara Type 6614 BTR deployed by peacekeeping contingent in Bosnia
On each side there is a landing door with a viewing device and an embrasure for firing, which comes off ahead. On each side there are three more viewing devices and embrasures.
To the right and left of the stern ramp there are a viewing device and a loophole. 10 infantrymen (one of them shooter) are sitting on separate folding seats. In the center of the roof is the main armament.
On the base machine, it consists of a turret of the M113 type, in which there are four day periscopes and a one-piece hatch that opens backwards. Front mounted 12,7-mm machine gun M2 HB. If necessary, other types of weapons can be installed, for example, a closed installation with one or with two 7,62-mm machine guns.
Two hatches on the roof of the troop compartment open outwards. The fan is installed on the roof in the stern.
The rear and front suspension consists of an independent shock spring with coil spring and coaxial rubber stopper. Each wheel has two hydraulic shock absorbers, and anti-roll bars are fitted as standard. The wheels are mounted fire resistant inserts.
The car is floating, in water it is set in motion in water due to the rotation of the wheels. Standard equipment includes four electric bilge pumps with 180 capacity of liters per minute each.
Optional equipment includes passive or active night vision devices, air conditioning, fire extinguishing system in wheel arches, spare wheel, two 76-mm smoke grenade triple-barreled installations, front winch with 4500 kg force and 12 mm cable length.
options
Although the Type 6614 was designed primarily as an armored personnel carrier, this machine was also offered for other tasks, such as intelligence and internal security. In developing the planned options: sanitary, cargo, commander and mortar transporter.
The Italian army deployed a number of Type 6614 armored personnel carriers in Bosnia. They had a group of three smoke grenade launchers installed on each board. Additional passive armor was attached to this car to increase the level of protection; the spare wheel was located on the roof at the rear of the hull. Also installed a 12,7-mm machine gun M2 HB with additional protection for the machine gunner.
Specifications of Type 6614 armored personnel carrier
Crew: 1 + 10
Length
overall: 5,86 m
housing: 5,86 m
Width, overall: 2,5 m
Height
housing: 1,78 m
at the top of the set of weapons: 2,18 m
Ground clearance
housing: 0,385 m
front axle: 0,37 m
Track: 1,96 m
Wheel base: 2,9 m
Combat weight: 8500 kg
Configuration: wheel, 4x4
Power density: 18,82 hp / t
Maximum speed: 100 km / h
on the water: 4,5 km / h
Cruising range: 700 km
Fuel consumption: 0,2 l / km
Fuel tank capacity: 142 liters
Floating: yes
Entry angle: 40 °
Departure angle: 45 °
Rise: 60%
Side slope: 30%
Wall: 0,4 m
Turning radius: 7,9 m
Engine: Iveco Model 8062.24, single row, turbocharged, liquid cooled, diesel, 160 hp at 3200 rpm
Transmission: Manual, 5 / 1
Transfer box: two-stage
Steering: with hydraulic boost
Coupling: Single disc friction, dry clutch
Тормоза
Main: drum, hydropneumatic driven, dual circuit
parking: drum, manual, on the output shaft of the transfer case
Wheels: 14.50x20 with anti-wrinkle inserts
Suspension: independent
Electrical system: 24 volts
Batteries: 2 x 12 Volts, 100 Ah
Armament: 12,7-mm machine gun M2 HB mounted on the roof
Turret rotation: 360 °
Stabilization of weapons: no
Night vision devices: optional
The system of protection against weapons of mass destruction: no
Reservation
body: armor steel 8 mm
tower: armor steel
Type 6614 armored personnel carrier is in service with Argentina (20), Italy (57), Somalia (15), South Korea (200, under the designation KM900), Peru (25), Tunisia (110) and Venezuela (24).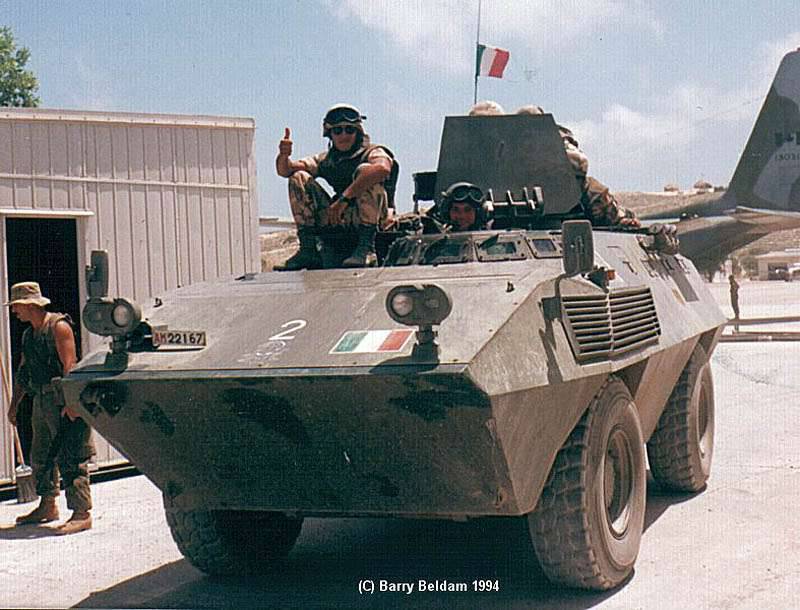 In the italian army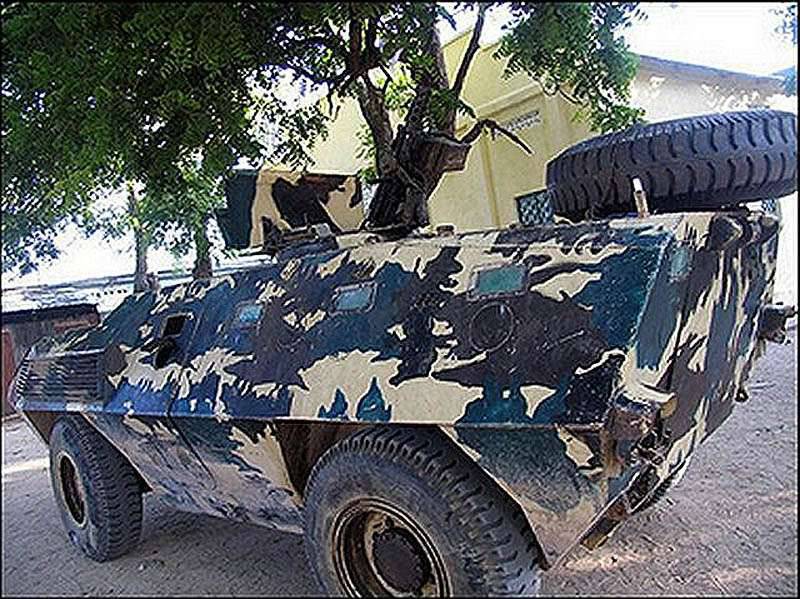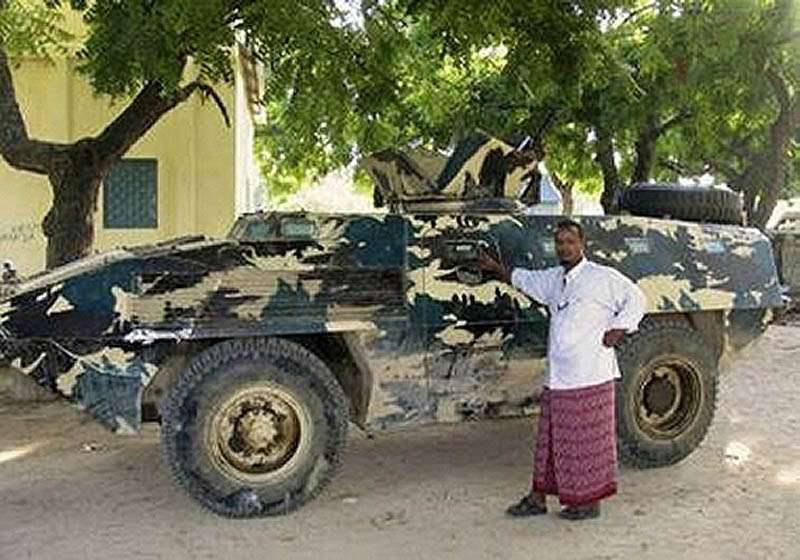 In the somali armyIn the Peruvian armyIn the South Korean army
Materials used:
www.otomelara.it
www.fcagroup.com
www.militaryfactory.com
www.warwheels.net
www.armyrecognition.com
forum.worldoftanks.ru
www.saabgroup.com
www.wikipedia.org
en.wikipedia.org
Ctrl Enter
Noticed a mistake Highlight text and press. Ctrl + Enter