This old wise house remembers its owner. Like a faithful dog, left alone, he calmly awaits the one whom he loves with all his heart. It seems to me that the house realizes that Tikhon Nikolayevich is no longer alive. But still waiting and saving the memory of him. The house does not know that this kind memory is alive not only within its walls. After all, he does not watch TV, does not travel around the country, does not happen in theaters. But even if he knew, he would still have kept his memories. There are many of them, although not all of their hundred-year-old life, the house was together with the beloved family of Khrennikovs.
... When Tikhon Nikolaevich Varvara Vasilyevna's mother died in 1943, the house had to be sold. New tenants did not throw away furniture and many other things. You may think that they did so out of greed, but it is not. Khrennikovs furniture was simple and inexpensive.
For over half a century, the house faithfully served another family. But he was overjoyed when in 1997, they began to turn it into a museum of Tikhon Nikolaevich Khrennikov. And three years later the opening took place.
... In the first hall now everything is as it was in the years of childhood of the boy Silence. At the window is a large chest Varvara Vasilyevna. In those days, it was instituted: a girl was born in the family - she was bought a chest for a dowry. My daughter was growing - good was saved.
Marrying, Varvara Vasilyevna brought a chest to this house. He served not only as a "pantry", but also as a bed: one of the children slept alternately here. Tisha was the tenth, youngest child, and this place belonged to him longer than others.
When the future composer was six years old, a grand piano appeared in the house. His older sister bought Sophia. In general, the Khrennikovs family was musical. Many in the family played the guitar and mandolin. Gleb's older brother sang great. He died in 1918 year ...
But back to the fact that a grand piano appeared in the family. The tool is very good, made by the famous Schroeder company. I was most struck by the candelabra stands on the piano lid. Old furniture is not so eloquent about the time of his youth. And I saw the candlesticks - and I immediately thought: they were playing in the absence of electricity ...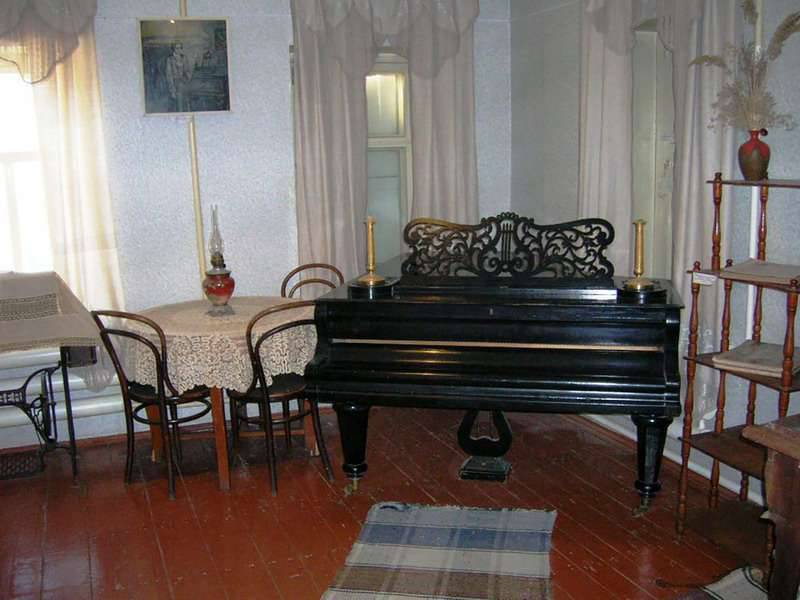 His first work - a simple etude - Tikhon performed on this piano in eleven years. In general, he was drawn to music from early childhood. He had a wonderful singing teacher Ivan Matveyevich Zyuzyukin. He first drew attention to the boy's musical ability. Even before school, Tikhon learned to play the guitar a little and, becoming older, already performed in the city garden in an amateur orchestra. And once he made an unusual musical instrument from glasses and played some simple melody.
The first piano lessons were given to the future composer by the Czech pianist Queon. And as soon as the boy mastered the musical notation, as he wrote the sketch, which was discussed above. His first experience Tikhon had the courage to show Vladimir Petrovich Ogarkov, a student of Igumnov. Agarkov for some time lived in Yelets, gave lessons to children from rich families. Khrennikovs did not have that kind of money, but Agarkov, after hearing the boy, began to study with him for free.
A look in the house-museum attracts a simple but roomy suitcase. With him Tikhon went to study in Moscow. There is something incredibly touching in that the leather wanderer has returned home and, as before, lies in his place. Here is a retreat ...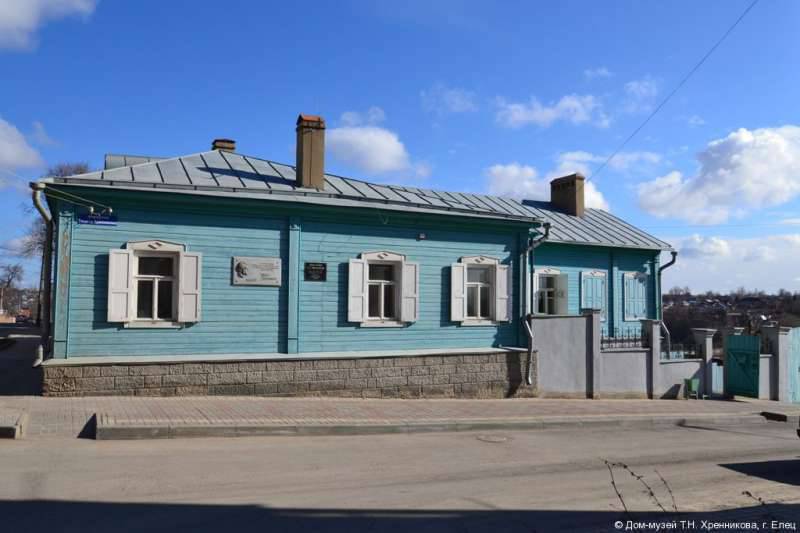 The Khrennikov House Museum is the "younger brother" of the Yelets Regional Museum. And, of course, he also keeps the memory of the famous countryman. A great merit in this is the deputy director for scientific work, Irina Nikolaevna Sorokov.
Here an unusual exhibition of Tikhon Nikolayevich's luggage awaits the guests. A man of exceptional modesty, the famous composer did not have the habit of often changing bags, diplomats and handbags. He had a small road "arsenal", which he used throughout his adult life.
Two large suitcases accompanied him on trips abroad. Khrennikov went to official meetings with his briefcase, for he had headed the Union of Composers of the USSR for many years, he was a deputy to the Supreme Soviet. He was going to concerts with his bag. It has a special compartment for notes and a pocket for a tuning fork.
Another, checkered, suitcase is separate, and here's why. Khrennikov was seen with him only once, when he came to his friend's hospital six months before his death. This suitcase though was a companion of Tikhon Nikolayevich, but did not serve the music.
A special place in the museum of local lore is occupied by an exhibition of posters, which is also followed by Irina Nikolaevna. This is not only Khrennikov's musical biography, but also musical geography. After all, on each poster shows the city where his concerts were held.
... And in the house-museum of Tikhon Nikolayevich there is a hall in which Khrennikov's "live" portraits, made in different years, "live". It is very interesting to see how a person becomes husband and change. And it is equally interesting to observe how the art and technique of the photograph developed. Admires the mini-portrait of the composer, cut from black paper. The artist who made it was a very talented person. Used scissors like a brush.
Music concerts are now often held in this room. In general, the house is very fond of guests. Schoolchildren and adults come here, tourists come from other cities and countries. Let's look at the book reviews. It is big, a little ragged and therefore doubly precious.
"Dear friends! I am happy to be in the warm house of the Russian composer, the most honest person of our Russia ... Singer Valentina Tolkunova. "
"For more than forty years Tikhon Nikolayevich was with me, helping, teaching. Thank you for the museum. Artistic Director of the Moscow Philharmonic, composer Alexander Tchaikovsky.
"I 12 years aspired to Yelets. And here he is, the house of Khrennikov, with whom I was well acquainted. Russian music lives! Artist Nikolai Burlyaev.
"We really liked the piano. Maybe someday he will feel a future celebrity and allow her to play? Pupils of lyceum No. 5 of Yelets. "
And this record - the very first.
"I am incredibly grateful to everyone who participated in the creation of this house. For me, this is a return to childhood after seventy years wandering around the world. I'm at home! I'm happy! Thank you very much! Tikhon Khrennikov, September 8 2000. "
These lines were written by him on the opening day of the museum. Tikhon Nikolayevich came here several times, always with presents. A modest and cordial man, he in his great glory never forgot his native city. He brought famous artists and musicians to Yelets. With his invaluable help in 1969, a music school was opened here, which has been named Khrennikov for 20 years. He organized a choir competition in the Lipetsk region, thanks to which many young musicians got a start in life. He also helped in the transformation of the Yeletsky Pedagogical Institute into a classical university.
***
The old house remembers its master. Its windows look at the lane Tikhon Khrennikov. I figured: 11 houses here. It is clean and comfortable. And what is surprising: in the summer, rowan trees bloom thickly in this alley, even if there is no harvest for this berry all over the region. But during the war years, Tikhon Nikolayevich always carried with him an aluminum mug, presented by an old man. The mug had no handles, and he tied a rowan tree to it. Khrennikov said that there is no berry closer to his heart. In general, there is no information in encyclopedias that Tikhon Nikolayevich fought, only that he spoke to the soldiers. And about the fact that during the years of the war, while living and working in Moscow, he created the music for the play "Once upon a time", a cycle of songs for the words of Robert Burns, the musical accompaniment of the film "At six o'clock in the evening after the war", the score of the Second Symphony, begun by before the war.
But, being with concerts on the front line, Tikhon Nikolayevich happened to participate in battles, although he himself almost never talked about it. I read the memoirs of Mikhail Svetlov and Lipetsk photojournalist Ivan Nartsisov (these two men fought together).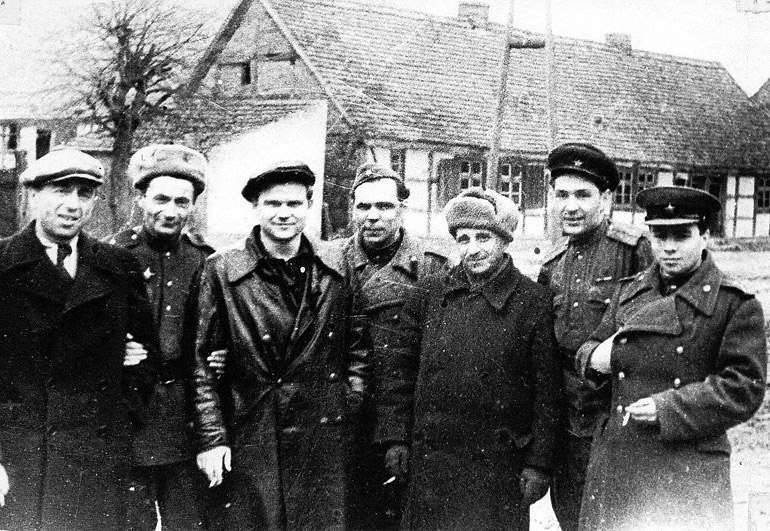 And in these materials episodes are described, when after the concerts the fighters were raised into battle, and Tikhon Nikolayevich also walked. Where, I ask, took
weapon
? The answer just struck me: the chefs ...
Once during a concert (it was in 1942, but the specific location was not indicated, it is only known that near some village) enemy aircraft flew, bombing began. And residents of this village came to listen to the concert, among them were children. Tikhon Nikolayevich saw a woman in whose arms were two little twin girls. Jumped up to her, took the children, and together ran into the shelter. And the girls, frightened by a stranger, wept. And then Tikhon Nikolaevich sang to them! He imitated the voices of various instruments, and it seemed that the whole orchestra was playing. So all the bombing and singing ...
Already after experiencing the mother of these girls, thanking, she asked:
"Why are you so excited?" After all, I myself brought two to the concert. Announced the same. And here would be handled.
"Of course they would," answered Khrennikov. "But how could you not want our wives and mothers to become accustomed to the fact that they must manage themselves!"
The last military concert of Tikhon Nikolayevich was a performance in Berlin after our Victory. This day is captured on the photo.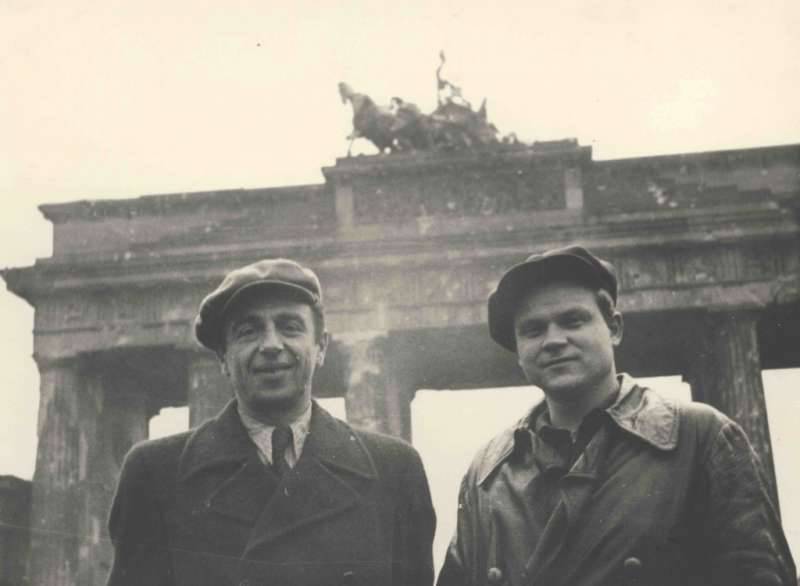 ... How many years have passed, and the house is worth ...
The house does not see the grave of Tikhon Nikolaevich: none of his windows look at this side. The composer bequeathed to bury him here, at home. He ordered only an Orthodox cross to be placed on the grave. And when 14 August 2007, the sad event happened, the villagers stood before a difficult choice. They could not not fulfill the requests of their famous countryman. But even to leave the grave so "empty" was considered a sign of disrespect for Tikhon Nikolayevich's memory. After all, the whole Elec, wherever you go, breathes reverence to Khrennikov! Everywhere there are his portraits: an honorary citizen of the city, a famous countryman, assistant, friend.
Therefore, near the grave, a bust and a stela were installed in the form of a piano. But if you love music with all your heart, it will seem that the stela is made in the shape of a heart ...