Duma deputy from the Communist Party of the Russian Federation Sergei Obukhov called on Prime Minister Dmitry Medvedev to refuse to involve American companies in resolving issues of state importance, reports
RIA News
.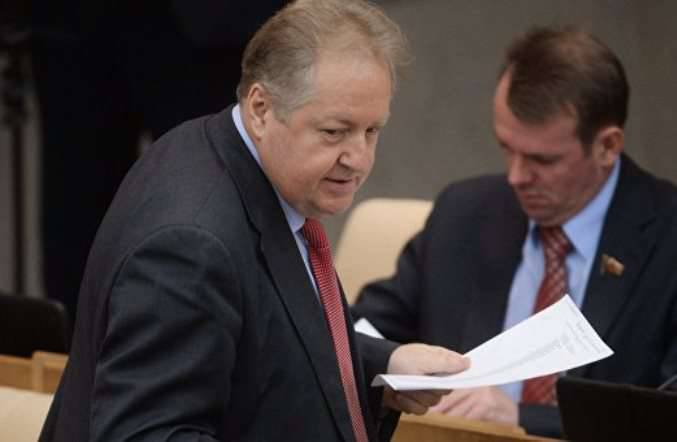 On Wednesday, the US president extended the term of the anti-Russian sanctions imposed on 2014 in connection with the events in Crimea.
"I ask you to consider the issue of refusing to involve American companies in the solution of state issues of special importance," the text of the deputy's request says.
Obukhov reminded of information confirmed later by the State Department that official Washington "convinces businesses to refuse to do business with Russia," in particular, "not to buy Russian bonds."
"In a situation where the State Department directly orders US companies not to interact with Russia under the threat of economic and reputational negative consequences, a different behavior of American organizations should, at a minimum, cause caution in Russia," writes the communist.
"At best, such firms have a conflict of interest," the deputy said. "However, it is unlikely that many legal entities will agree to accept the enormous risks that arise when the sanctions regime is violated, for a relatively modest reward," he notes.
According to the parliamentarian, "the desire of American companies to participate in the most important events and projects for Russia may in some cases indicate their likely interest in committing actions that do not meet Russian national interests."
He recalled that the US authorities are taking sanctions measures to companies cooperating with the Russian Federation, in particular, "decided to punish any foreign banks for cooperation with companies or citizens of Russia from the sanctions list."
The deputy also referred to publications in the media, according to which, "when the Pentagon learned that Russian specialists helped write computer programs for the US military communications systems, American companies that attracted them were fined $ 12,75 million."
"Such vigilance, clearly, would be worth showing to Russia. Not by chance, for example, Deputy Prime Minister Dmitry Rogozin expressed dissatisfaction with the fact that the American company McKinsey won the competition to create a concept for the development of the Northern Sea Route. It is important to note that shortly before this, the General of the Joint NATO forces in Europe, American General Philip Breedlove, said that the United States was exploring ways to contain Russia in the Arctic, "
he noted.