In Geneva, the next (13-th in a row) report on the state of human rights in Ukraine was published. The report was prepared with the participation of specialists from the Office of the High Commissioner for Human Rights (OHCHR). This agency urges the Kiev authorities to investigate the so-called blockade of the Crimea, which was staged by radicals led by the notorious Lenur Islyamov, who has contacts in Turkey.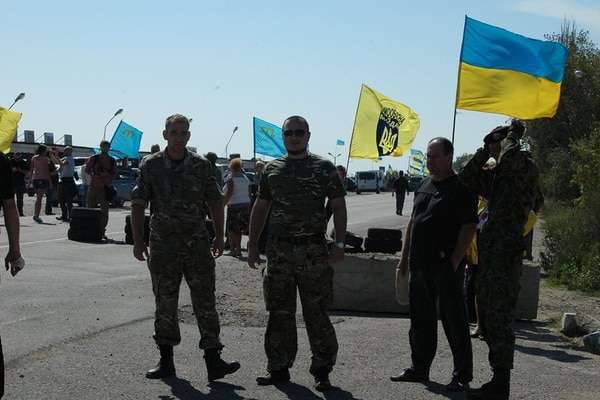 The report of the OHCHR states that Kiev should detain those who blocked the movement of trucks with food and other goods, within the framework of previously concluded contracts heading to the Crimea. In addition, the material contains an appeal to the authorities of Ukraine with the call "to ensure the observance of constitutional norms in the Kherson region". Recall that it was in the Kherson region at one time were undermined several power lines, leading electricity to the Crimea.
What kind of restoration of constitutionality can be talked about if the Ukrainian authorities themselves got into their current positions by mixing the Ukrainian constitution with mud.
From the report, fragments of which leads
TASS
:
(The so-called) "civil blockade" of the Crimea was carried out by activists who illegally performed the functions of law enforcement agencies. The blockade was marked by a number of human rights violations.
The UN report contains statements that the authorities of Crimea are faced with the need to reduce electricity consumption, which could hit the most vulnerable people, as well as educational and medical institutions.
The report says that the blockade was officially lifted by an order of the Ukrainian Cabinet of Ministers 18 December 2015, however, and in early February 2016, the UN mission watched as the "activists" continue to block the roads for the supply of goods and interfere with the traffic.
From the report:
In February, OHCHR witnessed continued tensions between local residents and those supporting the blockade. Local residents created "self-defense" groups in response to numerous attacks on individuals and property, allegedly carried out by activists who imposed the blockade.