Office of the press service and information of the Ministry of Defense of Russia published the newsletter of the Center for reconciliation of the warring parties in Syria. The bulletin consists of three sections:
general data on the progress of the reconciliation of the conflicting parties,
the results of the monitoring of the cessation of hostilities,
the course of humanitarian assistance to the population of the SAR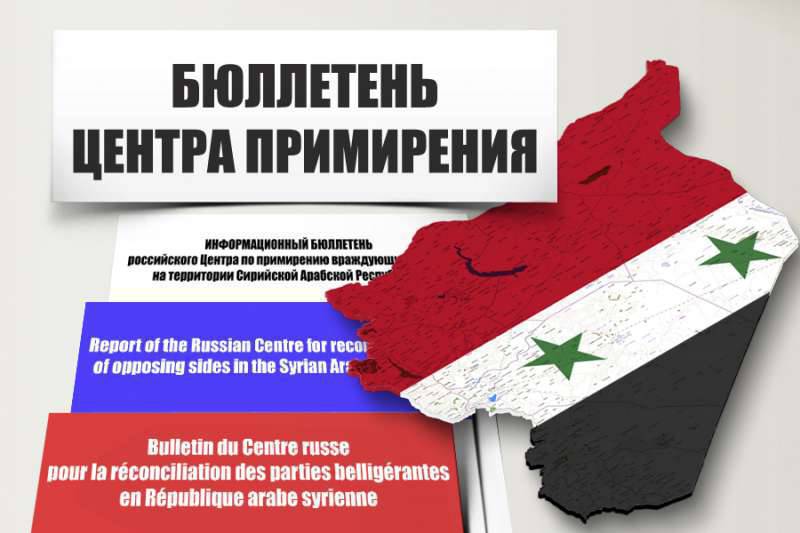 The first section notes that ceasefire agreements for the last 24 hours have been reached with the commanders of four more groups ("moderate opposition" - note "VO"), which control the settlements of Kafar, Shams and Gabagib in the province of Daraa. The total number of recorded agreements to date has been 40.
The Russian Federation continues to mediate in the negotiations of official Damascus with the leaders of the 11 groups operating in the provinces of Damascus, Homs, Aleppo and the already mentioned Dara.
The second section tells that Russian experts have noted cases of violation of the cease-fire. A total of 21 such a case was noted per day. The largest number of them - in the Syrian capital - Damascus.
In addition, the militants are active in the province of Latakia, where large-caliber artillery was shelled in the village of Kinsibba. It is noted that the fire led from the Syrian-Turkish border. The results of the shelling were three killed and at least 8 injured civilians.
From the message
press service of the Ministry of Defense of the Russian Federation
:
In the same place, film crews from Russia, Bulgaria, Great Britain, Germany, Greece, Italy, Spain, Canada, China, and the United States came under fire reporting on the return of civilians to their homes after the announcement of a truce. Four journalists were injured and injured.
During the day, the militants fired from volley fire systems in residential areas of El-Sabil and Al-Mantia (Daraa province), Karja, Al-Mufakar, Shaqra, Al-Salmiya (Hama province). There are destructions.
Militants also shelled settlements in the provinces of Homs and Aleppo, using various types of weapons, including mortars.
The most active were the terrorists from Dzhebhat al-Nusra, who attempted to attack the units of the Syrian army in Narb-Nafs.
It is noted that while the Russian military
aviation
not used in Syria.
In the third section, it is noted that Russia supplied about 6 tons of humanitarian aid to the needy citizens of Syria. These are mainly foodstuffs and bottled water, brought to the settlements of Kineiba, Vali-Sheikhan and Hansjaus, liberated from the militants.