Pakistan is discussing the possibility of reducing nuclear arsenals. At the same time, state authorities say that official Islamabad will never go for unilateral reduction of nuclear warheads. According to the official representatives of the government of Pakistan, the reduction can be carried out in the only case: if neighboring India takes the same steps.
Adviser to the head of the Pakistani government, Sartaj Aziz, who is referred to by TASS, says that the probability of reducing nuclear arsenals is in fact very small. According to him, "it's all about India." Aziz claims that India "will not go to reducing the number of nuclear warheads," adding that the Pakistani nuclear program is "only a deterrent in the region."
TASS
quotes a Pakistani official:
India is increasing its nuclear arsenal much faster than we do. And the concept of containment is dynamic. Deterrence must be effective. The focus of our containment is India. Unfortunately, we have no other option to maintain an effective arsenal of deterrence.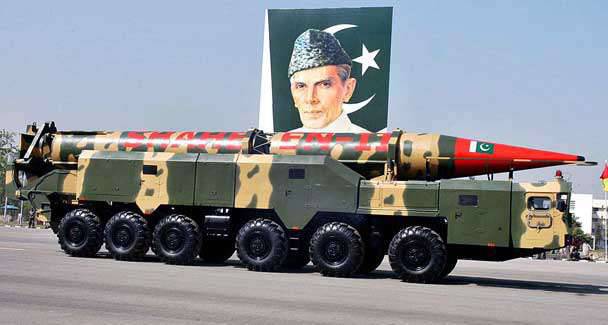 The possibility of reducing the number of nuclear warheads by Pakistan was referred to during the visit of Pakistani military officials to the United States.
At the same time, the issue of striking the United States by US drones was also discussed. Recently, a representative of the country's Defense Ministry, who expressed stormy indignation on this issue, now states that "the number of strikes inflicted on Pakistani territory by US drones has decreased significantly." Sartaj Aziz added that Islamabad had previously expressed dissatisfaction, because it considered it a violation of sovereignty. The United States declared that there are terrorist training camps in Pakistan. And these camps Pakistan, as Aziz says, "almost completely destroyed." Apparently, now with the sovereignty they have everything in order ...