According to the results of 2015 in the Russian Federation, for the first time in a long time, the number of built warships exceeded the number of built civilian ships, the newspaper writes
Kommersant
.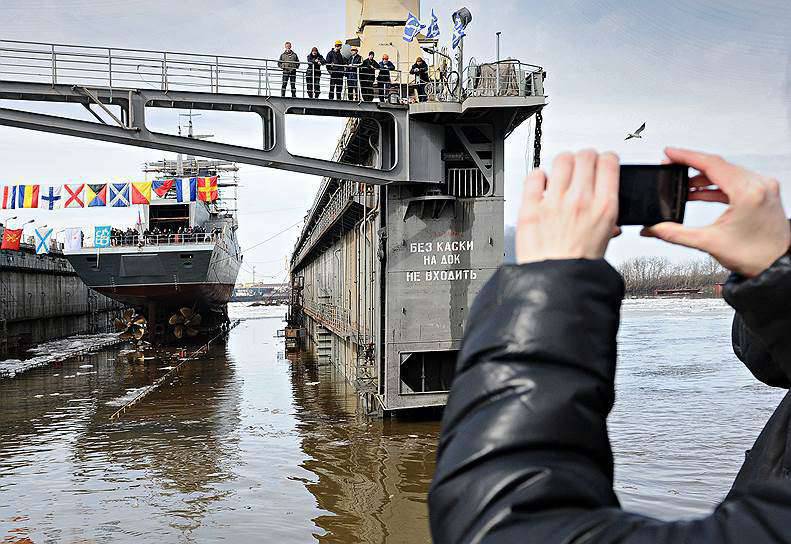 "At the end of 2015, the number of civilian ships and warships handed over by domestic shipyards fell by 2014% compared to 23 in the year, to 182 units, according to the Infoline-Analytica rating. The total tonnage of ships built in Russia for the year decreased by 54% and amounted to about 200 thousand tons compared to about 440 thousand tons in 2014 year. At the same time, both civil and military shipbuilding fell by tonnage relative to 2014 level of the year - by 63% and 16%, respectively. In monetary terms, the market fell by 22,5%, to 125,4 billion rubles. The market showed a negative trend throughout the year, and by the end of January-September it was obvious that the figures for the number of ships handed in and for their value would be lower than a year earlier, "the article says.
The agency's research notes that last year for the first time in the last 6 years, the number of warships turned out to be more than civilians.
"Following the results of 2015, the military received 99 ships, while over the same period, shipbuilders handed over 83 civilian ships. In terms of value, military shipbuilding in 2015 provided 82% of orders of Russian shipyards (102,6 billion rubles), and the volume of civil orders in money terms fell in 2,5 times, to 22,8 billion rubles. "
At the same time, the researchers claim that "taking into account the production program of the largest Russian shipyards in 2016, the share of military shipbuilding will only continue to grow - the GOZ will account for about 45% of the total tonnage of vessels scheduled for delivery in 2016."
"The bias towards military shipbuilding will obviously remain in the coming years not only against the backdrop of a large state defense order, but also because of the macroeconomic situation in the country," the newspaper sources said.
"Last year the Vyborg Shipbuilding Plant of the United State Shipbuilding Corporation (USC) became the leader in tonnage of commissioned vessels. In 2014, the shipyard did not give up a single ship, and in 2015, two icebreakers with a capacity of 16 MW (LK-16) Vladivostok and Murmansk, which were built together with Arctech Helsinki Shipyard, also owned by USC, at once. The second place is also controlled by USK Krasnoe Sormovo, which last year handed over tankers of the RST 27 project. The Okskaya Shipyard (Vladimir Lisin, part of the UCLH) went up to third place, having commissioned three Volga-Don class RST 54 tankers. The Zelenodolsk plant named after Gorky rose from 26-th place in the ranking in 2014 right to the fifth place due to the delivery of two small rocket ships of the 21631 project and floatingdock, "the Infoline-Analytics study says.
According to agency estimates, in the 2016 year it is planned to commission about 90 warships and more 80 civilian ships.