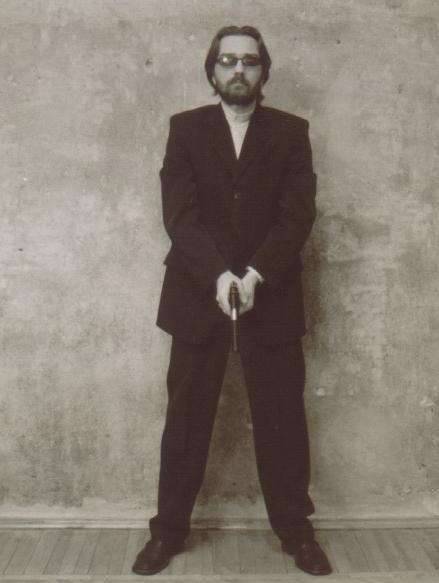 Arkady Skachkov is the author of the books Pistol's Self-Tutorial on Aimless, Instinctive, Dynamic Shooting in Defensive Movement and The Art of the First Shot. Chairman of the Pistoletchik shooting club (St. Petersburg). The developer of simulators and programs for training in shooting in stressful conditions. The editor of the self-defense section of the "Shotgun" magazine. Author of more than two hundred publications in a dozen Russian and foreign
armory
magazines. Judge of international competitions of security services and security companies. Judge of the International Confederation of Practical Shooting.
He began studying shooting in the 1995 year in St. Petersburg. Since 1998, during 5 years, I studied in the USA with different instructors. In 2003, he returned to Russia, where he continued to teach shooting skills according to the method: "Trainings of Counterattacks (TREN)". Engaged in S.N. Putilin (Lipetsk).
Judging by the ad on his website, students learn the following skills:
- quick extraction of weapons from the holster,
- instant shot,
- shooting in motion,
- hidden snatch,
- protection against armed and unarmed attacks,
- shooting with carrying,
- two-plane shooting
- intuitive shooting
- and many others.
But let's get started:
- What is a pendulum, what does it give?
"The pendulum is a system that I first saw in reality when I met S.N. in Lipetsk. Putilin. No one else could shake me so much in the cinema, but in life I have not seen my skills and they go far beyond the framework of hand-to-hand combat. The pendulum is at first glance just a system of exercises, something resembling rocking from side to side with the obligatory holding of tension and rhythm. You do them and watch how something changes in you month after month. Then you add more and more tricks, but their speed and strength grows. In a narrow fighting sense, the pendulum is a system that allows you to increase speed and power.
- With using what?
- Have you noticed that when you notice something with peripheral vision, you react to it faster than when you notice with the front? This is due to the fact that when we notice something with frontal vision, first the information goes to the brain to assess what it is, whether it is dangerous or not, and only then the brain gives the command to perform some action. But when we notice something with peripheral vision, there is no assessment period, we react immediately. By eliminating this evaluation period, the speed increases. This is a schematic explanation and it does not fully reveal the essence of the technique.
- That is, peripheral vision includes instincts?
- I would not like to go deeper, because there may be a wrong understanding. And Sergei Putilin doesn't like to explain this, but simply says to swing the pendulum. It is necessary to do, and not to talk about it. Try to walk at night in the park or forest, and you will immediately see how your perception will change. You still do not have time to understand what it flashed from the side, and already bounce.
I give the task to my students to shoot at a target, controlling it only with peripheral vision, and they hit the target! How - they do not know, and there is nothing.
- That is, you are a supporter of the principle "To be able to do more than you know"? The main thing to do and do effectively?
- Yes, and everything must be worked out for a long time. The essence of all techniques - turn off the "analyzer". And that is the mind. This at times increases the speed. By the way, such techniques also develop some interesting abilities, but I don't want to talk about it in order not to be accused of charlatanry.
- And right. It is believed that the Soviet system of hand-to-hand combat was going very quickly.
- I do not agree with this approach and I consider it a sign of quackery - when they promise to teach something for a short period of time anywhere - in learning English, for example. When someone says that in a month 2 will make you a fighter, it means that this person just needs your money. You should always study, study, take time. I rocked the pendulum Putilin 9 months, although, he usually says that it is necessary 6 months. And I downloaded not for 45 minutes, but for 2-3 hours. And some people need to download the 3 of the year altogether in order for them to "get it". Although, not everyone is capable of such. It just happens that a person did something for a long time, then it worked for him, and he forgot about how long he was going. And he begins to think that everything can be done quickly. But it does not happen.
We practiced 5 attack situations every day - and we were already trained people. And in the course of the work, they revealed only 2 skills, which absolutely accurately decide the outcome of the fight: the fastest possible shot first, and instant departure from the line of attack. And more importantly - to combine both. We worked out all possible ways of leaving the line of attack. We must reach such a level that if someone knocked you down from behind, then you were already on the ground with a weapon in your hand, and you had time to shoot. And these 2 skills need to hollow, hollow, hollow ... But this is not art yet, but a craft.
- In this case, you probably need to keep fit?
- No, it's still not a sport. Shooting is good enough to get to a certain level, and then maintain your skills by practicing 15-20 minutes a day. But first you need to come to this, as you can see.
It is very important to be able to shoot not precisely. Not on the front and rear sights and not in the direction of the trunk, but on the sense of direction of the trunk in the hand. This is the only way to get on a moving target not in sporting conditions, where it swings evenly back and forth and does not just travel in the same direction at the same speed as in a regular dash, as in practical shooting - because you can still analyze and calculate the target motion. In the life of the target so stupid and predictable are not. So - I teach shooting 20 for years, and during that time only one person managed to hit the SIGHT from the first time at a moving target, not knowing exactly how it will move. And I think that he did it by chance.
- How do you feel about the system of A. Gavrilov's Battle Intuitive Shooting (which we have already written about)? Are there any similarities with the pendulum of S. Putilin?
- I spoke with both Gavrilov and one of his students, NUMX. I believe that in fact these are the same systems - but this is my personal opinion, and please note this. Just Putilin pendulum melee, and there are small differences from the approach of Gavrilov - in movements and other points. For example, when shooting you need to move more smoothly. Shaking the Putilin pendulum, I began to gradually figure out how to do this with a gun. But there were some inconveniences. And only having familiarized myself with the LSI system, I understood what and how it should be corrected for firing. That is, the system is one, but the goals are slightly different - shooting and "man-made". Because of this, and a slightly different approach. Well, a different explanation. Putilin says that a stretch and a rhythm are needed for a pendulum - without this, it will not work. Gavrilov explains this with the help of his "ghaek" - but in fact it's the same thing. Or Putilin gives exercises to develop a sense of loss of balance. And Gavrilov gives such an example - go through thin ice and watch the chill in your chest. That is, they talk about the same condition.
You can take the shadow boxing from boxing as an example. Imagine that you are using the same technique for shooting - the base will remain boxing, and the movements themselves will change a little. And it is natural.
- What other similar systems are there?
- There is the direction of KhorA, with whom I personally am not familiar, but I read the book, and I considered it similar. There was also one Cossack Savior.
- What kind of Savior? They are at least 20 now.
- I do not know, it was in 2003 year. I was told that it was Cossack Savior. Then one was known. and now there are dozens of them. It will be the same with everything - we already have a pendulum in St. Petersburg, but not words about Putilin. If tomorrow there will be twenty more pendulum-style mentors, I would not be surprised, but I will not take my word for it.
- How do you feel about Potapov?
- I believe that he collected all the information that can be and well combined it.
- And who did he learn from?
- Ask this question to him.
- Arkady, thanks for the answers!
In the direction of A. Skachkov, principles are applied that are essentially identical to the principles of "Russian style":
1. Situations in which the shooter has to use weapons for self-defense are sudden, varied and unpredictable. Therefore, in order to foster the ability to act correctly in such situations, it is necessary to make every effort so that the training of the shooters not only approaches in their intensity, variety and complexity to real fire contacts, but also surpasses them.
2. Attack situations are more varied than any rifle dogma. The method of training should be based not on technology that will save in all situations of attack, but on the situations themselves in which the shooter may need to apply various weapons possession techniques that do not fit within the boundaries of a single rifle technique.