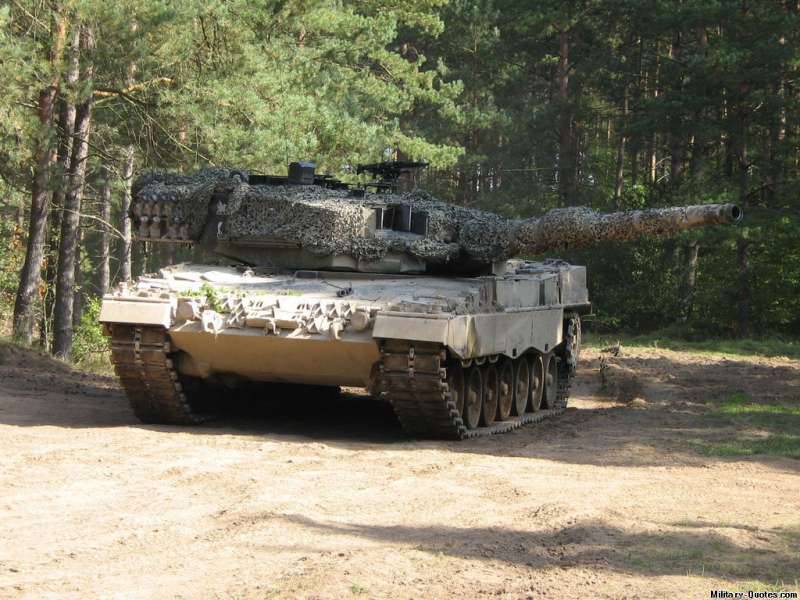 In December 2013, Poland bought additional Tanks LEOPARD (105 2A5 and 14 2A4) to strengthen its fleet of 128 2A4 tanks
The Polish military entered the third year of an ambitious technical modernization, but Warsaw, meanwhile, is struggling with disruptions and delays along the way.
In 2014, a record amount of PLN billions of 8 (26% of defense budget) was spent on technical upgrades. The list of completed deals includes 12 M-346 combat training aircraft, JASSM cruise missiles and NSM anti-ship missiles (ordered by 48 pieces). In 2015, Poland chose new medium-range air defense systems and new multi-purpose helicopters. According to the Ministry of Defense in 2015, Warsaw selected the winners of several competitions, including the GRYF and ZEFIR UAV contests, the POPRAD and PILICA air defense systems, the HOMAR rocket launcher system, the RAK self-propelled howitzers and the LEOPARD 2A4 tank modernization. At the end of 2015, the delivery of the remaining 2A5 tanks, as well as the W3PL / W3 helicopters, upgraded by installing a synthetic aperture radar, was expected to be completed. However, despite these successes and ambitious plans, Poland is still struggling with indecision and the backlog of some of the sub-programs. Although, starting from 2016, Poland will spend 2% of GDP on defense, delays are inevitable, because at the end of 2015, elections were held in Poland, which was won by the opposition and therefore a regular (fortunately short) pause occurred.
Ground troops
In December, 2013, Poland received additional LEOPARD tanks (105 in 2A5 version, 14 in 2A4 version) in order to increase its fleet in the number of 128 tanks in 2A4. Poland plans to upgrade its 2A4 to the new standard, which is known as LEOPARD 2PL. However, this project is experiencing several delays. The latter happened in February of 2015, when the total offer of PHO, OBRUM, and Bumar-Labedy was rejected. Later, the Weapons Inspectorate invited the PGZ group of companies and Bumar-Labedy to negotiate. It was planned to sign a contract at the end of 2015, which is two years later than the original plan. Upgraded tanks must be delivered from 2017 onwards, and 2A5 tanks will not be upgraded over the next 15 years.
Poland not only ordered another batch of ROSOMAK wheeled vehicles (307 units with deliveries in 2014-2019 years), but also develops new variants, for example, technical reconnaissance ROSOMAK-WRT (deliveries planned in 2016-2018 years) or engineering version ROSOMAK-WPT (deliveries on 2018 year). 122 ROSOMAK machines must be equipped with a ZSSW-30 remote-controlled turret, armed with an Orbital-ATK Mk30 BUSHMASTER II 44-gun and two Rafael SPIKE-LR ATGM (supplied from 2016 onwards). It is worth noting another option - 120-mm automatic mortar breech loader M120K RAK (96 units in eight divisions). Deliveries of the wheel variant are scheduled for the end of the year.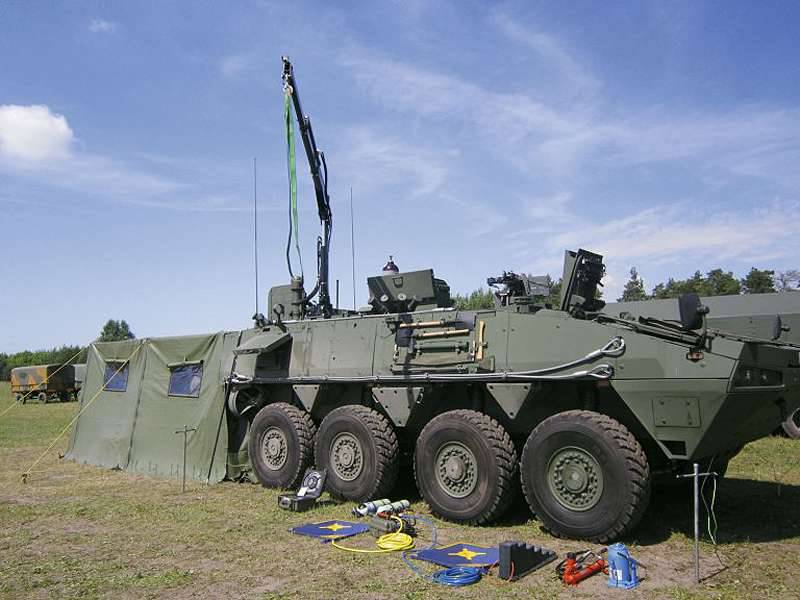 Technical intelligence machine ROSOMAK-WRT
Poland has already begun a program to replace outdated combat reconnaissance patrol vehicles BRDM-2 (approximately 240 in service), known under the local designation LOTR (light reconnaissance armored personnel carrier). A new machine must be floating in the configuration 4x4 or 6x6. It is likely that this will be a local product. One of the possible applicants is the company AMZ Kutno with its car BOBR. In May 2015, the PGZ group of companies signed an agreement with the German company Rheinmetall MAN Military Vehicles (RMMV) on the joint development of the wheel-mounted floating machine 6x6.
In accordance with another project, the infantry combat vehicles BMP-1 and the T-72M1 and PT-91 tanks (currently in seven battalions) will be replaced. Poland is currently implementing two projects for next-generation vehicles based on the universal modular tracked platform UMPG (universal, modular tracked platform). Based on the first heavy platform, codenamed GEPARD, a direct fire support vehicle will be created with an 120-mm gun. It is assumed that the order will be 400 machines. The first prototype should be ready in April 2016. Light version BORSUK (badger) is intended to replace the BMP-1. The prototype should be ready by the end of 2017. It will be armed with either 30-mm or 40-mm cannon and SPIKE-LR ATGM in the ZSSW-30 remote-controlled turret. The BORSUK version of the BMP and the 800 machines in the specialized versions must be ordered.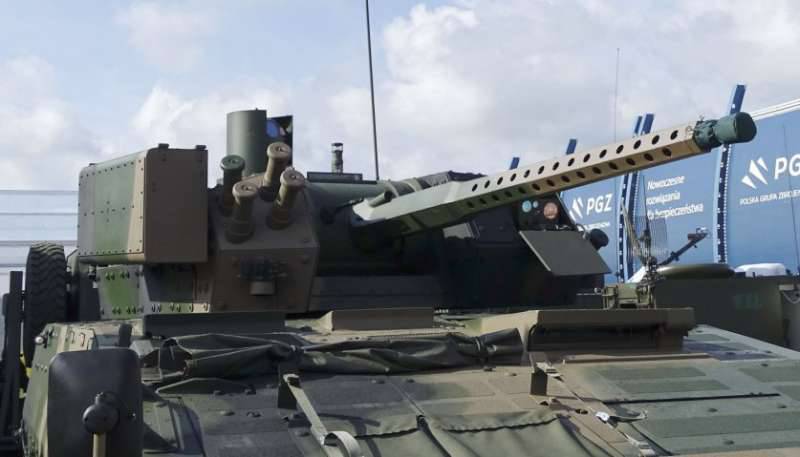 ZSSW-30 remote controlled tower on a ROSOMAK machine
Artillery
The Polish army should soon receive new artillery systems. The main project here is the KRAB self-propelled howitzer. Poland intends to buy 120 howitzers in order to form five REGINA divisions in 2017-2025 years and equip them with SZCZERBIEC guided munitions. They will be based on the Samsung Techwin chassis, ordered by HSW in December 2014. By 2022, Poland will receive 36 K9 cases from South Korea, and the remaining 84 cases will be manufactured in Poland under license.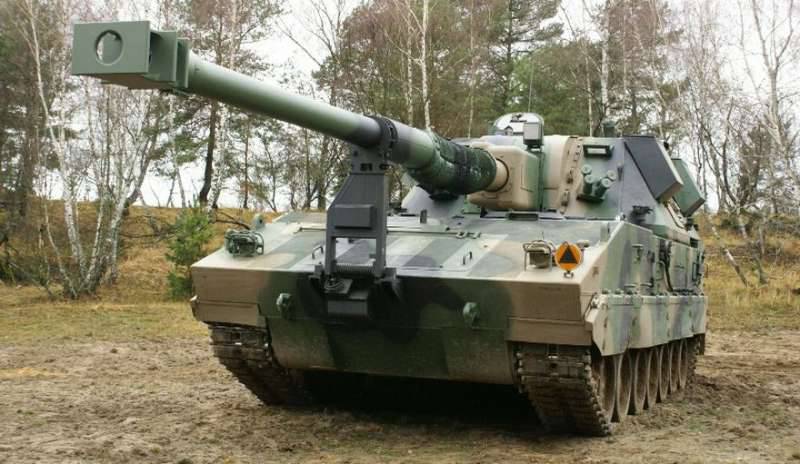 Polish self-propelled howitzer KRAB
Another system currently under development is the KRYL wheel howitzer with a range of up to 40 km. Poland wants to arm seven artillery battalions for the 2025 year (168 howitzers). The first KRYL installations will be delivered in 2017 year. The third newcomer to the list is the multiple-launch rocket system (MLRS) WR-300 HOMAR (lobster), which will be either with American ATACMS or LORA from Israel Aerospace Industries (IAI). The contract with HSW must be signed at the end of 2015. Deliveries of 20 systems are planned for 2018-2022 years.
Air mobility
Poland is also modernizing its helicopter fleet. This is one of the most important operational needs, as the Polish Ministry of Defense wants to decommission a total of 200 helicopters. 2019 will not be easy, as a large number of helicopters will reach the end of their useful life and should be written off. This will affect the attack Mi-24, marine helicopters
aviation
SH-2G, Mi-14E (12 pieces) and Mi-14PS (5 pieces). By 2019, only half of the available quantity of Mi-14PL will remain in operation. Two years later, the Mi-8 will need to be removed from service, while by 2031 the remaining Mi-17s. Around 2040, W-3 helicopters, currently the most common in the Polish armed forces, should be withdrawn from service.
Poland will select a new combat helicopter (30-32), which will replace the currently operating 28 Mi-24D / B HIND helicopters, codenamed KRUK (raven). AH-1Z VIPER from Bell, AH-64E GUARDIAN from Boeing, EC-665 TIGER from Airbus Helicopter and T-129 ATAK from Turkish Aerospace Industries (TAI) are candidates for replacement. Deliveries should begin in the 2019 year, a year earlier than planned (however, it is possible that deliveries will begin in 2017-2018 years). At the same time, Poland will receive a new multi-purpose helicopter, on the role of which the H225M (EC725 CARACAL) of Airbus Helicopter was previously selected. Initially, Poland wanted to purchase 70 helicopters, but on the recommendation of the General Staff, it was decided to reduce this number to 50 units (eight anti-submarine warfare, 21 CSAR (search and rescue during the fighting), five CSAR-MEDEVAC (evacuation of the wounded) and 16 common appointments) in order to redistribute finances in favor of the KRUK program. The H225M model was successfully tested in the 2015 year, after which a contract is expected to be signed with Airbus. The scale of the participation of Polish industry in this project is not yet known.
Intelligence capabilities
In January, 2015 Poland announced the search for suppliers of 27 UAVs with service and training: 12 tactical sets ORLIK (in each 3-5 UAVs) at the brigade level and 15 sets of mini-UAV WIZJER Mini-UAV (4-5 devices in each) on battalion level. If the ORLIK UAV is planned to be delivered in 2018-2019 years (additional batch in 2022-2026 years; up to 15 sets in total), then WIZJER is planned to be delivered by 2017 year (just up to 40 sets).
Another ZEFIR program is being implemented (four sets of UAVs of the MALE class (medium height and long flight duration), each with three armed UAVs), within which Poland will most likely choose between MQ-9 REAPER from General Atomics, HERMES 900 from Elbit Systems and Thales WATCHKEEPER. The final decision was expected at the end of 2015 of the year, and deliveries are scheduled to begin with 2019 of the year. Tactical GRYF UAVs of medium range (12 sets of four each) Poland plans to purchase from the United States or Israel by intergovernmental agreement. Negotiations were supposed to end at the end of 2015, and deliveries are scheduled to begin in 2017.
Intermediate indicators of the Polish Armed Forces modernization process (2014-2015)Completion
- Ordered 40 AGM-158 missiles
- Ordered second coastal division with NSM missiles
- Start of procurement of UAV WIZJER / ORLIK
- Signing a deal on AJT simulators
- Signing a deal on an individual TYTAN combat system
- Ordered 50 helicopters H225
- Ordered air defense system PATRIOT
- Continuation of the project on KORMORAN class mine warfare vessels
- Organization of the Jelcz truck production line
- Completion of production of prototypes KRYL, BYSTRA and ZSSW-30
- Putting into service LEOPARD 2A5 tanks
Delays
- Delay of the project for the WISLA air defense complex
- Delayed projects ZEFIR / GRYF UAV
- Delay and uncertainty in the project ORKA class corvettes
- Project uncertainty on patrol vessels MIECZNIK / CZAPLA
- Delay project for multi-purpose helicopter
- Reduced helicopters ordered from 70 to 50
- Disruption to the start of the LEOPARD 2PL upgrade
- Disruption of the KRAB chassis supply
- Slow replacement of BMP-1
Poland wants to buy POPRAD short-range air defense systems from PIT-Radwar
Poland also wants to build two military satellites, research has already begun on the technical feasibility of the project. In the first phase, an international consortium will be created, the launch of the first satellite is scheduled in 8 years. Until that time, Poland will use data from the Italian military satellite constellation COSMO-SkyMed Seconda Generazione (CSG) (the agreement was signed in March 2014 of the year).
Defense
In 2015, Poland chose Raytheon PATRIOT for its WISLA medium-range air defense project as part of its arms sales program to foreign countries. Poland will acquire two batteries in an intermediate configuration in the 2018-2019 years. The first two batteries in the final configuration with a circular radar and a network-centric command and control system must be delivered by 2022 year. The desired system parameters are not yet available. Many elements still need to be developed and tested. However, it is known that Poland wants to upgrade all eight batteries, including two in an intermediate configuration from the first batch, to the 2025 year. A contract for the supply of all eight batteries is scheduled for signing at the end of 2016.
The second level of the new Polish air defense system will consist of NAREW 6-11 short-range batteries, which will replace the C-125 Neva-SC and 2K12 Cube complexes. It is planned to announce a tender for the supply of new systems in 2016 year. Poland wants the NAREW system to be based mainly on local technology. In addition, by the 2021, the Polish military want to purchase from the PIT-Radwar 79 company POPRAD near-air defense systems on the chassis of wheeled vehicles AMZ-Kutno ZUBR-P 4x4. In December 2014, the first two POPRAD prototypes successfully passed operational tests.
The first level of Polish air defense will be based on man-portable air defense systems, such as GROM and later on the PIORUN air defense system (lightning), a newer version of GROM. In the 2013-2014 years, the Polish army received GROM 200 missiles. Polish air defense capabilities will be supported by local PIT RADWAR radars: SOLA PESA (short range), BYSTRA AESA, P-18L AESA (long range) and PLC / PET radars for the WISLA and NEREW complexes.
Aviation
In December, 2014, Poland ordered air-to-ground AGM-158A JASSM missiles, which are scheduled to be delivered to 2016 year. They will last three years and will require the modernization of Polish fighter F-16 C / D (already ordered). There are currently no plans for additional purchases of the F-16, although the Department of Defense still wants to buy fifth-generation 64 jets. Poland is currently considering its operational needs and desired aircraft specifications. The results will be included in the technical upgrade plan for 2017-2026 years. This project has no priority status and therefore there may well be delays.
In June 2015, the Weapons Inspectorate began purchasing two small VIP transport aircraft with training and maintenance packages. These aircraft must be business class and accommodate 12-14 passengers. Poland wants to buy used airplanes, but they should not be older than 2006 of the year, have a flight time of up to 3500 hours and an expected range of at least 5000 km. The main selection criterion is price (50%). The winner was selected at the end of 2015 of the year, and the aircraft must be delivered by the middle of 2016 of the year.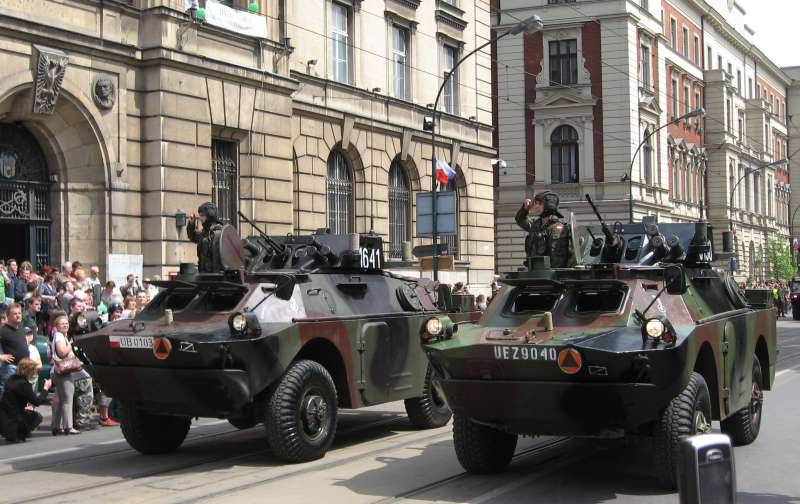 All upgrades, conversions and major repairs of Polish BRDM-2 are carried out by WZM. Modernized vehicles BRDM-2 will remain in service with the Polish army for several years. Poland has already launched a program to replace the BRDM-2 with the LOTR light reconnaissance armored vehicle
Polish Navy
By the end of 2014, the 14 of the 34 hull sections of the first 258 KORMORAN II Project mine action ship were ready. Currently, sections are being assembled into a general building. Construction of two more such vessels is scheduled to begin in 2016, and deliveries are scheduled for 2019 and 2022 years.
Poland continues to purchase two new classes of surface ships for mine control and coastal patrols: three vessels of the class CZAPLA (heron) and three classes of MIECZNIK (swordfish). The country wants to get the MIECZNIK class vessels in 2017-2019 years, although this is unlikely. CZAPLA ships based on the MIECZNIK hull will be delivered in 2020-2022 years. All work is coordinated by the PGZ group of companies.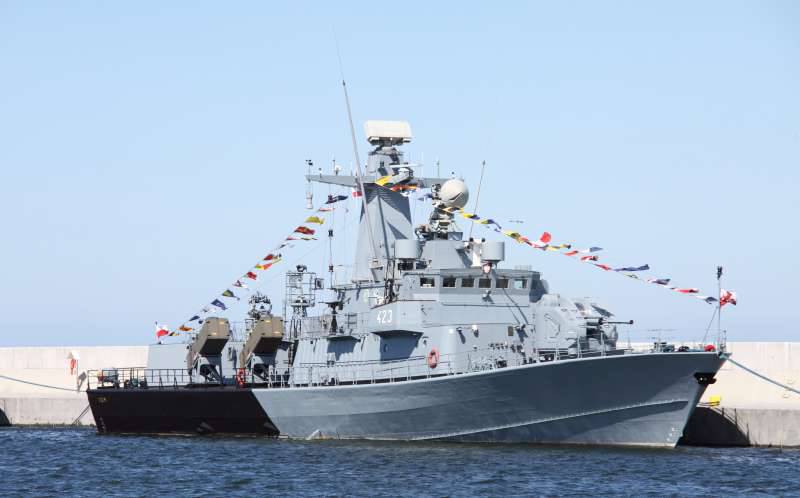 Polish ORKAN class corvettes will be modernized and left in service
fleet
Until 2022 year
These vessels will be built in local shipyards, which have not yet been selected. Negotiations with the PGZ, which will select the foreign partner to be completed at the beginning of 2016
Another problem project is the guard ship GAWRON (Rook) (formerly Corvette). The hull is now ready, it already has an engine installed. All work should have been completed by March 2016. Sea trials are scheduled to take place in the middle of the 2016 year, and staffing is completed by November 2016. However, due to the financial problems of the naval shipyard, timely deliveries are hardly possible.
The most significant maritime project is the ORKA project. Poland would like to purchase three third-generation submarines that will replace KOBBEN class submarines. There are three applicants for the project: TKMS with Type 212A and 214A, DCNS with the class SCORPENE and Saab Kockums with A26. The tender is currently underway, and the signing of the contract is scheduled for 2016-2017 years. Deliveries of the first two submarines are scheduled for the 2022 year, and third submarines in the 2023-2030 years. However, due to the parliamentary elections at the end of 2015, there are some delays. The situation here became more complicated after Poland wanted to integrate cruise missiles into new submarines. Poland began negotiations with the United States (UGM-109 for Type 212A / 214A and A26 missiles) and France (MdCN for SCORPENE). This tender will be held independently of the ORKA project. In the case of the ORKA project, the foreign company will act as the parent company, but with a significant participation of the Polish industry.
The other two projects for updating the Polish fleet are the RATOWNIK program (lifeguard) and the further modernization of the ORKAN class corvettes (the 660 Project). As for the RATOWNIK project, by the year 2030 it is planned that two new vessels will replace PIAST class rescue vessels (Project 570M). As for the ORKAN class (three vessels), Poland wants to modernize them by installing new engines and electronic warfare systems. In recent years, these vessels have been equipped with TACTICOS rockets from Thales and RBS15 Mk3 from Saab. The first RBS15 missiles were officially adopted in December 2014. The ORKAN class corvettes are scheduled to remain in service until 2022.
Materials used:
en.pgzsa.pl
bumar.gliwice.pl
en.mon.gov.pl
www.pitradwar.com
www.wikipedia.org
en.wikipedia.org