Russian President Vladimir Putin took part in a meeting of the board of the Federal Security Service. During his speech, the head of state noted that the destructive elements clearly set themselves the task of intensifying efforts for the elections to be held in Russia in September of this year. We are talking about elections to the State Duma, as well as elections of a regional nature. Vladimir Putin quotes official
broker
President:
Of course, it is necessary to stop any external attempts to interfere in the course of elections, in our internal political life. And you know that such technologies exist and have been used more than once in a number of countries. I repeat, this is a direct threat to our sovereignty, and we will react to it accordingly. All constructive political forces, parties are interested in these elections being held in full compliance with the law, in the spirit of fair and open competition, and their results are objective, reflecting the real opinion and mood of the citizens of our country.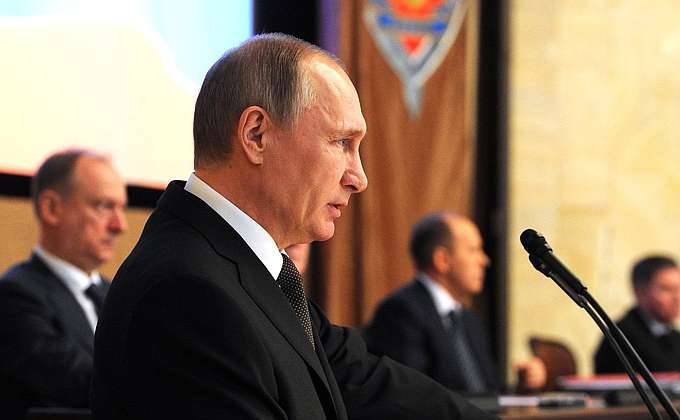 The President of Russia noted the work of the counterintelligence service, whose employees last year were able to identify 400 personnel officers and foreign intelligence agents. 23 man of them were prosecuted.
Vladimir Putin:
It is necessary to put a reliable barrier on the way to information about closed activities and personnel of government, military facilities, defense industry enterprises, fuel and energy complex, leading scientific centers of Russia, block access to confidential information via communication channels.
The head of state touched on the issue of the Syrian truce, the agreements on which will come into force tomorrow - February 27. According to Vladimir Putin, the process will not be easy, and, perhaps, will be largely controversial.
Vladimir Putin:
But there is no other way than to achieve a peaceful settlement. It is necessary to create conditions for an early end to the bloodshed, and subsequently - to start a full-fledged intra-Syrian dialogue with the participation of all constructive political forces.

As you know, before noon today, by Damascus time, all the warring parties in Syria were to confirm to us or to the American partners their commitment to a cease-fire. Such information is already coming to us. Accordingly, from February 27 - from midnight Damascus time - fighting against those armed military units that declare their readiness to cease fire, against these fighting groups fighting by the armed forces of Syria, Russia and the coalition led by the United States of America, against they will not be hosted.

However, I would like to stress once again: the groups of ISIL, Jabhat al-Nusra and other terrorist organizations recognized as such by the UN Security Council do not concern this. The decisive struggle with them will certainly continue. I want to express the hope that our American partners also proceed from this. This is reflected in our joint statement. And no one will forget that, apart from ISIL, there are other terrorist organizations, as I have already said, recognized as such by the Security Council of the United Nations.
According to the President of Russia, now the task of special importance is to protect the borders of Russia from the infiltration of terrorists and emissaries of terrorist organizations from different countries, including the countries of the Middle East.
The president:
I am confident that all tasks in the field of protecting the national interests of Russia will continue to be solved at the highest professional level.