The Office of the Press Service and Information of the Ministry of Defense of the Russian Federation reports that a mechanized column of the Teikov missile formation is marching to the Alabino area (Moscow region). The equipment, which moves as a part of the column, will take part in the preparations for the Victory Parade, which will be held in Moscow on Red Square on May 9.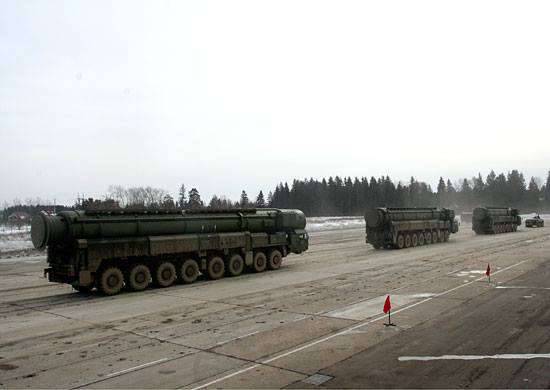 The total length of the column route is about 400 km. Rocket complexes will pass both along federal routes and along other transport routes. From the message
press service
MO RF:
In the course of travel, the calculations will overcome more than 100 dangerous sections of the road, including around 50 turns and bridges, as well as railway crossings. In preparation for the military parade on Red Square in the compound, control exercises were conducted with the personnel of the parade calculation of the Strategic Missile Forces. After accepting credits for military personnel at the racetrack for training launchers of the Yars missile system in a convoy, day and night, the commission of the command of the Strategic Missile Forces and the Vladimir Missile Union decided to allow the crew to participate in further preparations for the parade. The total floatation of the driver mechanics of launchers PGRK "Yars", attracted to the march in Alabino, is more than 30 thousand km.
The Ministry of Defense notes that servicemen from Teikovo (Ivanovo Region) are taking part in parades on the Red Square of the Russian capital since 2008.