After the "Duel" program of Vladimir Solovyov's "Duel" program on TV channel "Russia 1", where Vladimir Zhirinovsky and Nikolai Zlobin opposed each other, the question arises: in our modern universities, "associate professor" is exactly an academic title and the corresponding position or all the same category from the immortal film "Gentlemen of Fortune" - a nickname? And this question arose by no means idle, because what sounded on the air of 18 in February reminds us of a real theater of the absurd.
Those readers who watched the next "Fight" broadcast, I think, immediately understood what was going on. Those who, for various reasons, did not see the ether with Vladimir Solovyov on the mentioned date, it is necessary to clarify what and how it was. In the TV program, as usual, the main characters in the studio presented their views on the situation in the modern world. In the course of the program, issues of opposition to NATO and Russia, the conduct of the counter-terrorist operation in Syria, geopolitical conjuncture, etc. were actively discussed.
After 56 minutes, the microphone was in the hands of the invited expert, whose comments made him doubt its expert adequacy and led to the appearance of the question that was identified at the very beginning of this material. The man who took the microphone in his hands (and this person turned out to be MGIMO associate Nikolay Topornin), with a clever air, he gave this, which, as they say, fit to precipitate. After a verbose reflection that the American coalition began its operation, although it was late, but still earlier than the Russian one, and that there is no point in supporting Bashar Assad in Syria, because, you see, they are not supported in the United States and the European Union, Mr. Topornin, addressing Vladimir Zhirinovsky, announced the following:
Why nobody goes for Russia, not a single country? You say that NATO surrounds the Russian Federation. I agree with you ... But, sorry, NATO arose as a response to the Warsaw Pact, and then the Warsaw Pact included many countries ...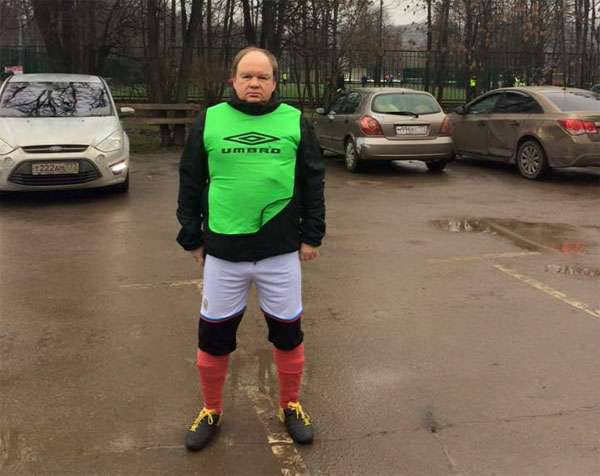 SHTA ???
How, how, excuse me, dear Associate Professor of MGIMO, did the Western military bloc arise? How is the answer to the Warsaw Pact? .. This is "
historical
"Turn ... I would like to recall the statement of the well-known movie hero:" When you say, it seems that you are raving. "
For your information:
First.
NATO is a military-political (as they call themselves) bloc of states of North America and Europe, whose creation began on 4 on April of 1949, and the expansion continues to this day.
Second.
The Warsaw Pact Organization is a document that formalized the creation of the military-political union of the socialist countries of Europe, dated May 14 of 1955. The Warsaw Pact ceased to exist 1 July 1991 of the year.
The third.
Nikolai Borisovich Topornin - an expert on financial, customs, budget and banking law of the European Union, EU and CIS integration, constitutional law of the Russian Federation. Candidate of Law, Associate Professor. Topornin delivers a course of lectures on EU banking law at MGIMO (University) of the Russian Foreign Ministry. He is the author of numerous scientific publications, heads the European Information Center, and serves as the head of research projects for undergraduates and graduate students. Graduate MGIMO. He has worked at the university for over 25 years.
From biography and "portfolio" Topornina: speaks English, French, Spanish and German. Trained and taught at European universities: Rotterdam (Netherlands), Brussels (Belgium), Frankfurt am Main (FRG), Osnabrueck (FRG), Berlin (FRG), Paris (France), etc. More than 15 worked in the information office for years Council of Europe as a director. He teaches at the departments of European and constitutional law MGIMO.
If a person who has graduated from one of the most prestigious universities in the country and, moreover, has worked in it for a quarter of a century, does not seriously know that the NATO military bloc was formed at 6 years before the Warsaw Treaty Organization (ATS), and that it was the ATS that was a rather late response to the creation of NATO , then for the future of Russian diplomacy it becomes, to put it mildly, alarming. After all, if Nikolai Borisovich Topornin is in a multimillion-dollar television audience, in which, as it happened, there are people with a knowledge of history, with an impenetrable look who is able to present a lie as a basis for discussion, then what does Mr. Associate Professor and Ph.D. in law teach his students who have chosen diplomatic service as one of the most important components of protecting the interests of the Fatherland? It can be assumed that at the lectures by Mr. Topornin, a parallel world reigns in which students are confident that NATO was formed "as an ATS response" and that NATO expansion today is a "protective measure against Russia's steps." And the whole nightmare is that Associate Professor Topornin, who trained in various Russian and foreign universities, doesn't teach at the school of the "God Kuzi" sect, but at MGIMO, the university that defines the face of Russian diplomacy and virtually the entire diplomatic school.
After Mr. Topornin's statements, Zhirinovsky told the "Associate Professor":
Do you even know what you are saying? NATO was created in 49, and in response to the creation of NATO in 55, we are creating a military bloc called the Warsaw Pact by place of creation. And you teach at MGIMO? !! I will call MGIMO - you are working there the last day. These are doctors of science, they teach our young people ... If a person teaches at MGIMO with such knowledge, then this is wildness.
Topornin mumbled that for such knowledge Zhirinovsky at MGIMO "
would get a deuce
". Two who? - Docent Topornin? ..
Of course, Zhirinovsky, as a politician, can be treated differently, but how to treat Mr. Topornin after that is the answer obvious ...
And for some reason, it seems that Associate Professor Topornin
consciously
said what he said - about NATO and ATS. In his mentioned parallel world, it should be considered that the West is trying to otbryvatsya from our "aggression", and graduates of the main institution of Russian diplomacy need to consider it so ... That is, future diplomats should, a priori interpretation, "repent for their actions "For NATO (according to Topornine) is a kind of sacrifice.
And how many more such candidates and doctors entrenched themselves in our universities? How many more "topornin" are trying to drive into the heads of modern students that they have nothing in common with Russian and world history, consciously replacing facts. The main question: for the sake of who is doing this? Awesome incompetence (if so, how such people go to universities), or still a thoughtful game of reformatting historical science, as a result of which, trying to not pay attention to this kind of "work", new kozyrevschina may appear in national diplomacy. And what is the cause of the kozyrevism - Russia has already experienced the full potential of itself.
PS Comments on the material about the program "Duel" on Facebook page are closed. Is the assistant professor trying to hush up? Not enough courage to speak and communicate with the audience at least in social networks? ..
Topornina Speech Begins About 56: 31 (Channel Material "
Evening with Vladimir Solovyov
"on YouTube):