The President of Ukraine spoke to the students of the National University of Defense named after Ivan Chernyakhovsky. During his speech, Petro Poroshenko said that "the threat of resuming full-scale hostilities in the Donbas has increased once again." According to Poroshenko, Ukraine sees this "on radar". Reported by the information service
UNIAN
.
Poroshenko:
Even with the optimistic scenario in the Donbass, even with a long truce that has passed into a political settlement and into a lasting peace, the military threat from the east will remain relevant both in the long and in the short term. The prospect of resuming full-scale hostilities in the east in connection with the systematic violation by the aggressor, the Russian Federation, of its commitments made in Minsk is clearly visible on our radar.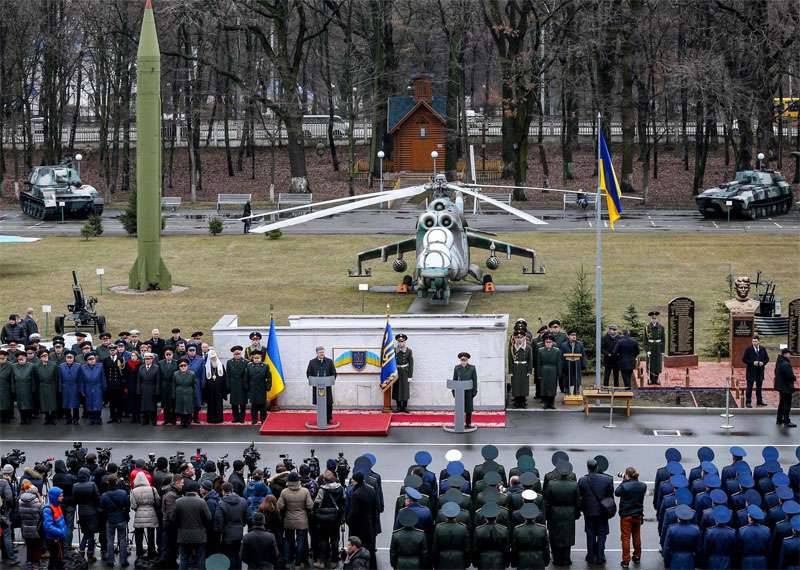 And while Poroshenko spoke at a military college, the Ukrainian security forces continued to bombard the Donbas settlements of a wide variety of weapons, not thinking of Ukraine's obligations to comply with agreements reached in Minsk.
So, that day in a row the Ukrainian security forces continued to fire on the territory of the Donetsk airport. On the morning of February 24, the ruins of the airport complex were fired from mortars of caliber 82 mm. Reports about it
Donetsk News Agency
.
14 mines with a caliber of 120 mm fell on the outskirts of Gorlovka, damaging several buildings and destroying transmission lines. About this Poroshenko in front of university students did not speak. But he said that he raised the monetary allowance for the Ukrainian servicemen ...