In the center of Blagoveshchensk in one of the largest shopping and entertainment centers (SEC "Ledy") on the eve of Defender of the Fatherland Day a congratulatory banner appeared, on which a collage with German
tanks
and other Wehrmacht military equipment. But the compiler of the collage with one German technique in his congratulation decided not to limit himself, and to enhance the effect he also inserted an inverted Russian tricolor.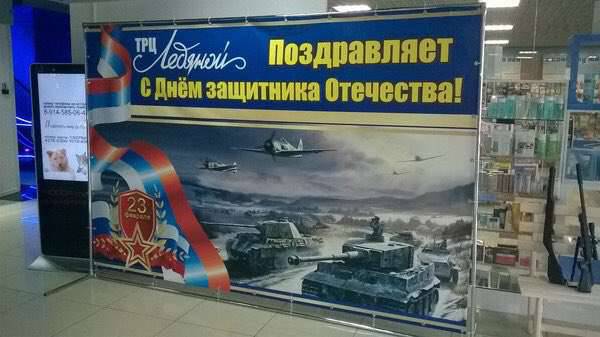 The first to work as a representative of the "EGE generation" were the visitors of the shopping and entertainment center, who began to discuss the poster in social networks. The administration of the shopping center "Ledyany" decided to react, as there were more and more appeals from citizens asking for a better understanding of the situation.
Rustam Karimzhanov, General Director of the Ledyana shopping and entertainment center, apologized to citizens for the mistakes of the creators of the congratulatory poster. Karimzhanova quotes the portal
"Amur.info"
:
The action was organized in a short time, and the layout was not checked by the head, but immediately went to print. There are no deliberate actions in this situation. The subjective factor and executive illiteracy worked. Once again we apologize, especially to veterans of the Great Patriotic War.
The situation with the Blagoveshchensk poster is not unique. Often, vigorous creativity with such "blunders" is found on the eve of 9 in May in various cities, when advertising and printing agencies, receiving orders for congratulatory products, give something absurd. On posters with congratulations to veterans, you can see the Nazi soldiers, as well as symbols that have nothing to do with the symbols of the Red Army.
In connection with the incident, residents of Blagoveshchensk propose to the administration of the Ledyanoy shopping and entertainment complex to rename the complex Omorozhenny ...