On Saturday in Kirov, the grand opening of the Kirov Machine-Building Enterprise, a new rocket plant that is part of the Almaz-Antey concern, took place, the blog reports
bmpd
with reference to the resource ikirov.ru.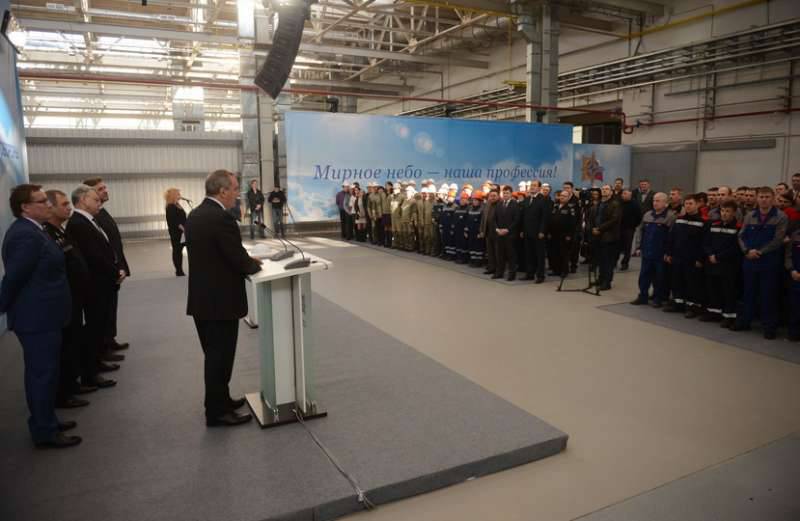 "Today (February 20) Dmitry Rogozin and Governor Nikita Belykh inspected the plant, took part in the production start ceremony. The Vice Prime Minister stressed: today is a big day for the country, for the Kirov region, for the entire military-industrial complex of Russia, "writes the Kirov edition.
"The very fact that the plant, which works on the subject of military-space defense, has begun work is one of the best answers of our country and our people to sanctions. This is a demonstration that the sanctions only awaken the best that is in our national character, striving for a goal, despite any obstacles, "said Rogozin at the ceremony.
Products "Almaz-Anthea" today is very popular in the world.
"There is practically a struggle to move our turn forward and get the coveted system" C-300 ". But what the Kirov region will do at this plant is already a step forward. These are new systems that will be of great importance for ensuring the defense capability of our country. We are confident in the huge export potential, "the Deputy Prime Minister said.
In turn, the general director of the concern, Yan Novikov, said that "at the present time, the company has almost completed all construction and installation work. Installed equipment, commissioning work started. "
According to him, "the total investment amounted to more than 20 billion rubles, including more than 13 billion rubles - from the group's own funds".
Novikov noted that the project of the plant "laid the possibility of changing the product range - the new plant will be able to quickly master new products and begin their mass production without additional technical re-equipment."
"The level of informatization of the new enterprise has no analogues in Russia. Digital pre-production includes the automation of design and creation of programs for CNC machines. This ensures the management of all design and technological information about each product in electronic form and full integration with the resource management system. This allows you to quickly and accurately perform production planning, procurement planning, monitor the progress of production and keep track of costs, "- said the publication.
The resource recalls that the decision to build the JSC "Kirov Machine-Building Enterprise" was made in 2010 year, and construction work began in the 2012 year. After the plant reaches its full capacity, the number of workers on it will be more than 1800 people.