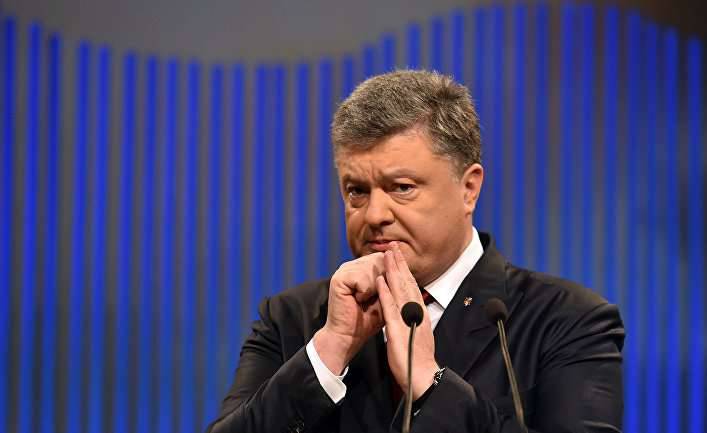 International aid organizations are increasingly unhappy with the government
Two years have passed since the popular uprising in Kiev overthrew the pro-Russian regime in Ukraine. The greatness of that moment of people's power has faded away, and now Western supporters are becoming more and more discontenting, seeing how corruption in the state is preventing attempts by a jerk to start an economy. GDP in this war-torn country in 2015 was reduced by 10,5%. Inflation has reached 43%. February 10, Managing Director of the International Monetary Fund, Christine Lagarde expressed concern about "the slow progress of Ukraine in improving governance and in fighting corruption." She said that in the absence of real change, it will be difficult to continue to finance Ukraine.
3 February 10 Western ambassadors called on Ukrainian leaders to "put aside their local divisions" and step up the fight against corruption. The reason for this statement was the resignation of the Minister of Economy and reform supporter of Lithuanian Aivaras Abromavicius, who took Ukrainian citizenship in order to enter the government in 2014. According to Abromavicius, he was forced to resign "by actions aimed at disrupting reforms." He pointed a finger at a high-ranking member of parliament from Blok Petro Poroshenko and former president's business partner Igor Kononenko. Kononenko organized the appointment of one of his close allies as Deputy Abromavicius, without informing the Minister, which he announced on social networks.
Parliamentary deputy and author of investigative journalism Sergey Leshchenko wrote online that Kononenko was trying to inject his man into the Ministry of Economy in order to prevent Abromavicius from reforming the state company, which the president's allies unofficially control. Kononenko said in his e-mail that he would not comment on what had happened, since, according to Abromavicius, an investigation should take place. In order to appease angry voters, Poroshenko's 16 in February demanded the resignation of Prosecutor General Viktor Shokhin, whom many people dislike for his inability to eradicate corruption.
The anger of ordinary Ukrainians is directed mainly against Prime Minister Arseniy Yatsenyuk. 82% does not approve of his work as prime minister, as evidenced by the results of a recent survey conducted by the Washington-based non-profit organization International Republican Institute.
February 16 Yatsenyuk barely avoided voting on a vote of no confidence, when Poroshenko demanded to "completely reformat" the government. Opponents blame the prime minister for opposing reforms, and his allies for corruption. "Ukraine is the same kleptocracy as it was before the people overthrew the previous leaders," says Yegor Sobolev, who heads Ukraine's parliamentary corruption committee.
Poroshenko and Yatsenyuk still have achievements to which they can refer. The police is being reformed in the country, the public procurement process has become more transparent. The new National Anti-Corruption Bureau is investigating high-profile cases, including the charges against Abromavicius.
Vladislav Burda, who owns a chain of stores for children, says that the system is deeply affected by corruption. Without radical reforms and a constant war against corruption, IMF loans are useless, he says. "Before the revolution, everyone fed the same family," says Burda, referring to exiled President Viktor Yanukovych. "But now there are many actors, each of whom seeks to milk the business."
MP Sobolev said that the former President of Georgia, Mikhail Saakashvili, who now works as the governor of the Odessa region, will be a better prime minister than Yatsenyuk. Saakashvili, who is credited with conducting institutional reforms in Georgia, is one of the two most popular politicians in Ukraine, as evidenced by public opinion polls. The second is the mayor of Lviv, Andrei Sadovy, who heads the liberal self-help party, of which Sobolev is a member.
In December, Saakashvili announced that Prime Minister Yatsenyuk and his ministers were hindering reforms. During that meeting, Interior Minister Arsen Avakov, who is accused by the media of corruption, swore obscenely at the Odessa governor and threw a glass of water at him. Saakashvili's supporters in Ukraine — and these are mostly political activists, supporters of a market economy, various members of parliament and journalists — are gradually uniting to form a political movement. They demand to hold parliamentary elections as early as possible.
Conclusion: Ukraine has carried out some reforms, but they are not sufficiently deep and effective to revive the shrinking economy.