Welcome, dear readers! I welcome you with all my wide soul. If there was a possibility, I would also cover the table. Still, such a holiday on the nose. Ours, those who now live with us now, no longer celebrate. And we, cockroaches, conservatives. For us, that is absorbed along with the soldiers' sweat and hammered through the boots of the soldiers - is holy.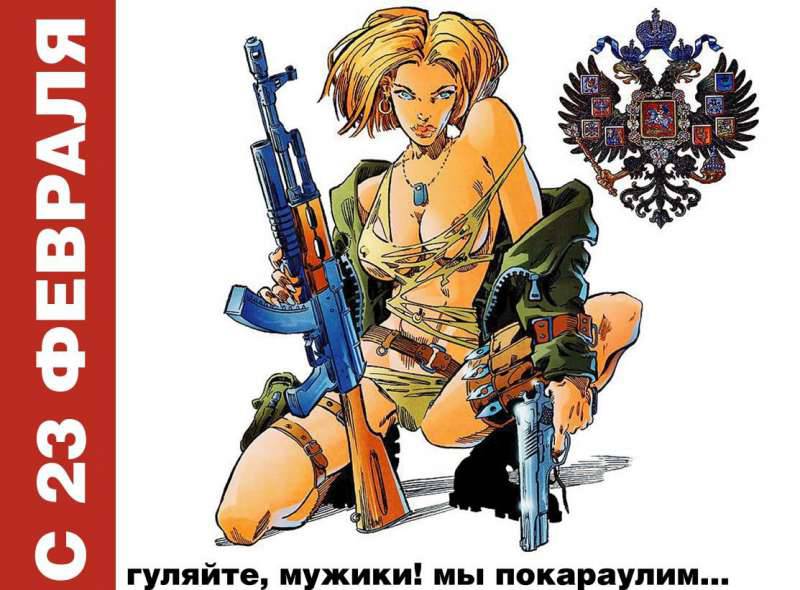 In order not to pull - Congratulations to all of you on our holiday! Happy real men day! Happy real women! Those who for their Motherland will not only gnaw through someone else's throat, but will not regret their skin! Those who protect their own, and not beat on them from the "city". Health to you! Good luck with business! Tarakanushka favorite and cockroaches responsible! And many, many little tarakashek! So that someone in the house was always crawling, stomping, holding her mother's hand, breaking a memorable vase that the hand would not throw out. That the happiness in your house lived!
Many have noticed that the Cockroach became something lazy. Readers seem to be waiting for Monday, but there are no notes. That's why it wasn't what we thought. Thought a lot.
Ukraine, to put it mildly, does not like the Prime Minister. Slightly less, but also applies to the president. About Poroshenko's costumes we even have "romper" from kindergartens joking. Crumpled and stuff ... And you try in such a rhythm ... ask. Indeed, there will be no costumes.
So here. What were we thinking about? Oddly, about independence. Not about not Square. For this word today in a decent society, you can and ... Well, where will they get, get. And we thought. As so, the Ukrainian president received direct instructions from Western ambassadors. Senya do not touch! And here in the Parliament they are going to direct criticism. To the fullest! And the most zealous general vote of no confidence in the government will be expressed.
Well nothing. It turned out - Ukraine is alive! We sat, talked and parted. And all with his own. Steam released. The instruction has been fulfilled. People amused. Played democracy.
I don't know if you noticed that I congratulated you not on behalf of the Ukrainian people, but on behalf of cockroaches? And you know why? Yes, because our scientists have finally decided the question of whether the Ukrainian brothers are Russian or not. Today, on any resource, in any publication, there must be materials about this most notorious brotherhood. And scientists, ignoramuses, right, left, blue, green break spears, and I don't remember all your subdivisions, in full. And the cockroaches decided. Our question is closed forever!
Russian and Ukrainians are not brothers! And they have never been. It is the same people. But with their "quirks". And this is normal for Russia. Put a number of Russian from Arkhangelsk, Kuban and Novosibirsk. Well, a Ukrainian from Kharkov. In national clothes. With his talk. But there are still so loved us Buryats or Tatars. And How? Are there any differences between Russians? Yes, no. All different and all ... Russian.
That's why I welcomed you on behalf of the fraternal cockroach people of Ukraine. As some of our radicals say, soon we will only remain in these territories. The rest is a direct path to
historical
homeland. Or to our land. Who is lucky.
Today I decided to tell you about our scientific research. Moreover, knowing that some do not believe the Ukrainian cockroaches, and some Russian, for example, take American studies. If anyone is interested, read The Verge. There are many of ours, in the sense of cockroaches.
"The cockroach, without a doubt, is a follower of the treatise of Machiavelli" The Sovereign ": it is easier and safer for him when he is afraid than he is loved. According to the infamous Florentine thinker, love is changeable, but the fear of punishment remains constant. And of course, my fear of cockroaches is unshakable and resistant "- Lauren Grash solemnly begins his ode to the cockroach. One of our ...
"Simply put, a cockroach proves in every possible way that it is superior to us. This insect from the sub-order of cockroaches lives on Earth for more than 300 million years. He lives and is quite successful in all. When 65, millions of years ago, an asteroid 10 kilometers in diameter floated onto Earth, it destroyed dinosaurs and almost all life on our planet. And the cockroach stayed. For him, glacial periods and continental shifts mean nothing. He saw it all - and he will see much more. "
For two years I have been looking at what is happening in Ukraine. Two years I write about it. For two years, I have seen the planned killing of the country. But as you can see, the fate of the cockroach is as follows. Empires appear and collapse, mammoths appear and disappear, houses are built, cities are destroyed, and we live and look at all this. We look at the "peak of evolution" and understand that these are the next "dinosaurs". Which maybe even an "asteroid" will not wait. Themselves organize. The blessing invented any means to destroy.
And we? And we will live. Why? I will answer, again, based on the research of the Americans.
1. The cockroach is itself an antiseptic. Molecules possessing antibacterial action were found in insect tissues. When experimenting with fragments of infected human tissue, samples of the cockroach of flesh destroyed almost one hundred percent of the population of Staphylococcus aureus without harming human cells.
I will not say anything about swine flu. About all these Ebolas and more. How many lives did the flu take in Ukraine? And how many lives will take the next leap in agricultural technology? Russians still remember the American chicken. From chickens that became "pigs" in three months. A couple of shots and that's it. Eat, dear people.
Of course, mankind invented drugs. Lots of medicine. From everything. From a cold and diarrhea. Cough and headache. So what? You can not buy these medicines. No money left. Yes, and most of the drugs for moral satisfaction. Especially here in Ukraine.
2. A cockroach can live without a head. True, only for ten days, until it begins to die from dehydration. The nerve cells of the cockroach are located throughout the body, so the head, in fact, serves the insect only as an intimidating accessory, in which it eats. Her absence will not affect the quality of these past ten days of the cockroach life.
And the people? The fact that for most people the head has really turned into a place where the mouth is located is a fact. The human brain for some reason turned off. Not at all, but at the majority. So why do you need a head then? Probably like us. To not die of thirst and glow on the TV.
The logic of man is not clear to us. Kill to make love? Destroy the house so that the person wants to live with you nearby? Hate the prime minister to give him the reins of state again? Destroy the plants, factories, the entire economy of the country, so that the state becomes rich?
You do not find that we have too much in common? Not? Then you can read the comments to the articles on the "Review".
3. The cockroach is a car. Even his stomach has teeth, with which he processes any substance that he has to eat for lack of a truly edible alternative. This is a tree and concrete. Many of its organs are interchangeable in case of failure. A cockroach, for example, can sniff a mustache and "hear" the surface of the body.
People, you just have to learn this. Judging by the fact that today is grown and how it is processed in order to keep it. And concrete, with hunger, too, food. True, it is doubtful for me to learn. Rather, get ready to meet dinosaurs. If you do not change your mind.
Today in Kiev, one of the most common crimes with its roots has grown out of besieged Leningrad. There, when the city was completely besieged by the Germans, there were such garbage, which tore out rations of bread from the inhabitants exhausted by hunger. In Kiev, however, people are not exhausted to such an extent. Yes, and not pull out 125-gram rations of bread. Snatch bags of food from supermarkets. I wonder who blocked the city? Where are these same "Germans"?
4. The cockroach is practically elusive and it is impossible to hide from it. In one second, he manages to change the trajectory of movement 25 once or run a distance that is 50 times the length of his body. And in the composition of the cockroach 2000 lens, which is two thousand times more than the human eye.
Therefore, people have to write about what everyone can see. And not the lens to blame. Not your eyes "blind." Blame the brain. That turned off. And now only the spinal cord "works". A man, like even uneducated villagers, was shown by the ATO, a creature completely unsuitable for war. Only to life. Your body consists of weak points. What is there to write. You are a solid "weak spot." So why the hell are you killing each other?
5. Cockroaches are the champions of superfast breeding. They will never have demographic problems, as their females are able to lay up to 2 million eggs per year.
Yes. Here we are "cool" sex maniacs. And you? How many families fell apart after the ATO fighters returned home? How many families have disappeared from the fact that the husband simply did not return? How many women simply will not become mothers due to the physical absence of men?
Unlike our cockroaches, a human woman can give birth to one, only one child a year. You will disappear faster than you understand it. Who can say today that Ukrainian women give birth more than in a certain year? No one. Women understand that giving birth and raising are different things. The baby is not a thistle. It requires not only attention, but also food, clothing, medical care and other things, other things, things. And in your society, all this costs money. Hryvnia, louse them take it. And there is no hryvnia. And not foreseen.
There is no work. Loopholes earn extra money overlap. The garden already saves only itself. Sell ​​becomes harder and harder. Yes, you will not be even in the first thousand breeding champions. Impotents from the head.
6. Cockroach - the perfect biological
weapon
. These insects are able to destroy a competing population, suffering deadly diseases like dysentery or viral hepatitis. They even do it with awesome special effects: thanks to a special secret of the body, cockroaches, when there are many of them, emit a noticeable smell of carrion.
Many peoples endured the most severe persecutions. Neighboring "progressive" states destroyed entire cities, regions and states "savages." Today it is no longer necessary to attack huge armies. Today it is not necessary to risk the lives of their fighters. It is enough to locate any laboratory in the territory of the state and allow the "leakage" of the biomaterial. And that's all.
And on our territory there are several such laboratories. The government does not even hide it. Moreover, it is peremoga. We are ahead of the rest of the planet in some kind of research. But, believe "biological weapons from God," you are ahead in line for a mogilization. Overseas owners do not want to risk their people. And the Ukrainians ... One more people, one less.
Moreover, the most promising sector of our economy, in which they are going to invest, does not require a lot of people. Enough 8-10 million and that's it. I mean the agricultural sector.
7. Cockroaches no longer perceive poison. They have adapted to all the major chemicals that have been poisoned by humanity. For example, more than half of the cockroach populations have learned to ignore the legendary and already unused drug DDT.
We just realized that we are not on the way with you. Life on earth is not for those who do not want to live. Life is only for those who live. And people do not want to live. They talk about the desire to live. But do not want.
Especially in Ukraine. Call the existence of a simple Ukrainian life, even in a cockroach language does not turn. And at the same time we sing our "Schenewmmerl" daily. We are waiting for the hungry Russians to die. We are waiting for Russia to burst like a bubble. And we do not notice that, unlike us, the Americans speak very respectfully to the Russians. And our new "brother" (God, why didn't you orphan us!) Erdogan is really afraid of Russian planes.
When a scorpion realizes that he is caught, and there is no way out, he hits himself in the head with his own sting. Not because suicide. And simply because it can not be not free. Can not be a slave. And we?
Read the social networks of Ukraine. Even 10-15 years ago, the word "slave" was generally found only in historical literature. There was such a period in the history of mankind. Once upon a time. Today, "slave" is one of the most popular words in Internet discussions. One immediately recalls another example. About who shouts "Hold the thief!"
8. Cockroaches are really able to survive a nuclear catastrophe. Only they did not suffer near the epicenters of the explosions in Hiroshima and Nagasaki.
And I brought this point only to remind all people. Each reactor at a nuclear power plant is designed to use a specific type of fuel. And he works constantly. This is not the engine of your car. I want - started, I want - drowned. Yes, and "gasoline" in these most nuclear power plants do not fade completely. It remains. And it should be put somewhere.
In Ukraine today it is going to "go somewhere". Expensive "do" in Russia. Only here in those areas where they will be "done", just as we will live. People there for many hundreds of years will have nothing to do.
Some notes turned out ... Scientific. And not really festive. But I am not guilty. First, there is no holiday in Ukraine. And secondly, sad, to be honest.
I can describe our next peremogi. The blockade of Russian trucks or Ukrainian ports in the Sea of ​​Azov. Only the infection to the infection already somehow does not stick. The mind of our people no longer appears. And the deputies, who had the opportunity to change the government, once again sold us "for cookies."
That's why I wrote about what those who still can think today think. The country is no longer roll. The country flies to hell. And so that the neighboring states do not undertake today, including Russia, it is no longer possible to stop the avalanche. It remains to watch and shoot "on the phone" another natural disaster.
But whatever happened, in the territory of the former Ukraine there have always been, and fraternal cockroaches will live. Why we do not die, I explained to you. And we will be - there will be Ukraine. Not what you see today. Another, but there will be.
In the meantime, once again you with the holiday! Take care of your country! Take care of your wives, children, old people! Do not take our stupid position - My hut on the edge. As it turned out, the first lights up just the hut, which is from the edge.
Defenders of the Fatherland, be always ready to defend your Fatherland, and then you will just have it. Good or not - it also depends on you. But may your Fatherland always be behind your shields!