Alexei Gudkov, nicknamed "The Dark" is difficult to find in place - most of the year he tours with seminars around the country and not only. We tried to find out how Alexey came to such a life, where he started, what he teaches, and who he considers to be an example of a Russian style fighter.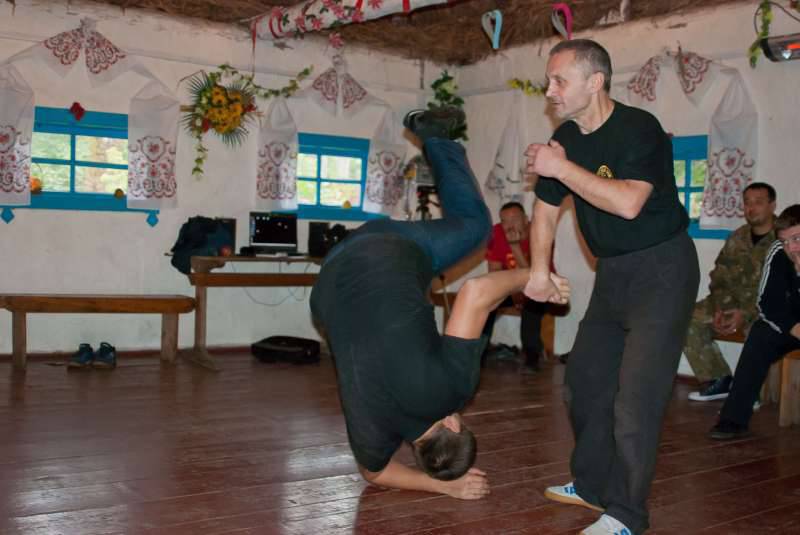 We met in a cozy room of one of the Moscow district leisure centers, where knightly armor peacefully coexist with boxing bags, there is a table and tea for guests, while the incessant capital roars outside the window. We decided not to waste time and immediately get down to business - that is, drink tea. At this time, one of the students began to warm up with iron scrap.
- Alexey, it's probably very cool to travel around the country with seminars, to do what you love, earning money from it.
- It took many years. All this came not immediately.
- How did you start your journey?
- Once I, like many, engaged in karate - it was still in 70-s. But gradually, it seemed to me and my friends that we would no longer learn anything new. Everywhere under different wrappers was the same. We crawled all of Moscow, but could not find anything for ourselves.
In addition, I was engaged in wushu - and, rare species. One of the teachers was from Tien Shan ... But all this was not that. This was the beginning of the 80s.
- Why not?
- A fighter should be able to walk away from three things: a stick, a knife, a chain. You have to be fluid. Be like mercury. Karate doesn't give you that. When I finally found one of my mentors, Tolya Troshin, and he began to chase me with a chain, I realized that hard blocks and karate elements do not help me not to be beaten ... Over time, I learned to work well against the chain and the knife ( however, there were small cuts at first, but that was okay).
- Who did Troshin study?
- It's interesting here too
история
. Anatoly at the end of 70-s prepared for the army, and decided to pump a little. Began to run in the morning. And he noticed that some old man was also running in the morning.
- How old?
- It is difficult to determine. For me, too, you can't say exactly how old I am - this is the effect of training. They drove to a plot, and there they warmed up. Tolya began to repeat the movements of this man, and gradually he began to teach Tolya. But when Tolya returned from the army, the mentor sent him to the SEN'E — he was apparently already tired of training — age, fatigue. Maybe they just didn't want to waste time on Anatoly's primary battle run-in. However, gave Anatolia enough. His basic training was, as it were, stretched in time and went along with karate and others ... and continued even after Anatoly passed through karate and kung-fu schools.
- What else, for example?
- For example, understanding that any defense should be shorter than the attack. I, withdrawing karate, considered myself very fast. But Anatoly withdrew all my punches and kicks with barely noticeable movements. He said: "You have such a long movement that I can always block it." If the defense is as long as the attack, it will not be effective, because the attacker has a time advantage and this benefit can be eliminated only by reducing the defense time.
- And generally, with age, movements become shorter.
- With experience, - Andrei, the teacher of the School and Comrade Alexey, enters into conversation.
- Experience usually comes with age ... This is only a genius of everything from the very beginning. By the way, who can be considered an ideal fighter?
- Kostyu Tszyu and Roy Jones can be considered a conditional example, - Alexey answers without hesitation.
- Why not?
- Their work, their mastery of combat is a vivid example of the use of the basics of Russian hand-to-hand combat in sports, no matter how paradoxical it may sound. Remember how they moved. Especially Roy Jones. And his hands were lowered, he did not hold them at the head. How free he was!
- Probably, it was because he had a game mood, and this set him apart from serious and therefore squeezed boxers. He was relaxed.
- Not! Many people confuse these concepts. Relaxed is like jelly. A person must be relaxed, but collected.
- And what should be the attitude of a fighter?
- This is exactly the game! You need to take everything as a game.
In battle, the need for turnover. For a mortal combat, you need a elemental state, when you are like fire or water - you act correctly, but you perceive everything detached. Berserkers were like this - these writers embellish that they fought in a rage. They were all very conscious in battle. Plasters and other trained people in the crowd used curved daggers like bebuts. Run and cut on the go, without looking back. This is a characteristic by which you can understand the master in front of you or not. If it stops after entering the enemy, or hitting it, then no. The real master always goes on moving, goes behind the opponent's back - to move on to the next one, and so on.
In the meantime, the assembled students begin to perform the "zhgonka" exercise, one of the "Russian-style" business cards. Then they work in pairs to feel the transfer of effort, to the feeling of the opponent. Occasionally, Andrei or Aleksey corrects them. And again tea ...
- It's hard to be a coach, - jokes Andrew, - eat and sleep.
- This is another problem, - says Alexey, - a person comes to practice, and if he sees that the master works with energy, he thinks that this is something spiritual. And then disappointed. But there was nothing spiritual there - just training. And one more thing: martial art does not exist. There is a combat craft needed to perform some tasks. And martial art is already some kind of delight, something superfluous. This is further, this is something that goes beyond the scope of the battle - this is already a philosophy and a passage to other worlds of knowledge!
Alexey continues his story:
- Tolya gave us conditional situations, and forced us to seek opposition. For example, he said: "So I will beat with a stick (above). Defend yourself!". You find a protection option. And he translates the movement and beats with a stick already from the side - "And then I am so!". Looking for a movement to protect yourself from both the first strike and the second. And he beats from the third side ... In my youth I was engaged in sambo - including with the famous coach Gloriosov. Karate was taught by the equally famous master Stepin. I also learned from one Grushnik, but this is a very closed person, and from Valery Butov, to whom I owe a lot.
Alexey demonstrates various strokes with a stick, easily changing trajectories:
- You need to be able to work not only from sweeping strokes, but also from such fencing, which is much more difficult. Yet these people - applied ones - are very closed. Until you ask, they will not tell you. But if you don't know, how can you ask? It takes a lot of time.
In general, it is necessary to get rid of samples in motion. What is usually called templates. I spent five years trying to get rid of karate samples. Hand-to-hand combat is built from bricks - borders (distances), displacements and other. How the word is composed of letters.
- By the way, what about combat training in intelligence now?
- Oh, I'll tell you a story. They called me once to a seminar in the *** th division - to train intelligence officers. I was delighted, I said: "So, we need sticks, knives, gloves!". I look, at the ensign a person becomes all the more sad. I ask what is the matter. He answers: "We now have a trial because of each fingal, a bunch of pieces of paper have to be written." How am I going to cook them? Immediately without bruises can not do? "It won't work," he says.
They also refused to work with knives - they said that they would teach with rubber mock-ups. "Guys," I say, "then I will teach you how to work with rubber mockups, and not with knives!"
- It's sad.
- Well, maybe it's only in that division. But there was half "contract". In general, the former, the Soviet system of preparation is not. And she goes into the past, unfortunately.
- Why not?
- Including due to secrecy. Last year, in Germany, one person saw a training simulator for working with a punch. He goggled and asked: "Where did you get it from?" We told that, they say ... one person from SMERSH was talking about her. He then says: "We prepared for the entrance to Korea for half a year and gave a non-disclosure subscription. And these simulators were brought to us every day and taken away. I've talked about this for the first time, because I saw them at you."
An adult is standing next to my son ... goggling too: "Dad ... didn't you tell me anything?" And he: "Well, I gave the subscription." Like this.
Pupils strike blows with his hand on the "paws" - the type of crack. Alexey demonstrates a sample of fine work - when you start to throw on it through the thigh, it dramatically increases the weight of your body. The cast somehow fails (although this is a conditional movement). What's the matter?
"I have lowered the Whirlpool," Aleksey laughs. "The Whirlpool is a ball in the pelvic region." As a joke, I call him a gyroscope or a vanka-vstanka. Now I just abruptly lowered the Whirlpool. And you could not quit me. I checked it, went to training to the fighters, normal, prepared. I say: "Now you can not leave me. And now you can only through time." So it turned out.
- Alexey, why, having passed through different, effective, tough schools, did you decide to study Lyubkami? What found here that which was not in other directions?
- By the middle of the 90s, I was already a full-fledged martial arts master with my school and students. Very well owned all parts of the martial art. But there was something that was not subject to me and came out somehow spontaneously, not controlled by me. Suddenly, unexpectedly, I began to feel a blow that I had not seen, and left this blow, not realizing how I was doing it, or suddenly it turned out to do something, and the enemy's fist abruptly changed its trajectory and flew past the nose. I didn't know what it was, how to approach it ... all the theories that came across to me and at least somehow explained it, broke about my practice, there was a creative dead end. And it ended for me very suddenly and quickly. One day, one of my students brought a video tape to me for training, I looked at the recording, on which some uncle suddenly and simply explained what I was doing. Since this all started.