Now many of its participants and opponents recall how it began and how it ended. And the views of many people Euromaidan changed. One of them is Andrei Babitsky, a former well-known journalist for Radio Liberty, who vividly criticized the Kremlin before Euromaidan. After him, Andrew was expelled from Freedom.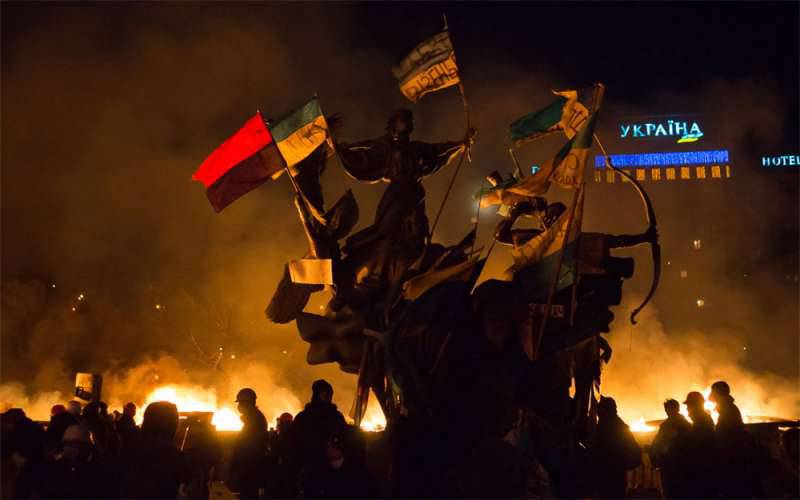 Today, Babitsky in Donetsk, works in the media of the young republic, has recently summarized his results of the Kiev "revolution of dignity" in an interview, his fragment was shown on TV. He said meekly, concisely: all the hopes of the romantics of the revolution predictably went to ashes, drowned in the blood from which the Nazi Bandera state was born.
From Kiev, Euromaidan activist Koba said that Poroshenko deceived everyone, small business not only fell below the plinth, but "already buries itself in the ground," and "for that, you just have to hang it."
In our opinion, these are the most important and obvious results of the Euromaidan and the Bandera "revolution". However, there is another very important result: the neo-Nazi state in Ukraine was accepted and still supported by Europe and Washington, moreover, they actively formed its neo-Nazi features, since they participated in the Kiev coup d'état. "They know and understand everything," said Foreign Minister Sergey Lavrov of our Western colleagues, though on another occasion, but his words can be attributed to Bandera's neo-Nazism that came out of the euromaid "lace panties".
There is another important result: the Bandera "revolution", which turned into a civil war, neo-Nazism, the Crimea and the Donbas, awakened and divided Russia and the whole world. Masks were torn off many of our conditional "liberals" and "patriots", and some expressed support for neo-Nazis, like Makarevich and Shenderovich, while others stood behind the Crimea and the Donbass, "for Putin," rejecting all their doubts like Babitsky.
The Kiev pogrom opened Russia's eyes to the West: he is pregnant with new fascism! The foreign policy of Washington and the Europe following it, in essence, is no different from the Bandera neo-Nazi, and it is still unknown who takes an example from whom. Not only in relation to Russia, but also in the Middle East, around the world.
The "bitches of a bitch" in Washington are ready, on the first order, to get out where they are ordered, and the US State Department will support them and declare them democrats and fighters for human rights and civilization. The latter, and a glaring example, is the ex-president of Georgia, Saakashvili: in his native Georgia he is accused of torturing and murdering political opponents, and in Ukraine, American politicians again shake his hand, and they are preparing him almost for president already Banderia!
This is called the policy of the "double standards" of the West, when it sees one thing and does not see the other point-blank. But this is a mild, diplomatic definition, and in fact is fascism. Chancellor Merkel recently supported Erdogan's idea of ​​a no-fly zone in Syria, saw suddenly that civilians were suffering, and the ISIL militants stopped seeing. And the civilian population, suffering and dying from ISIS militants, shot by artillery shelling of the residents of Donbass, she does not see! Erdogan recently praised the organization of the Hitler state, what order there was! Obama and Merkel with Hollande do not see this either, and we see that they agree with Erdogan on this.
The film by French film director Paul Moreira "The Masks of the Revolution" about the Bandera pogrom in Ukraine ripped off masks from many European and Western liberals and humanists. They found that Moreira's film was untrue, but they didn't go to court, as is usually done in such cases, they indiscriminately accused Moreira of fascism and "Russian propaganda", and Bandera propagandists declared Paul simply a "terrorist". As is customary in Kiev today: all those who said the word "against" Banderovites are "terrorists"!
In general, this is a practice originating from European fascists Mussolini and Hitler: assign their crimes to others, declare "terrorists", and then kill them as "barbarians", and expose it as their feat. Therefore, all the "quilted jackets" and "Colorado" in Ukraine are burning themselves, as in Odessa, they fire at themselves, kill themselves, only to slander the white and fluffy followers of Bandera and Shukhevych, who bequeathed, as you know, one thing: "death to the enemies" . This is the quintessence of "Bandera Nazi-patriotism" ...
We have been hearing these Kiev prosecutors, preaching "death to the enemies" from Kiev, from the media's're coming out for two years, about "accidentally exploding air conditioners," and "the peaceful Ukrainian fighter just flew by." But our Western professional colleagues, and even the OSCE mission in the Donbas, believe them as the Pope of Rome, and never see from which side the artillery is firing.
... In the West, from under the speeches of Merkel, Hollande, Obama and Biden, as from "lace panties" on Euromaidan, today new fascism, Nazism, creeps into the light of day. While in the West, as in Ukraine, he had not yet given birth to his new Hitler, a charismatic Fuhrer, but he would give birth, just a deadline had not yet arrived.