After the article about the "war", several VO readers at once asked me to continue this topic and it is clear why: every boy is an adult in his heart, and besides, he has often not played enough. I was lucky that I had a huge garden, an old house with mysterious dicks full of old books, magazines, rusty carbines (yes, and such!), Matador kerosene lamps in the style of Bernard Palissy and many more . Yes, and my relatives themselves seemed to me to come from "that era." Here in the closet of his grandfathers uniform, it turns out that he was an inspector of public schools as Lenin's father, and also ... the commander of the food squad. But his biography: he joined the party for the first time in 1918, the second in 1940 ... "Are you that they were kicked out of the party?" I ask. "No," he says, "he left!" "Mother is dead, she has to be buried, and they send me with a food detachment. I can not them! And they told me - "The revolution is in danger! I them - wait for the revolution! And they are me - then the party card on the table! Well, I put it, sent it on ... slammed the door and left! And then? Then mother buried and came again. And no one even said a word to me. What could not be "party", it could be "non-partisan." Did you say that in 40? So told! AND? Nothing - time was that! Everyone understood. Mother in the middle of the house will not leave ... "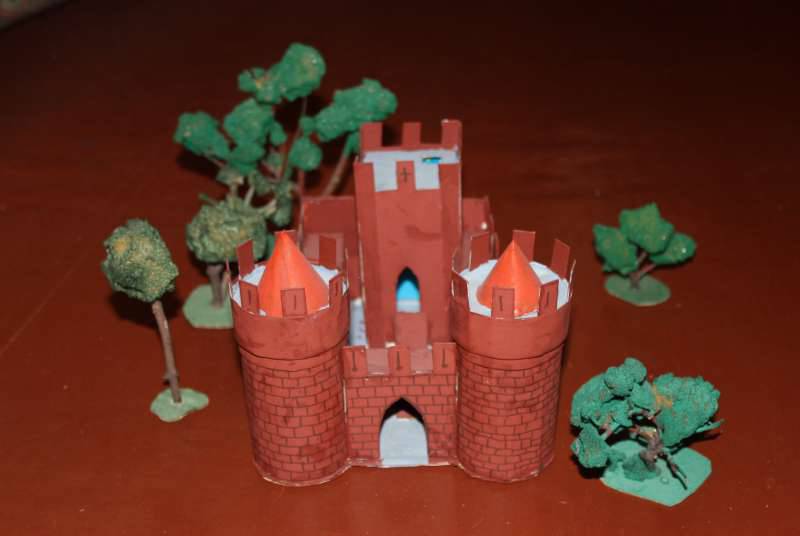 Not having played enough in childhood, when we become adults, we "get" something else. Or ... we use what we did in childhood already in a new capacity! Here is a knight's castle, which I once did in childhood. Tens of years have passed, and I did it again, only with the guys from one of the elementary schools of the 47 school in Penza. Moreover, for two lessons on such a castle, 80% of guys were made for themselves, and many asked themselves a sweep to make it to themselves at home. This is one of these works. Only materials and paints are now much better than they were then!
For many, this was not, and they got later, and in different ways. Well, after the street games "in war games", I started a more serious period, when it was indecent to run down the street in shorts and screaming poop, and our war games were transferred to the courtyards, and then completely ended. But ... I remember well that in the "poo-poo" we continued to play almost until the sixth grade, only we tried not to show up to adults.
And here are before my eyes a few very memorable paintings, again inspired by letters and photographs of readers IN. For example, I really wanted to have a Maxim machine gun, but at that time they were not released yet. And somewhere in the fourth class I made it myself. Of round-trimmed birch roundwood and plywood, and then painted it with green paint for the fence. I put it on the roof of the barn and say to the boys - "I am waiting for you in my yard with rifles". They come, and I just like him in Chapaev, firing from the roof - ta-ta-ta! They hid behind the water barrels (water the garden) and in response began to shoot at me! And we can not beat each other! And then it dawned on me! I otpolz from the machine gun so that they did not see me, ran across the roof to the fence in another courtyard, through it there, then along the street around the house, opened the gate and again to his yard! And they did not even turn around, my dears, they sit for themselves, "shoot." I run to them and from the "Browning" to the back of my head - bang-bang-bang - you are all killed! Oh, what then was! "They don't play like that, it's not fair!" And I'm telling them: "Lyusa-lyusa-lyusa, salty sausage, nose with a crust, eyes with a skull". We didn't play this machine gun anymore, and my grandfather let him go for firewood that winter. And he said to me: "People hate superiority of mind most of all!"
There was another funny case. In the same fourth grade, we were "honored" for the first time to go to the May Day demonstration. The design for some reason was chosen such - flags of the countries of the world. And our teacher (you wouldn't call it a different name!) Told our parents to sew these flags, and for a sample, take the flags from TSB. Any, except American and West Germany! Well, I decided to take that simpler ... South Korean flag! This is in 1966 year! And no one corrected me! So I went with him in front of the podium of the Secretary of the Communist Party of the Soviet Communist Party, and he noticed, well, he called the school. Like, who watched where ... "Do you know how we have relations with South Korea? This is a satellite country! "And what am I? I wanted my grandmother to have less work!
But then ... how to play war, so I went out with this flag, and then in 9-10 I was the commander of the school "Zarnitsa". Red, of course, commanded our captain-military director, well, I ... doomed to defeat the "enemies" under the "neutral" South Korean flag.
Well, in the courtyard under this flag, we organized the "mental" "from Chapaev" and simply ran with it and tried to repel it at any cost! And then somehow we watched the film "We are from Kronstadt" and immediately ran to play it: the older guys are against the younger ones. And I was average, and I got "every kind of baby", but then ... the South Korean flag fluttered proudly above our positions. According to the scenario of the movie of all the red, we had to captivate and drown in the sea with stones (bukharami of an exorbitant size!) On the neck, but they had to be saved, naturally, and win us! So it was planned ... But ... how it came to drowning, and we even found a suitable cliff, it turned out that we needed bricks and ropes to hang them. Ropes - to tie prisoners, we have found, but to entangle bricks with them - this is where so many ropes to collect? Of course, it was possible to say "make-believe", but we were already quite adults, and ... then it dawned on me again, like with a machine gun, and I told my kids: "Pin up the red-eyed bastard with bayonets!" And they are happy to try ... and they killed! Their hands were bound!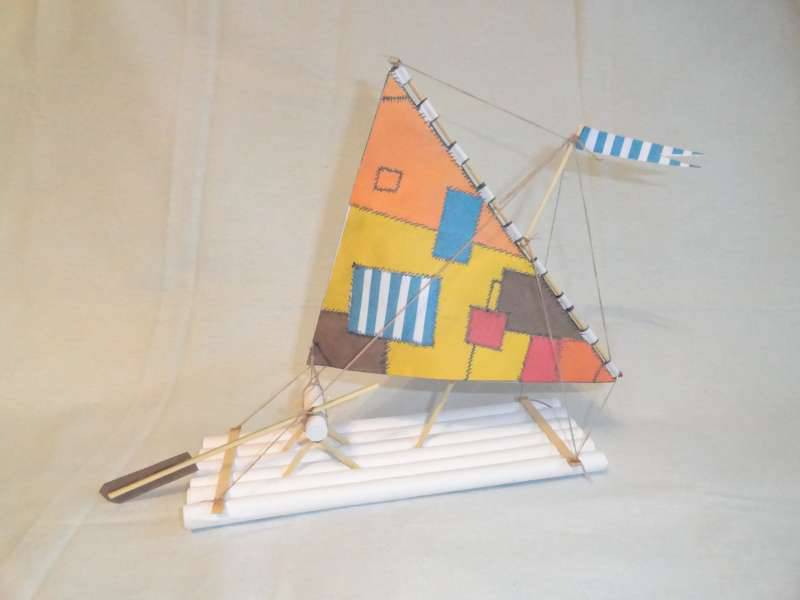 Photos of the Kon-Tiki raft were not found. But, on the other hand, there was a photograph of the raft of the jaggad, well, the very one about which is sung in the movie "Generals of the Sand Pits". This was also done by children, but once, a long time ago, I made the same raft myself according to a drawing in a magazine ... "Niva"! And the funny thing is that in the maritime museum in Barcelona I was able to see it with my own eyes, so this design, which is called "no fools"!
Oh, that was then ... "The Reds won all the same!" Yes, I say, they won, but ... the Whites also put order on them. Chapaev was killed and Shchors, and Parkhomenko! And then, what are you dissatisfied with? You drowned anyway! Only one survived, so there is nothing here ... He came home, telling his grandfather about it, and his sister Olga sitting next to me on the next porch, whom I knew from family conversations that she was married to a colonel of the tsarist army, left before the war with him to Paris and there "profuril" a whole pot of gold! Me this
история
always very surprised. After all, I was told that my great-grandfather was a master in the locomotive workshops, that is, a worker, and the workers during the reign of the king were oppressed. And then she graduated from high school ... married a colonel, "profuril" pot of gold ...
In general, word for word, they started to remind each other of the old grievances, and it turned out that ... my grandfather's little sister was driving around Tavria on a cart and a machine gun at a red shot, and her husband threw it and sailed to Constantinople. And she grandfather: "Krasnopuzhy commissioner, you bastard!". And he said to her: "A whitewashed White Guard b ...!" - and for a rake, and with a rake on it. But only she didn't hurt him, and the dressing gown on her chest opened - this is a gray-haired, wrinkled old woman - and shouts: "And I'm putting my chest up, kill me, cursed Bolshevik!" Grandfather with a rake on the stairs that led to the roof ... well, that was it. And my grandmother told me: "That's what your stupid games have brought!" Until now, I see this scene as if it were yesterday. And I did not tell more about my games at home.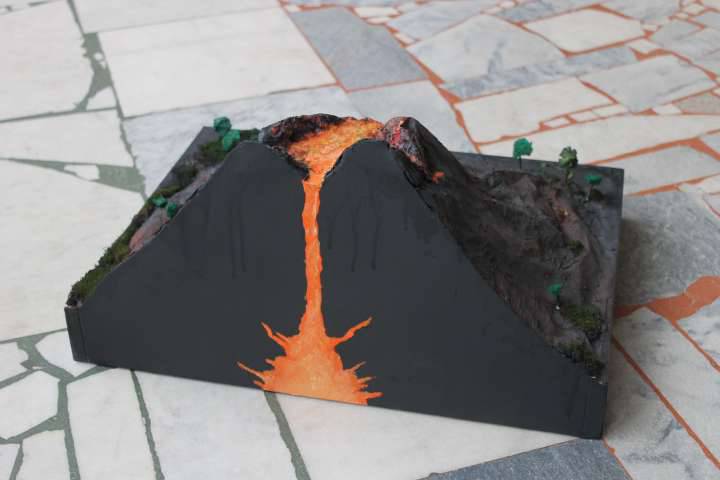 When I was in school (1962 - 1972), many interesting visual aids brought us to the lessons: a steam engine in the section, ICE in the section, a volcano in the section and many other things. Now, all this has replaced the computer screen, but ... and you probably shouldn't even abandon the layouts. In any case, when, remembering the past, I made this section of the volcano for the school, it went there literally "with a bang!"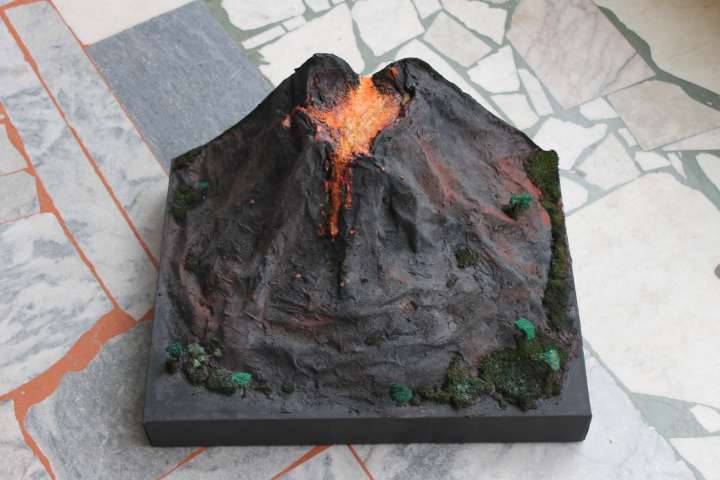 Studying at school in turn gave a lot of interesting topics for games. They studied the Middle Ages - I immediately made a knight's castle, and to him a catapult and began to bombard him right on the floor at home. There were no soldiers, especially knights, so he blinded them to himself from clay. In the Model Designer magazine, which I received from 1966 of the year, I read about the Kon-Tiki Thur raft, and immediately made it and let it sail, and then made another raft zhangada, based on the photo in Niva.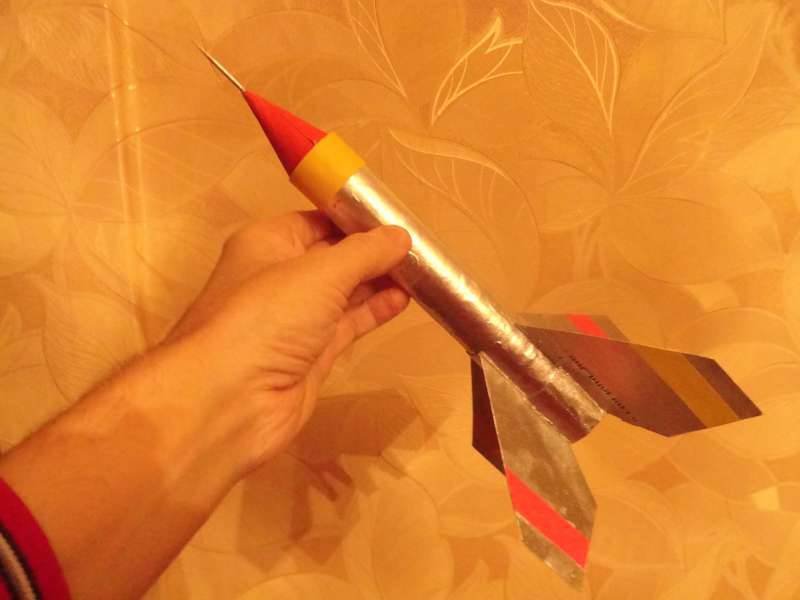 But this is the same rocket with the engine of blotters, only now they are replaced by toilet paper.
With the beginning of the study of chemistry, there was an interest in ... rockets, which we did in 12 on April at school in the Young Chemist group, and after the festive evening, we launched it in the schoolyard. But to mix coal, saltpeter and sulfur, and to press all this, seemed to me too troublesome. Therefore, I got into the habit of soaking a strong solution of bertolet salt "blotter" from notebooks and winding them in such a form on a knitting needle. When the cylinder dried, it turned out a ready rocket engine. He could only be inserted into the paper body of the rocket. From a young age, I had a truck in my barn, a big one, an iron one and ... it was half an hour to remove the body from it and install guides. Everything is just like in the magazine "Young Technician", which I also wrote out. Well, they have 8 rockets and ... "Fire missiles!" Again, in our large garden, no one saw it, but the game was just awesome!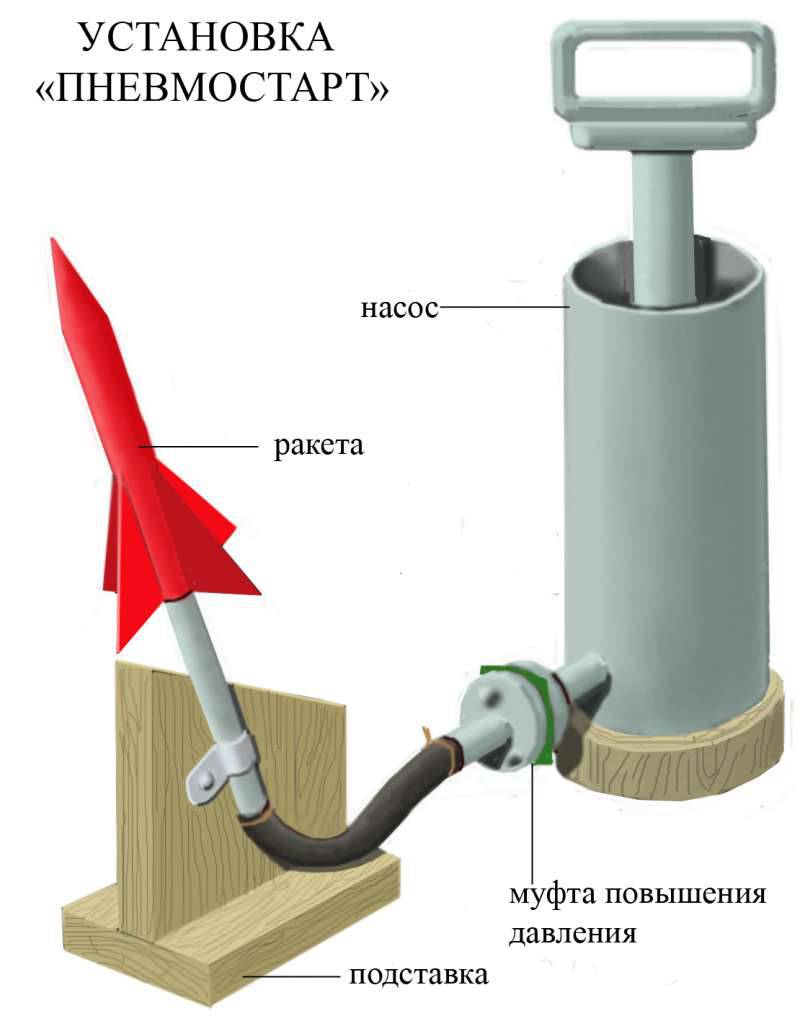 Later in adulthood, when I was on television for children on TV in Kuybyshev (Samara), I also made a pneumatic installation for launching models of rockets and then wrote about it in my book For those who love to make. Moreover, with the help of this installation you can arrange an interesting game "Air combat".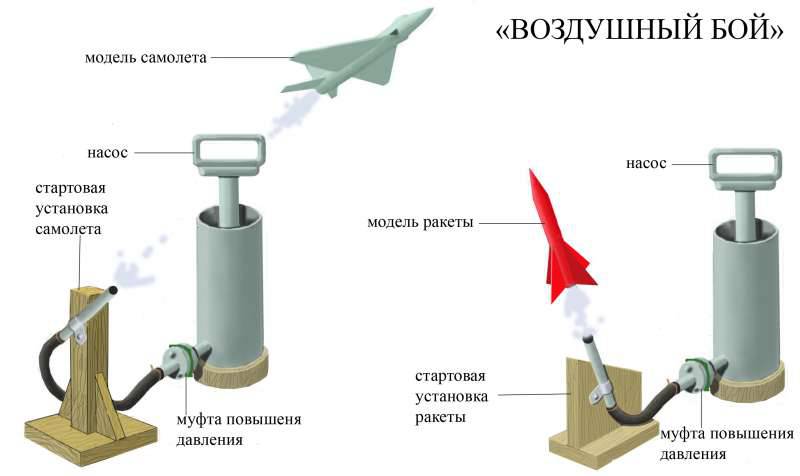 But perhaps the most interesting "game" already in the 10 class was ... "the battle of ships." At the lesson of labor, we were doing a turning case, and the devil pulled me to carve the barrel of an old gun, and then drill out the barrel bore in it. Then I asked the labor teacher to help me drill the pilot hole, and he helped! The result was a great steel cannon that fired ball bearing cores! But what to shoot? In the 10 class, shooting soldiers is already frivolous, and I thought of making two battleships from ... plasticine! One is 50 long cm, and the other is whole 75! It took several plasticine boxes mixed in one color, but then I had two floating ships at once. Yes, yes, these ships could sail, although they had towers, logging, superstructures, and masts! And all of the clay in order to unity of the material. Barrels of guns and masts - matches rolled into plasticine. Inside the hull they were divided into compartments (otherwise the hull would not be tough!), Had a longitudinal bulkhead, and their buoyancy was so great that each had to fall asleep almost half a kilo of shot as ballast.
One of my friends got the ship "Queen Elizabeth", and "King George V" for me, we went to the river, tied them by the strings to the pegs, and started firing balls from the bearings from the shore, as the peas left only scratches on them. It immediately became clear that it would be very difficult to sink our ships! It was necessary to get into them at the waterline level so that water would flow into the hole, and it was very difficult. It made no sense to get higher, as well as shoot at the towers and pipes. Below - our shells ricocheted about the water. But somehow, all the same we managed to pry our battleships. My ass nose, and my opponent got a roll on board and ... everything! They decidedly did not want to sink, but our shells were over. It was necessary to start up "torpedoes" - sharply pencils, with which we began to shoot from the same cannons set along the water's edge. But even the holes from the torpedoes did not become fatal, although the Queen Elizabeth sank into the water at the front of the tower. Then it was decided to fall asleep in one of the ships gunpowder and blow up, perpetuating it in the photo. It turned out very beautiful, and only after that the ship sank.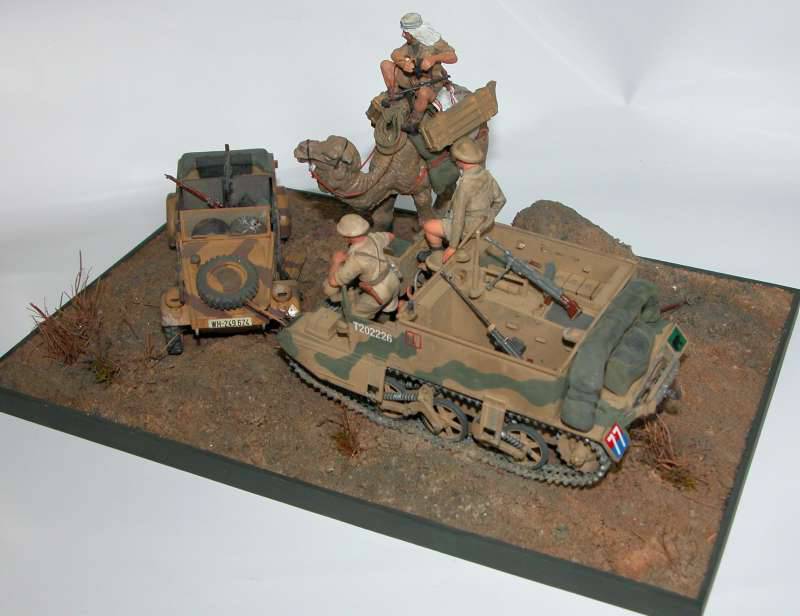 As a child, I didn't have tin soldiers, which I terribly grieved for, only a dozen blue (horror!) And plastic ones. But then, "catching up", I got their whole collection, and also exactly a hundred models
tanks
on a scale of 1:35. Here is one of the dioramas of that distant era of the 90s: "He should not have traveled alone!" The British SASovets (on a camel) and the reconnaissance group on the Bren-Carrier armored personnel carrier caught up with the German courier on the Kübelvagen in the Libyan desert, and they killed, of course.
Well, the remaining battleship was kept in my storage room until ... 1974, when I wrote my first article about these models in the magazine Model Designer. They found the material interesting, but because of the poor quality of the photos they did not publish. True, then I wrote about ships from plasticine in my first book in 1987, "Out of everything at hand". Well, my very first printed material in this magazine came out only in 1980 year. And he also touched a homemade toy. But it was a completely different story.