In his statements about the anti-corruption struggle in Ukraine, the head of the Odessa administration, Mikhail Saakashvili, decided to go to the end. In his new statement, Saakashvili blames corruption on the Security Service of Ukraine (SBU). According to the ex-president of Georgia, representatives of the top security service of the Security Service of Ukraine announced to him and his team a "war" after "the source of earnings for smuggling through the Odessa customs was cut off".
On your page in
Facebook
Saakashvili writes:
After we closed the traditional sources of corruption income in Odessa to Sbushniki, related to customs, smuggling nuts, illegal gambling, currency exchange, cigarette smuggling and other predatory schemes, they decided to declare war on us.
First, the deputy head of the Security Service of Ukraine (SSU) Denchin called Batrakov, the head of the Security Service of Ukraine in Odessa, who was specially returned from a trip to the ATO zone, in order to entrust him with the "Saakashvili projects", which include the Citizen Service Center, which is in the process of implementation, and Yesterday, the SBU broke into the Illichivsk police to release a citizen arrested for robbery, repeatedly convicted.

Alpha fighters put police officers on the wall and said that according to their information, the police illegally detained a gangster and tortured him, which of course is a complete fiction. Today I informed the president about the illegal actions of a subordinate body directly to him and I am going to openly respond to all the facts of blackmail and lawlessness.

Due to the fact that I became aware of the fact that Danilenko, who was looking at the SBU, hired two groups to carry out surveillance with the participation of the SBU resources for me and my staff, I had to give up protection of the SBU, although I am very grateful to the guys who accompanied me. And yet, it is absolutely no coincidence that the SBU at the last minute refused to sign a memorandum with the customs on the transparency of their work in relation to cargoes moving through customs, although the police and the prosecutor's office signed this memorandum and, at least at the regional level, completely excluded their employees from participating protection of contraband.

By the way, Demchina was appointed to the post after the dismissal of Trepak (the last name is "VO"). Trepak was the main organizer of the detention of diamond prosecutors, which is why he paid with his position, he hardly agreed to ever give such dubious tasks.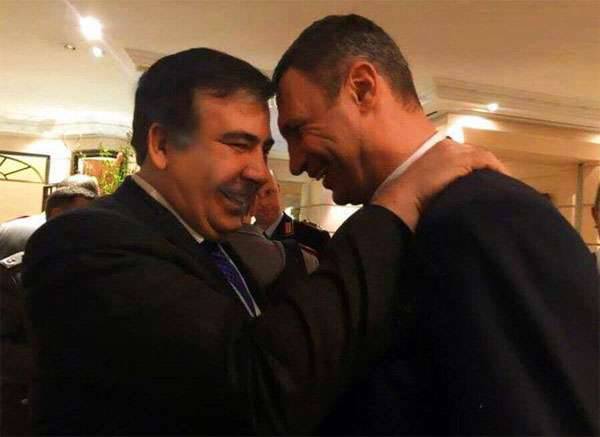 Attention is drawn to the fact that Saakashvili publishes his statement exclusively in Russian, although earlier for publications on Facebook he often used either Ukrainian or English. The statement that the SBU is involved in corruption schemes suggests that Saakashvili is throwing all his strength to try to be at the top of the Ukrainian authorities. Earlier, Saakashvili blamed government officials from Yatsenyuk's Cabinet for total corruption.