On the eve of the Turkish capital (Ankara) a powerful explosion thundered in the immediate vicinity of the hostel for military personnel in the Kyzylai region. Turkish TV channel
NTV
reports that at least 28 people died as a result of a car bombing. More than 70 people were injured. The main number of victims is among the Turkish military, however there are victims among the civilian population.
It should be noted that the bombing of a car filled with explosives was committed in an area in which a number of government and military administrative facilities are located, including the building of the General Staff of the Turkish Armed Forces.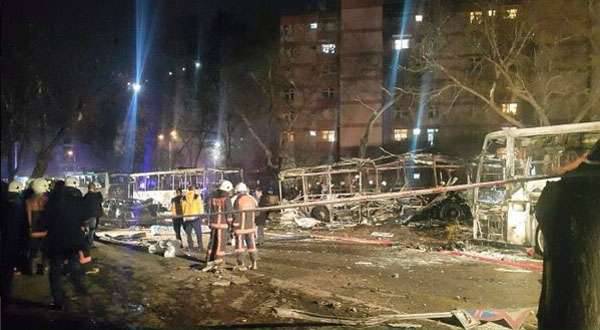 The Turkish press reports that the explosion thundered at the moment when a convoy of military vehicles stopped at a red light at a busy intersection near 18: 30 local time.
After the first reports of the explosion, there were reports that the Turkish government imposed restrictions on the media on coverage of the terrorist act, including a ban on the display of surveillance cameras.
The explosion on the eve of thundered in the Turkish cultural society in Stockholm. Swedish edition
"Expressen"
writes that the explosive device worked around 21: 35 local time (23: 35 Moscow time). The blast knocked out windows and doors. No one was injured, because at that moment no one was in the building of the Turkish center.