In several districts of the Pskov region, a large number of Airborne Forces troops were disembarked as part of a command and staff exercise. The total number of paratroopers involved in disembarking using D-10 parachutes and Arbalet parachute systems was about 1000 people. Landing was carried out on the snow-covered territory.
The press service of the Ministry of Defense of the Russian Federation reports that the personnel were dropped from IL-76 aircraft.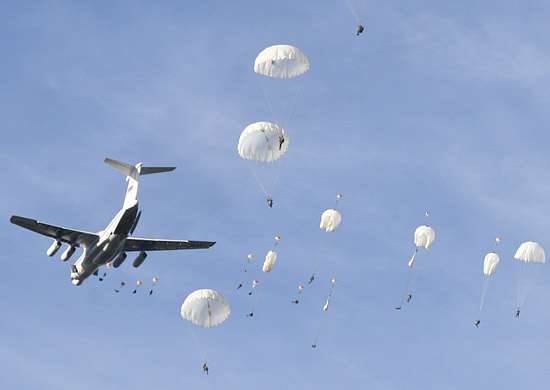 Of
messages MO RF
:
In three areas, a parachute assault force with a total strength of more than 1000 troops was used. A simultaneous landing of an assault force was conducted near the settlements of Vishnyaki, Smuravievo and Kislovo (Pskov Region).

When dropping a paratroop parachute, it was also parachuted down to a company of upgraded second-generation airborne combat vehicles on parachute multi-dome systems (MKS-350-9). A massive parachute assault in the area of ​​the city of Ostrov (Vishnyaki landing site) was used for the first time.

In addition to the delivery of the landing force to the areas for the implementation of the immediate tasks by parachute method, landing was carried out on the Ostrov airfield by landing method to a battalion of military personnel with military equipment and armament.
In the course of the exercise, a reconnaissance group was disembarked, which was supposed to detect hidden positions of conditional illegal armed formations.
From the message of the press service of the Ministry of Defense of the Russian Federation:
After the landing, the airborne assault units organized the mooring of military equipment and the collection of personnel at the landing sites for a multi-kilometer march to the area of ​​the Strugi Krasny landfill.

Major-General Vladimir Kochetkov, Deputy Commander of the Airborne Forces for the Airborne Training, supervises the command and staff exercises.
The press service of the main defense department reports that the Airborne Force exercise in the Pskov region will last until February 20.