On the Ukrainian arena, once again, Yulia Tymoshenko, who heads the Batkivshchyna faction, goes under loud fanfare. One day her "return" helped her become the prime minister of Ukraine, now a woman "lost the scythe" announces that her party is leaving the coalition with the Petro Poroshenko Bloc.
UNIAN
quotes parliamentarian Yulia Tymoshenko, who spoke during the briefing:
The "Batkivshchyna" faction today at its morning meeting took the only possible step - the decision. This step is the exit from the coalition. (...) The "Batkivshchyna" faction considers unacceptable the continuation of the stay in this flockwhich in fact has no chance, because it does not want to carry out reforms, protect Ukraine, restart our lives. (...) If the political process is not restarted in time, if the clan-political consensus is not removed from governing the country in time, then the situation in society can get out of control.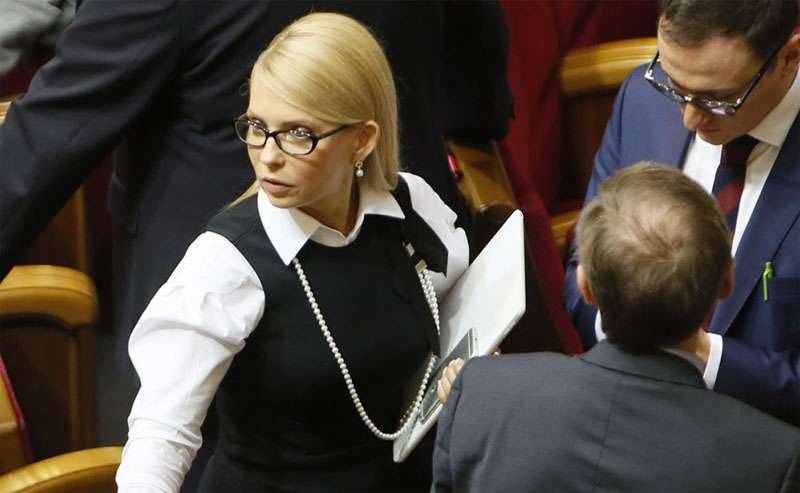 According to Yulia Tymoshenko, she does not exclude the possibility that new mass protests and "uncontrolled uprisings" may flare up in Ukraine due to people's dissatisfaction with the Ukrainian political elites. The head of "Batkivschyna" declares that unrest in Ukraine can be avoided only in one case: to reformat the government and begin to carry out the most important reforms.
Recall that in the Poroshenko coalition, in addition to the "Batkivschyna", there are such political parties as the Yatsenyuk's "People's Front" and "Self-Help".
Some deputies from the BPP called the statement Tymoshenko "an attempt to stir up the water in the interests of the enemies of Ukraine."