As you know, in accordance with the INF Treaty, neither Russia (as the successor of the USSR), nor the United States can design, manufacture and deploy ground-based missile systems with a range of between 500 km and 5000 km. But ingenious Yankees are constantly looking for loopholes in this Treaty in order to gain advantages over Russia in this matter and at the same time accuse Russia of violating this Treaty, not embarrassed by their unfounded accusations, sucked from the finger, and forcing Russia to constantly make excuses for what it did not commit. It's long time ago to put an end to such practice and find its own ways to deter NATO's creeping east aggression and the Pentagon's planned deployment of modernized atomic bombs in Europe and training tactical pilots
aviation
NATO application of this
weapons
.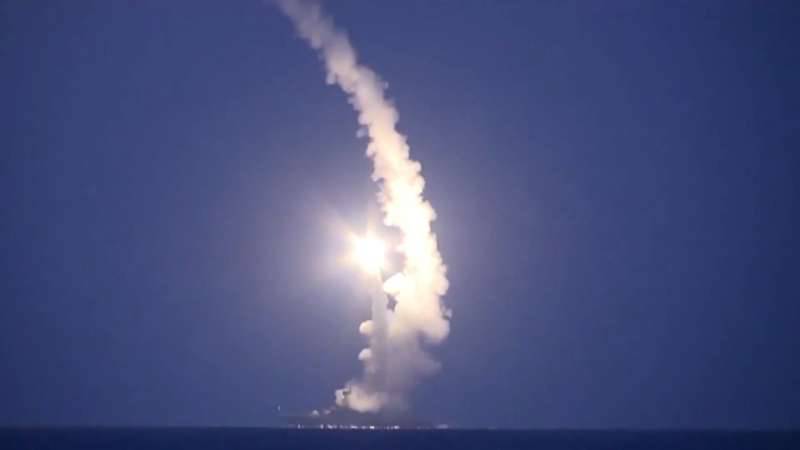 Since the ground placement of small and medium-range missiles is prohibited, it means that they should be placed on the water and in the air, for which our famous Calibers are very suitable. This means not so much the construction of frigates, corvettes, submarines, which is expensive and requires a long time, especially with the problems of non-delivery of Ukrainian and German power plants for our warships under construction. Quite real, in my opinion, a way out of this situation could be implemented by upgrading existing civil ships of the river-sea class with the aim of installing Calibrov launchers on them with minimal deployment of various weapons on them for the necessary self-defense. Pieces of twenty such PUs could well fit in the hull of such vessels.
Such launching platforms could be used from the water area of ​​our naval bases, i.e. with the existing nominal range of Caliber, there is no need for these platforms to go on long hikes. Their security will be provided by the air defense forces of our bases and coastal missile battalions. For example, from our base in Baltiysk, the caliber with nuclear warheads will override most of Europe, where practically those NATO members who are aggressively disposed towards Russia will end up. Placing three or four such platforms there, we will bring a decent horror to our "partners." It would also be possible to mark a couple of such platforms on Lake Donuzlav in the Crimea, one could consider the option of placing platforms in the navigable part on the Don River in the middle and upstream or on the Pskov Lake. And having placed such platforms in Vladivostok, we will get all of Japan at gunpoint, which will noticeably cool the heat of too hot samurai heads.
There are not so many options in the Calibrov air placement as in the sea, but they are. In this case, it would be possible to use airships with cross-laying PU, taking into account the large capacity of these aeronautical structures. And located a meter above the ground, these launchers can no longer be attributed to the ground. They could be placed on our base at m. Schmidt, if necessary, you can move closer to the Bering Strait, then both the USA and Canada will be under our aim.
These are my thoughts aloud, and I will be glad if someone sees in this presentation a grain of truth, and not just another manila.