Yesterday, the Russian integrated reconnaissance aircraft Tu-214P (Reg. # RF-64514) arrived at the Khmeimim airfield in Syria, where the Russian Aerospace Forces group is based, the blog
bmpd
with reference to the resource Flightradar24.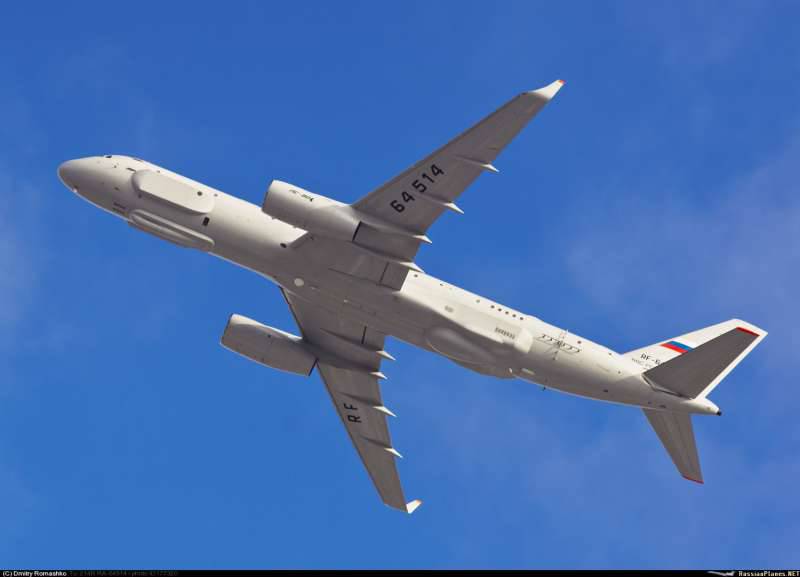 According to data on the flight route, the plane took off from the airfield of the Kazan Aviation Plant (KAZ im. Gorbunova).
This Tu-214P is the second machine built by Kazan aircraft manufacturers for the Russian Aerospace Force. The board was handed over to the customer at the end of last year.
Help bmpd:
"Two Tu-214Р aircraft (" 411 product ", Fraction-4 OCD)) were built under the contract of the Ministry of Defense of Russia with Tupolev OJSC and KAZ (formerly KAPO) from November 29 of 2002. The lead developer of the on-board reconnaissance complex is Vega Radio Engineering Concern OJSC. The first Tu-214Р aircraft (64511 registration number, 42305011 serial number, 511 serial number) made the first flight in Kazan 24 in December 2009 of the year and continues to pass the testing program to date. "
Flight Track: