The Ministry of Defense of the Russian Federation is implementing a program to improve the reliability of computer systems used by the department, and their protection from cyber attacks. Recently, the number of attempts to virtually get to the information transmitted via computer networks of the Ministry of Defense of the Russian Federation has increased, and the solution to the problem of cyber security looks very relevant.
Rostekh United Instrument Making Corporation (OPK) announces the creation of domestic army notebooks (laptops) with an increased level of protection against hacker attacks.
RIA News
cites the statement of the Deputy Director General of the United Instrument-Making Corporation Andrei Chendarov:
The equipment was created for the tactical subdivisions of the Armed Forces of the Russian Federation, its purpose is to process information during the performance of combat tasks. The laptop operates on the basis of the Astra Linux operating system developed for the needs of the Russian army and other security agencies. The start of series production is scheduled for the second quarter of 2016.
In addition, the manufacturer pays attention to the ability of the new army notebooks to function in extreme conditions:
Experience shows that traditional computers are not able to operate stably in the field and in combat conditions. The secure execution of our terminal ensures uninterrupted operation of the device even in the most extreme situations, at temperatures ranging from "minus" 40 ° С to "plus" 50 ° С. In this case, equipment fault tolerance is achieved without sacrificing performance.
The OPK reports that the Russian army PC is equipped with a GPS / GLONASS navigation system, VGA and HDMI interfaces, four USB 3.0 ports, and a Wi-Fi module. The operating frequency of the central processor is 3,5 GHz. The battery life is 8 hours in active mode.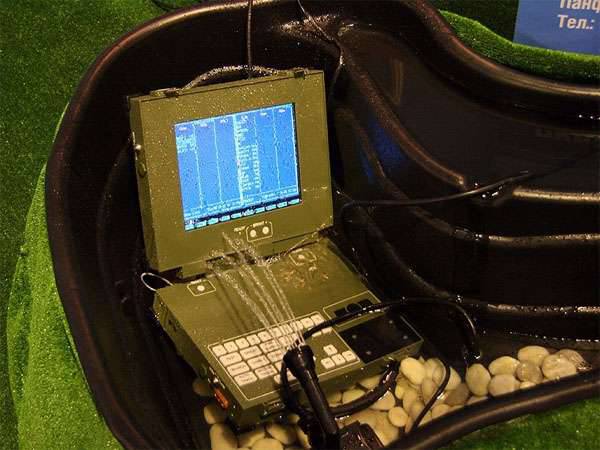 Earlier it was reported about the creation of army computer systems capable of working in heavy rain and not failing even under water.