Turkish
aviation
on Monday more than 20 times violated the air borders of Greece, reports
RIA News
Post Greek General Staff.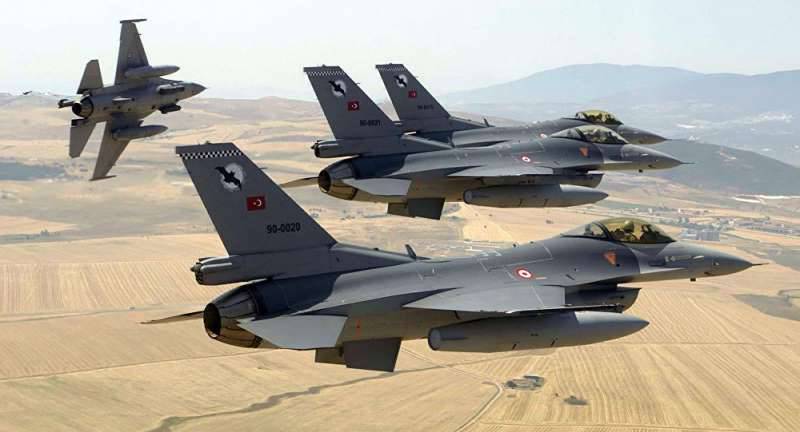 On Monday, "Turkish aircraft twice violated the rules of flights in the flight information zone of Athens (FIR Athens) and 22 times intruded into the airspace of the country, in particular, violations occurred between the islands of Chios and Samos, and Lemnos and Lesbos," said in a statement.
It is noted that "in all cases, the Greek fighters went up, in two cases they entered into virtual air battles with Turkish aircraft."
Meanwhile, the Greek media reported a new aggravation of relations between Athens and Ankara in connection with the visit of Prime Minister Tsipras Tehran. Tsipras flew to Iran 7 February, and his plane was forced to change the route because of the actions of the Turkish side.
The Greek prime minister often uses military aircraft for business visits.
"On January 6, Athens provided a flight plan in the second half of the day, according to which the prime minister's plane was to fly from Elefsin airbase near Athens, sit on Rhodes to refuel, and then fly through Turkey and Syria to Iran," says the newspaper Katimerini.
However, the Turks said that Tsipras "uses a military aircraft, it belongs to the Ministry of Defense, military pilots are in the crew, so he cannot fly to Rhodes, which Turkey regards as demilitarized," the newspaper writes.
The Turkish side demanded that a new flight plan be developed, which would include refueling "in Ankara or Alexandroupolis, or elsewhere."
Then, according to the publication, "Greek diplomats offered the prime minister a flight plan that would not include Turkey, otherwise it would mean recognizing Rhodes as a demilitarized region."
As a result, "the flight took place south of Cyprus, over Egypt, Jordan and Saudi Arabia with a landing in Isfahan." The newspaper notes that "due to the tense relations of Saudi Arabia and Iran, the King of Saudi Arabia issued the permission to fly."